If your cat or kitten has had a recent surgical procedure or is fighting off a skin infection, you may have a hard time keeping them from licking or biting the area that needs to heal. This is why many people look to cat recovery suits, which keep injuries covered and protected, and prevent licking by making the irritated site physically impossible to get to. Recovery suits are available in a range of styles, sizes, and price points to serve every cat and accommodate their needs along their healing journey. Some suits sit tight against the skin, while others are looser, so it's important to always consult a seller's sizing guide and measure your cat to find the most appropriate and comfortable fit for them.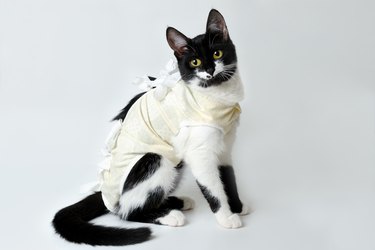 What to consider when purchasing a cat recovery suit
‌Size:‌ When shopping for any item of pet wear, the sizing has to be on point for the most comfortable and effective experience. Cat recovery suits are no different and should fit close enough to the body that it holds any gauze or stitches in place, but not so tight that it's squeezing your cat or preventing them from moving or resting comfortably. One thing you don't want is for your cat to be uncomfortable in their recovery suit during an already unpleasant time, so always consult the size chart when shopping, and size up if your cat falls in between sizes.
‌Attachment:‌ A recovery suit for dogs and cats will usually need to attach to the body in some way, and common attachments include hook and loop fastener, hooks, and zippers. Some suits do pull down over the head and fit on the body without an attachment feature needed. Finding the right enclosure will depend on your cat's activity level, the placement of their wound, and how much handling they will tolerate, especially while they are in pain or uncomfortable.
‌Recovery Suits Versus Cat Onesies:‌ While similar, recovery suits and cat onesies or pajamas are not exactly the same thing. Recovery suits are made with materials and designs that keep wounds protected and prevent licking, and are made for cats to wear for long stretches of time, complete with holes in the back for using the bathroom. Onesies and PJs do usually cover the torso, but may require more frequent handling, or might be built to assist with incontinence and have no opening for using the litter box. Always assess your cat's exact needs when shopping for a recovery suit, especially if your cat is resistant to being dressed.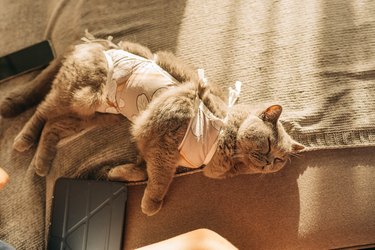 1. kzrfojy Cat Surgery Recovery Suit Cat Onesie
For a recovery suit that fully covers the abdomen, this is a great one to consider. It's available in small, medium, and large sizes, and comes in light blue, gray-blue, purple, and navy blue with an under-the-sea pattern. You can easily put this recovery suit on and off of your cat thanks to the easy hook and loop tape attachment that runs along the back, and you can rest easy that it'll stay on securely because of the elastic bands that rest around the neck and arm holes. This suit is great for keeping cat wounds covered and protected, and is especially helpful during spay and neuter recovery times as it's designed to allow your cat to still use the litter box with ease.
2. Cat Professional Recovery Suit for Abdominal Wounds or Skin Diseases
This bodysuit is similar to the previous option only it's available in more colors and patterns, including grey and black camo, pink, and a red-and-white holiday look. It is made of soft elastic to cover both the body and fit snuggly around the neck and limbs while still offering a comfortable bit of stretch. This also comes with a drawstring feature to keep the suit secured around your cat's head, no matter their size, and is designed with a rear opening at the base of the tail for easy bathroom breaks.
3. Lexvss 2-Pack Professional Cat Recovery Suit
Easy on and off is a very important thing to keep in mind when shopping for a surgical recovery suit for cats because your feline friend will likely feel uncomfortable being handled, at least at first. This suit snaps on with plastic buckles that sit along your cat's back, which are slightly adjustable for a comfortable but snug fit that allows your cat to move and rest comfortably. It's available in three sizes and four colors and is sold in a two-pack, so you'll always have one handy if the other is being washed. You can use the drawstring feature to secure the suit around your cat's neck, and the U-shape design in the back allows you to leave the suit on while your cat uses the litter box.
4. MyHappyPetsBoutique Post-Surgery Pet Suit
If you're looking for a suit your cat can wear after surgery to prevent licking or irritation of their wound in a very wide range of sizes, look no further than this Etsy shop. This suit is available in an array of sizes ranging from XXS to 5XL, and is even offered by kitten month ranges if you're unsure of the size, from three months to five months of age. The item itself has a sleek look that's made of 100% cotton to create a soft but durable recovery suit after surgery or other major injuries. This suit isn't made with hook and loop fastener or clips that hook the suit on so you will have to dress it on over your cat's head and close the zipper, which is something to keep in mind when considering your cat's temperament and the location of their injury. You can purchase this suit in three colors, and it is machine-washable.
5. Nuanchu 3-Pack Cat Recovery Suits
Unlike other cat recovery suits that are made of elastic or cotton, this option is made of modal fiber, which is not only soft but more durable than cotton alternatives. This suit slides on over the head, which is made easy by the large opening at the bottom of the suit, and stays put with hook and loop fastener strips along the back, and a drawstring around the neck. Like many recovery suits, this is not water-resistant, and is best used indoors.
6. Tulane's Closet Cover Me by Tui Adjustable Fit Short Sleeve Cat Pullover
If you're just looking for a loose pullover to keep over your cat while they recover from a procedure or cope with a skin ailment, this one is available in four sizes to fit most adult cats. It's made of Peruvian Pima cotton for a soft feel and a machine-washable garment. You can adjust the stomach and chest areas to create the perfect fit, and won't need to take it off to let your feline friend use the restroom. This pullover also offers a bit more coverage over the legs than some of the other suits on this list, perfect for keeping sutures on the front legs intact.
7. Tineer 2-Pack Professional Cat Recovery Suits
This a simple recovery suit with not a lot of added accessories added to it—just a hook and loop fastener strip and a thick elastic collar to keep it intact on your cat. It's made of cotton material that's comfortable, breathable, and machine-washable for long-lasting use. This is designed to fit snugly on your cat's body as a pleasant alternative to e-collars to keep your cat from biting or licking sutures, wounds, hot spots, or other types of skin irritation. Sold in a two-pack, you have four sizes and color patterns to choose from, and this item is best used with medium to large cats (as with any cat recovery suit, be sure to check the size guide before purchasing).
8. Kukaster Pet Cat Recovery Suit
For a recovery suit that's effective and still offers a little flash of personal style, this option comes with a ruffled collar and seven colors to choose from so you can find a fit that best matches your feline friend. It's available in small and medium sizes, and is made of cotton elastic fabric that's breathable, lightweight, and offers a bit of stretch for a comfortable fit that's still effective at preventing licking and biting. This suit does slide on overhead, and snaps closed around the tail using small snap buttons while leaving ample room for your cat to use the restroom without having to take the suit off.
9. MobilityMama Soft Fabric Adjustable Cat Recovery Collar
If you're not looking for a full-body suit, this e-collar-style cloak is a nice alternative that keeps your cat's body unrestricted while still limiting their reach to it, which can deter excessive licking or chewing around surgical wounds or irritated skin. With an impressive 18 patterns to choose from, you can find a cute style for your cat to wear that's more comfortable than a plastic collar but just as effective. These cloaks are made with two layers of fabric that contain interfacing to offer stiffness and hold, as well as an elastic neckline to keep it secure on your cat. Additionally, the cloaks are washable and can be made reversible if you request two patterns when ordering.
10. Suitical Recovery Suit for Cats
Finally, this suit is for the tiny little ones in your life, such as kittens and other petite felines. This suit is available in XXX-small, XX-small, X-small, and small, and comes with snap button enclosures in the back around the tail to provide a snug fit while still allowing your cat to use the bathroom while wearing the suit. It's made of four-way stretch fabric that's nontoxic, machine-washable, and breathable to allow for air to circulate around your cat's wounds and get the healing process underway.