Does your dog rip the stuffing out of their plush toys, leaving a huge mess in their wake? This type of behavior is very common in dogs, as it helps relieve boredom and taps into their prey drive. But shredded toys can be annoying for dog guardians who have to constantly replace toys, and can be harmful if your dog were to try to eat any of the stuffing. For a longer-lasting alternative, turn to dog toys made without stuffing. These toys are durable, so they encourage dogs to play, but discourage less desirable ripping-to-shreds behavior.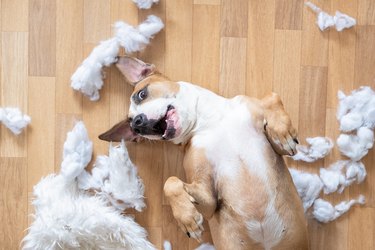 What to consider when purchasing a stuffing-free dog toy
‌Size:‌ Make sure that any toy you are purchasing for your dog is appropriately sized. Toys that are too small for your dog can be a choking hazard or could cause an obstruction if your dog were to swallow the toy. Some dogs love to play with oversized toys, while others may grow frustrated if they can't fit their mouth around the toy.
‌Supervision:‌ The toys in this list are generally considered safe as they don't have any stuffing in them that your dog could pull out and swallow. However, dogs can still rip off pieces of these toys, which could be a choking hazard or cause an obstruction if swallowed. Always supervise your dog while they are playing with these toys to make sure they don't ingest something they shouldn't.
‌Style:‌ Stuffing-free dog toys come in a variety of styles and designs. Some of these toys have squeakers or crinkle paper inside of them, which can make them more exciting to play with. Below, we've included options that are floppy and great for games of tug-of-war and others that are more rigid and durable. When selecting a no stuffing toy for your dog, consider their play styles and preferences—that way you'll be sure to find one your dog will enjoy!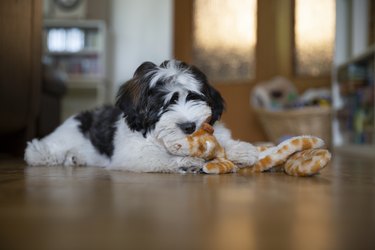 1. Outward Hound Invincibles Minis Squeaky Stuffing-Free Plush Dog Toy, Pink Pig
A great no-stuffing toy to start with, this plush pig is durable and ideal for aggressive chewers. To keep the toy intact, there are reinforced double-layer seams, two layers of super-tough fabric, and a dura-tuff lining. While there's no stuffing, the toy's exterior is soft and cuddly, and there's a squeaker inside that keeps working even after being punctured so dogs stay engaged for longer. This toy is ideal for small- and medium-sized dogs and is as cute as it is fun to play with.
2. KONG Scrunch Knots Squirrel Dog Toy
This stuffing-free plush toy is designed for dogs who like to shake their toys. The plush exterior covers an internal coiled rope, and the scrunch knot gives this toy a realistic animal feel. It also has stretchy sides, making the squirrel toy fun for active playtime. There are embedded squeakers to keep dogs entertained while playing, and it's realistic-looking (minus the cartoonish eyes), making it highly enjoyable for many dogs to chase and play with. Designed with durability in mind, the stuffing-free Kong Knots toy discourages dogs from ripping it open during playtime. Choose from two sizes: small/medium or medium/large.
3. Frisco Flat Plush Squeaking Alligator Dog Toy
Ideal for dogs who love plush toys, this flat alligator is made without stuffing but is still soft enough for dogs to play and cuddle with. The toy has four sewn-in squeakers to encourage dogs to continue to play even without the allure of stuffing. This toy is durable, and a great pick for dogs who enjoy tossing and tugging their toys as well as snuggling. It features durable seams to help the toy stand up to the toughest of chewers and comes in sizes medium, large, and extra-large, so even giant breeds can get in on the fun!
4. ZippyPaws Donutz Squeaky Plush No Stuffing Dog Toy, Chocolate
A favorite stuffing-free toy for many dogs, this donut toy has a unique interior that is entirely made of squeakers. The doughnut's two crescent-shaped squeakers make a loud grunting sound as your dog plays. This donut comes in numerous colors, styles, and sizes if you purchase it on Amazon. Chewy sells the original 'chocolate' donut style, which measures 7 inches in diameter and 2 inches high. This toy is a good choice for dogs who get especially excited about squeaker toys, and the lack of stuffing makes it fun for them to pounce on and toss as they play—no clean-up required.
5. CPYOSN Octopus Squeaky Toys for Dogs, 2-Count
This two-pack of octopus toys are made without stuffing but are still plush and interactive for dogs. Choose from four different color combinations: blue and orange, blue and purple, green and orange, or purple and green. Each toy measures 12.6 inches long (the tentacles are great for tug-of-war!) and 3.12 inches wide. There's crinkle paper in the tentacles and squeakers in the heads to keep dogs engaged in play. These plush octopuses are especially ideal for dogs who enjoy shaking or tossing their toys. They are made with quality plush polyester and thick fabric with strong stitching to make them extra-durable.
6. Ethical Pet Skinneeez Crinklers Cow Stuffing-Free Squeaky Plush Dog Toy
The floppy and long shape of this stuffingless plush cow encourages dogs to toss, tug, and shake for solo or interactive play. It touts built-in crinkle paper and a squeaker to pique your dog's interest. The toy is currently sold in three designs (cow, goat, or lamb) on Amazon, which come in 14- or 23-inch lengths. Chewy sells the cow version pictured here in both the small and large sizes. The Skinneeez Crinklers are especially great for dogs with a strong prey drive, and the realistic floppy design can inspire dogs to chase, shake, and pretend to hunt while they are playing.
7. Ethical Pet Skinneeez Extreme Stuffer Frog Stuffing-Free Squeaky Plush Dog Toy
This stuffing-free dog toy resembles a floppy frog and is well constructed. While it has a built-in squeaker, there's also a compartment where you can insert an empty plastic water bottle to provide a crunching and popping sound as your pup plays with the toy. The pocket is secured with hook and loop fastener, so it's easy to replace the empty water bottle when it gets worn out. You could hide kibble or dog treats in the pocket to turn the frog into an engaging snuffle toy. The plush toy is made without stuffing but has dimpled fabric and two layers of Rip Stop mesh lining for maximum durability. It measures 18 inches long, 6 inches wide, and 2 inches high, so it's suitable for dogs both large and small.
8. Outward Hound Invincibles Snakes Blue/Green Squeaky Stuffing-Free Plush Dog Toy
If your dogs like to play tug-of-war against each other, you're going to want to add one of these plush snakes to your online shopping cart. It comes in three sizes: 24.5 inches long (3 squeakers), 40 inches long (6 squeakers), and Ginormous, which is 70 inches long and contains a whopping 12 squeakers. Even if the squeakers are punctured they will continue to squeak! The snake toy is extremely well made with two layers of super-tough fabric and reinforced double-layer seams to make it highly durable and resistant to chewing. It's great for a game of fetch or tug-of-war, or cuddling with once your dog is all tuckered out.
9. KONG Wubba Classic Dog Toy, Color Varies
This durable KONG toy was created for tugging and tossing. It's made with "ballistic nylon" for durability and toughness. You can choose from three sizes—small, large, or extra-large at the time of publishing—but the company will select the color you get at random. Each toy has four attached tails that make it easy for dogs to carry, play tug-of-war with, and toss during play. There's no stuffing, but each toy has two tennis balls inside, one of which is squeaky. This gives the toy an exciting, irregular bounce when thrown, making it a fun toy for interactive play with dogs of all sizes.
10. ZippyPaws Rosé Happy Hour Crusherz Dog Toy
If you like to rosé the day away, nab this stuffing-free toy that comes with an empty plastic bottle on the inside for your pup to chomp on. The pocket that contains the plastic bottle is secured with hook and loop fastener, so you can easily replace it if it starts to break down. The empty water bottle provides a satisfying crinkling and crunching sound for dogs as they play, and the plush wine bottle toy also has a squeaker built into the 'cork' to excite dogs even more. This toy is designed for all breed sizes, and would be a fun gift for the dog (and rosé) lover in your life.