Foxtail is a common weed that grows in many areas of the United States and is very dangerous for dogs. The weed is most often found in the spring, summer, and fall, and can resemble other less dangerous types of grass, so it's important to learn how to identify it. Foxtails become especially dangerous when they dry out in warmer weather. As they dry, the brush-like ends of the plant become very sharp. These barbs can get caught in your dog's fur or become embedded in their skin.
Foxtails don't naturally break down in the body and cause serious injuries. If the seeds penetrate deep enough into your dog's skin, they can result in painful abscesses that require medical attention. The seeds can also be inhaled, and sometimes get embedded in a dog's ear canal, nose, eyes, and feet. During foxtail season, it's important to take precautions to protect your dog from these dangerous seeds.
Tips for Protecting Your Dog During Foxtail Season
‌Supervision:‌ Familiarize yourself with what foxtail grass looks like, and when—or if—the weed is common in your area. While walking, steer your dog away from areas with foxtails, and never allow your dog to run in grassy fields where there are foxtails present.
‌Checking Your Dog:‌ Using products to prevent foxtails from latching onto your dog in the first place is important. But you should also closely check your dog's body and paw pads for any signs of foxtails every time you walk, hike, or play outside. If your dog is limping, sneezing, shaking their head, gagging, or showing other signs of discomfort, it's a good idea to check them for foxtails.
‌Get Help:‌ Foxtails can become embedded in your dog's eyes, ears, paw pads, and other parts of the body. If you find an embedded foxtail or suspect that your dog has a foxtail-related injury, it's important to seek veterinary care for your dog right away. Your dog's DVM will perform a full examination and may do X-rays to look for embedded foxtail barbs.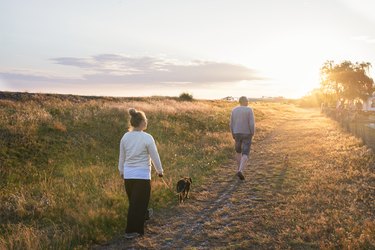 Available in sizes extra-extra-small to large, this patented guard helps prevent foxtails from coming into contact with your dog's head and face. While it might seem over-the-top, if you live in an area that's overrun with foxtails, it could save you from an expensive trip to the vet. The mesh guard fits over your dog's head to shield their nose, eyes, and ears while playing outside. It's roomy enough on the inside that your dog can comfortably pant while wearing it. To ensure the best fit, check the sizing guide before placing your order. When it arrives, use the hook and loop fastener straps to attach the guard to your dog's collar and prevent it from slipping and sliding.
2. Shed Defender Original Dog Onesie
This fabric bodysuit covers your dog's entire body including their legs, creating a barrier between your dog's coat and those pesky foxtails. The Shed Defender is comfortable for dogs to wear and allows for a full range of motion. It zips from chest to tail so your pup can go potty without taking the entire thing off. The body suit is available in pink, black, camo, heather gray, and royal blue. It can be worn on hikes and walks to help protect your dog from not only foxtails but ticks, burrs, and UV rays. The suit is made from polyester and spandex created from recycled plastic bottles. It's sold in sizes extra-small through giant.
3. Frisco Metal Dog and Cat Comb
After walking with your dog during foxtail season, it's important to closely inspect your dog's body for any signs of barbs. This comb has a stainless steel body and teeth, making it ideal for raking through your dog's coat to catch any foxtails. The comb is dual-sided with both wide and narrow teeth. The teeth are also rounded, making the brushing experience more pleasant for your dog. This brush measures 7.49 inches long and 1.38 inches wide, so it fits comfortably in most adult hands.
4. Vetericyn Plus Antimicrobial Eye Wash for Dogs, 3-oz. Bottle
It can be helpful to have a dog-safe eyewash solution on hand during foxtail season. This soothing eyewash can clean and flush discharge from your dog's eyes. It can also provide relief from burning, redness, and irritation. Some pet parents even use it to prevent tear stains or flush out allergens. To use, gently apply the wash to your dog's eyes to flush out foreign debris. You can repeat three to four times per day until the issue is resolved. This 3-ounce bottle of Vetericyn Plus is conveniently sized to add to a first aid kit or store with your dog's grooming supplies.
During foxtail season, you should keep your dog on the sidewalk or hiking trail, away from tall grasses where foxtails may be lurking. This leash comes in two lengths: 44 inches (approximately 3.7 feet) and 78 inches (6.5 feet), allowing you to keep your dog close to you on walks. The leash has built-in 3M reflective material to make you and your dog more visible while walking at night or in the early morning. The leash has a zinc alloy snap that is both lightweight and secure for walking dogs of all sizes. Choose from two leash widths—1-inch (large) and 0.8 inches (medium—and nine stylish colors.
6. Danken Tick Remover for Dogs
Releasing foxtail barbs from your dog's fur can be challenging. A tick remover, like this one by Danken, can be a useful tool for removing seeds before they become embedded in your dog's skin. Sold in a pack of two, these different-sized tick grabbers have long hooks that allow you to secure the tick or foxtail, and twist it off cleanly. These tick tweezers are small, easy to use, and convenient to carry with you, whether you're walking, hiking, or camping with your dog.
7. Gold Paw Sun Shield Dog Tee
While the Shed Defender provides fuller coverage, this dog T-shirt might be more comfortable in warm weather. It can be used to help protect your pup's torso from foxtails, and also blocks over 98% of UV rays. Note that the shirt does not cover your dog's legs or head, but it can limit the amount of fur or hair that comes into contact with foxtails. Sold in eight colors, the shirt is made with recycled materials and is available in a wide range of sizes to fit most dogs.
8. Kurgo RSG First Aid Kit for Dogs
It's always a good idea to have a comprehensive dog first aid kit around, especially during foxtail season. This 49-piece kit includes all the essentials you'll need in the event of an emergency. The kit includes tweezers for removing foxtails from your dog's skin or coat and cleansing wipes to get rid of any debris. Other useful items include an emergency blanket, iodine prep pads, cotton swabs, and an instant cold pack. The Kurgo first aid kit measures 6 inches long, 4.25 inches wide, and 8.5 inches high, and weighs only 12.64 ounces. It can also be hooked onto the Kurgo RSG harness or Kurgo utility belt for easy transporting.
9. Natural Elements Weed Killer
Keeping foxtails out of your yard can make it a safer play space for your dog. Help prevent foxtails and other weeds from taking root in your yard with this natural weed killer. Made from salt water and concentrated commercial-grade vinegar, this nontoxic weed killer can take action in as little as 24 hours. It doesn't contain any harmful herbicides, making it safe for pets to be around. Note this weed killer will kill grass, so it should not be used directly on your lawn. Mowing your grass regularly can also help to combat foxtail weeds.