Every dog should have their own personal space to go to inside the home. For many, that may look like a bed or even a crate ... but what about their own house? Inside YOUR house! An indoor dog house can be a great thing to offer a dog who really values having their own private area to retire to, and thanks to dozens of different styles to choose from, it can be a bit more personal than a standard dog bed, blanket, or crate.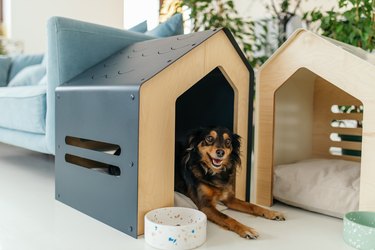 Indoor dog houses range from your standard pitched-roof house to cloth domes, and a lot in between, and are offered in a variety of sizes and designs to match any dog, as well as any interior. This list includes some of the best indoor dog houses and features tiny homes for small dogs, roomy houses for large dogs, and creative designs to complement any living room.
What to consider when purchasing an indoor dog house
‌Comfort:‌ A pet will only use their home if it's comfortable and enjoyable, so be sure to get a home that's big enough for them to turn around in, but not so big that they won't feel cozy in there (wild dogs' dens are pretty small, and curling up inside a home or bed helps most dogs feel safe). Be sure to find a home that will accommodate their bedding of choice as well, be that a simple blanket, a plush bed, or a setting that's supportive on the joints, like an elevated bed.
‌Size:‌ Not only should an indoor dog house be sized to fit your canine companion, but it should also work well within the room it will be kept in. Many dogs prefer their homes to be in spots that are not within the direct line of foot traffic in the house, and that can provide a quiet, private space for them if they just need to take a break for a little while. Be sure to keep the entrance easily accessible, and don't stack things up against or on top of the dog house.
‌Price:‌ Most dogs are happy with a bed to call their own, so buying your dog an house to keep inside of your house isn't a necessity. That said, it can be a really nice thing to offer your canine pal, and will not only provide them with a private space of their own but can also help with boundary setting around the home. Some indoor dog houses can be used as outdoor dog houses as well, so if you'd like to move your dog's home outside during the warmer, drier months, you could save on the cost by purchasing one that works in both settings.
1. Aivituvin 2-Story Dog House
This indoor dog house is built like a condo, with a cozy living space at the ground level, and a rooftop terrace at the top to make good use of the flat surface above. It's fitted with a ladder-style staircase for dogs to climb up and down to reach the top floor, and the front door is fitted with a crate-style door and lock, so your dog's home can double as a crate when needed. You could also use the "bedroom" area for storage and place your dog's bed at the entrance, or on the rooftop, if you please, as there really are so many ways to utilize the space in this house. All that being said, due to the width of the stairs, and the structural elements needed to support your dog, carefully examining the size of this house is essential. This house is made of solid fir wood and measures 19.1 inches deep, 28.5 inches wide, and 27.4 inches high with a weight capacity of 18 pounds, so this is for small dogs and cats only.
2. Coziwow Indoor Wooden Dog House With Bowls and Bed
Many dogs prefer to have a covered, private area to call their own, and this minimalist indoor dog house offers just that, with very few frills. One design feature it does come with is a built-in food and water bowl holder that rests on the outside of the home's wall. The home itself is designed with three walls, leaving the entry/exit wall open for easy in and out. The interior space easily fits a small dog bed and even comes with a small bed pad. The whole thing measures 20.5 inches deep, 27.5 inches wide, and 21.5 inches high. It comes with non-slip corners to keep the house in place, and the roof and walls of the home are made of fixed felt, so you can remove it easily and hand wash it as needed.
3. OriginalDogFurniture Modern Indoor Dog House
If you're shopping for a wooden indoor dog house for a big dog or extra-large dog, you'll need a large dog house that's suitable for indoor use, both in its function and in how it works with your existing home decor. This home is offered in four sizes, so if you like it for your smaller furry friend, it can still work! The largest size measures 51.2 inches long, 36.6 inches wide, and 40.1 inches high, and it's available in four color finishes—teak, rosewood, violet, and ebony. This house is made of plywood and finished with nontoxic paint. It also comes with a soft-sided tent liner and pillow made of natural cotton to offer your dog privacy and comfort in their new home. This house is designed with a door that remains half-open for easy access, and easy cleaning. Finally, you can personalize this house with your dog's name for no added cost.
4. Furhaven Snuggery (Memory Foam) Dog Bed
Every dog will have their own personal preference when it comes to their home style of choice, but when you look at wild dogs, all of them naturally seek out small, minimalistic dens with fairly low overhead and a somewhat circular shape that they can cozy up in. This dog bed offers exactly that with an igloo-style layout that's big enough to support a dog's body, but small enough that it helps them feel secure, warm, and comfortable. It's designed with a 3-inch-thick bed to rest on that has a sleeping surface area of 44 inches in diameter, so you won't need to purchase or add a bed to this tiny home. The interior is lined with faux lambswool, and the bed is fitted with supportive memory foam, which may be perfect for arthritic dogs, older dogs, or dogs with joint pain and mobility issues. It's offered in several sizes and colors, and the cover is machine-washable for easy cleaning.
5. Suncast Deluxe Indoor and Outdoor Dog House
If you're looking for a classic dog house to keep inside, or outside, of your house, this one is for you. With its classic pitched-roof design, four-wall enclosure, and rectangular front door cut-out, this is the type of dog house most people imagine when they hear the term. It's suitable for dogs up to 100 pounds and snaps together quickly and easily for simple assembly. The best part? This house is made of plastic that's been treated with weather-resistant resin, so it can be used outdoors as well as indoors when the weather permits (it's not insulated, so this shouldn't be a primary home for dogs during the winter months in cold climates). It's got built-in vents to allow air to flow freely, and the roof pops off in a pinch to make cleaning the house easy—just spray it down with a hose and let it air dry. The house measures 33 inches long, 38.5 inches wide, and 32 inches high, and comes with a vinyl door flap for privacy and added insulation if you choose to move it outside for the summer.
6. Dharma Dog Karma Cat Wool Snowy Owl Pet Cave
Perhaps you just need a small bit of space in a cute design for your pooch to rest in, and for you to enjoy the look of. In that case, a fun dog house, like this owl-shaped house made of wool, might be a great fit for both of you! This house is very small, measuring 14 inches long, 12 inches wide, and 14 inches high, so it's definitely made for the littlest companions. If your canine companion will fit in that space, it's a great option for several reasons, the first being the high-quality, machine-washable, and fairly traded wool material it's made from, which comes from the Himalayas and New Zealand. As far as assembly goes, it doesn't get any easier than this as it's ready to use as is. Just set it in a warm, private spot and let your dog do the rest! Thanks to the thick and soft wool it's made from, this is a lightly insulated dog house that's suitable for indoor use, and doesn't require an additional pet bed.
7. PETMAKER Indoor Dog House
Another small, fabric pet bed for small dog breeds, this one is made of 100% polyester, is filled with polyurethane foam, and is lined with a removable Sherpa pad for your dog to rest comfortably on top of. This house measures 19 inches long, 18.5 inches wide, and 17 inches high and is intended for use among dogs who weigh up to 35 pounds. The exterior of the home can be easily spot cleaned with warm, soapy water, and the inner liner can be removed and tossed in the washing machine as needed. This bed is a great choice as it's lightweight and very easy to move, comes in a flattering dark gray or brown color that's likely to go with any room, and is a budget-friendly option.
8. WLOWood Gabled Modern Dog Crate - Walnut and Ivory
If you love a mid-century modern look and think your dog's house should share the same aesthetics, this wooden pet house is worth adding to cart. Made with treated plywood and finished with a walnut-colored stain, this house is designed with a tent roof cover and a cushion bed, both in a complementary ivory color. This house is sold in four different sizes, with the largest size capable of supporting dogs weighing up to 149 pounds. It's designed with a front entry for easy access and is only slightly elevated off the floor, so it won't require your dog to climb into it. The entryway door does close and even latches shut, which could be helpful for dogs who are currently crate training, or for pet parents who may need to keep their pup put away for short amounts of time. Additionally, this dog house features built-in vents for healthy airflow, and the option to personalize it with your dog's name.
9. DogBabyCollection Pet Cave: Molly (Extra Large)
Designed to take up relatively little space while also supporting an extra-large dog, this cone-shaped house is sold in five sizes, from extra-small to extra-large, so it's suitable for small, medium, and large dogs alike. It's made of machine-washable polyester material, and the inside comes with a soft cushion bed that's made of 100% cotton. One thing that this house affords that a dog house made of solid wood or stainless steel can't, is that it comes already assembled, and moving it around is a cinch. You can even roll it up and stuff it in a bag to carry it elsewhere for an overnight stay—it pops right back into shape in seconds. The house measurements, along with the measurements of the opening, can be found on the Etsy seller's page to ensure the perfect fit for your companion.
10. Kunpark Elevated Indoor Dog House With Canopy
Many dogs with arthritis or other conditions that cause their joints to ache often prefer to sleep on a bed that's elevated off the ground. A canopy bed like this one can reduce pressure on the joints and also promotes airflow and circulation to promote comfort, regulate temperature, and reduce odors. This pet product is made of polyester so it's lightweight, easy to clean, and inexpensive, and comes with a translucent canopy top to create the "roof" of the home, lending a sense of safety, protection, and comfort.
This bed is sold in two sizes—one for small dogs, and one for medium-sized dogs, both of which are supported using stainless steel frames. Getting in and out of this house is easy as the door frame is only slightly smaller than the house frame. Like many of the other houses featured on this list, this house is not weatherproof, so it's not intended for long-term outdoor use, however, it could provide minor shade from the sun.