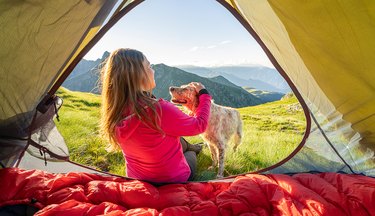 Ah, summertime. For pet parents, the warming temps and longer days equal more time to embrace your bond with your furry friend outdoors in the sunshine. But, there are only so many times you can go on the same hike or walk through your usual park without both of you getting bored.
Just like doing the same activities can get dull for you, your dog can also become uninterested in their routine. Going on new adventures with them, though, helps to stimulate their brains and keep them sharp and focused, according to Texas-based veterinarian Jordan Kautz, DVM.
"The more exercise you get, the better you feel and the better you move, and this is the same for pets," Dr. Kautz says. "Objects in motion tend to stay in motion, and the best thing you can do to slow down arthritis buildup for your pets is constant, daily, stress-free exercise."
Plus, getting outside and exercising with your dog goes beyond quality bonding time: It also helps support your and your dog's well-being. And while your pup is out and about working up an appetite, you'll want to provide them with a dog-food dinner that's packed with vitamins, minerals, and nutrients once they get home.
1. Turn your hike into camping
You might already take your pup hiking with you, but you can take the adventure to the next level by staying in the wilderness overnight. "[Camping] can open up a whole new world of locations for you and your [dog]," Dr. Kautz says. "It is exciting, and great exercise for the [dog]."
Pack up the car and take your doggo anywhere from the local camping grounds, all the way to a national park. Imagine how delightful those post-hike snuggles will be with your tuckered-out pup. Just make sure to check out the campground's pet guidelines first to ensure the place is dog-friendly. Check out these tips for camping with your dog to help you plan the trip.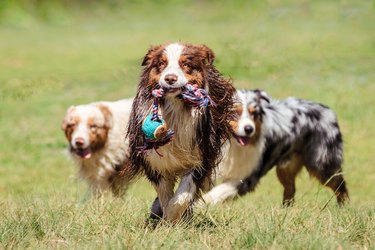 2. Visit a leash-free park
Like you, your dog needs to spend some time socializing, which is why going to parks where they can run around with other dogs in the warm weather will become one of their fave activities. According to Dr. Kautz, many pups are not exposed to other dogs enough to really know how to properly read canine body language, sights, sounds, or smells, so the more socialization time you give them, the more you'll be helping your pup become better at making new furry friends (and knowing when to stay away from unfriendly ones).
Note: The dog park is not for every dog. If you have a nervous or reactive dog, don't force the issue. Instead, opt for a nature walk or another activity where there are fewer dogs around.
The dog park is great, but a chance for both of you to socialize simultaneously is even better. Tons of establishments open their doors or patios to pet parents and their doggos during the summer in the form of a "yappy hour" or another pup-friendly event. Whether you invite some fellow animal lovers or go to meet some new ones, you and your furry sidekick are guaranteed to enjoy some bonding time together. So sip on that delicious mocktail while your dog gobbles up their Nature's Recipe® dry dog food next to you and get mingling!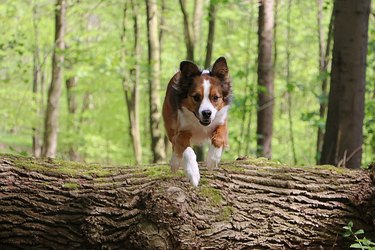 4. Try out an agility course
If you're looking to get some more training in for your dog, an agility course is the way to go. Not only will they work on learning and listening to your commands, but it'll also stimulate their brains through problem-solving. "The more [dogs] are encouraged to problem solve and interact with their [pet parents] and the environment in more complex ways, the more [they] are thinking," Dr. Kautz says. Keeping your pup's brain engaged is even more important now that pets are living longer, since brain function starts to decline in older pets, according to Dr. Kautz.
As hot as it can be for you during the summer, imagine how warm your poor pup must get under all that fur. For days when you both could use a cool-down or the pavement is too hot for a walk, a swim is the way to go. "[Swimming] is a great way to exercise a dog that will keep them cool at the same time, and reduce or eliminate hard friction on their joints for the larger breed dogs," Dr. Kautz says. And if your dog isn't a big fan of swimming or you don't have access to a dog-friendly body of water, a baby pool filled with water or a splash pad at your local dog park will provide the same effect.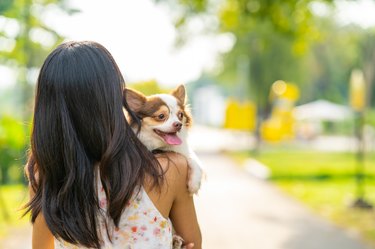 "The truth here is that the human-animal bond is one of the strongest inter-species bonds that exist," Dr. Kautz says. "When it comes to physical health, the more steps we take to eat healthy and exercise, the more we pay attention to those necessities for our own pets as well." So shake up your and your pup's routine this summer by trying some of these outdoor activities. Between quality time, exercise, and healthier eating (thanks to Nature's Recipe® ), you two will be closer than ever. Here's to helping you and your dog live life to the fullest!