American national parks, just like state parks are mostly dog friendly. For outdoorsy dogs and their people, national parks are an opportunity to explore the natural world and spend quality time together.
Are dogs allowed in national parks?
‌In some of them, yes!‌ Many national parks across the country from Alaska and California to Maine are dog friendly. ‌However, not all national parks are welcoming to dogs.‌ Each national park has different regulations about if dogs are allowed, or where dogs are allowed. Dogs tend to be allowed in the more developed areas of parks. For example, the Grand Canyon National Park allows dogs above the canyon rim, but rim trails going lower are not dog friendly.
National parks that allow dogs generally only permit dogs to be on some, but not all hiking trails. Dogs are generally not permitted on trails in more fragile ecosystems like sand dunes, or near fragile wildlife. For example, the Rocky Mountain National Park does not permit dogs anywhere other than parking lots, so isn't a great place to visit with your furry friend. Before visiting a national park with your dog, it's important to do research to make sure that your dog will be allowed in, and there will be fun activities for you to do together.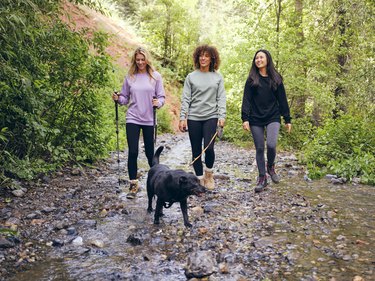 Which national parks are dog-friendly?
If you're planning a visit to a national park or are considering visiting national parks, check to ensure any park you're looking at will be dog friendly. ‌Just because a national park is technically dog-friendly doesn't mean your dog will be able to go everywhere‌. For example, with Arches National Park, dogs are not permitted on any of the hiking trails. Similarly, Zion National Park has very limited places where dogs are allowed to walk in.
Luckily, many national parks are much more dog friendly, with options of some trails you can go hiking on with your dog. Popular dog-friendly national parks include Shenandoah national park, pacific crest trail, Yosemite national park have dog friendly trails. The National Park Service maintains a detailed interactive map of all the national parks. When looking at the map, parks with green dots are dog friendly. Click through to learn what parts of the park you can visit with your dog.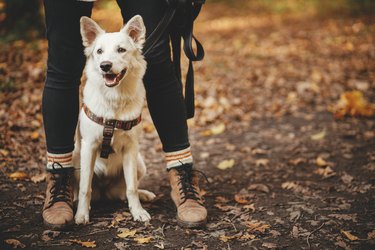 Rules for dogs in national parks
Although dogs are allowed in many national parks, there are a lot of strict rules for a dog's behavior in the parks. Dogs (other than service animals) are not allowed in public buildings, swimming beaches, or any national park service shuttle buses or other forms of transportation. Dogs must always be leashed, and leashes should not be longer than six feet. Dogs cannot be left unattended at any time in parking lots or tied outside of visitor centers and other buildings. Dogs cannot make noises that disrupt the visit for other visitors or frighten wildlife. If dogs are not properly restrained in parks and are caught running loose, they can be removed from your care and impounded (at the dog guardian's expense). If your dog were to be off leash and injure or kill wildlife, park rules are that your dog could be impounded and even euthanized, in extreme cases.
Note: If you have a disability and a service dog who is task trained to mitigate that disability, these rules and regulations do not apply. In accordance with federal law, service animals are permitted to work with you anywhere visitors are allowed in the national park.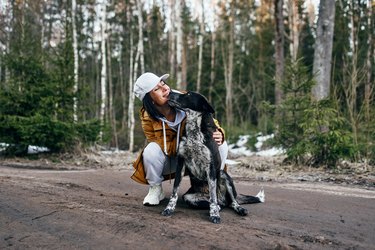 To encourage responsible dog visits, the National Park Service has created the Bark Ranger Program. This dog specific program encourages responsible behavior from dogs and their guardians so that everyone can have positive experiences visiting the national parks together. B.A.R.K. Ranger dogs (and their people) pledge themselves to protect themselves, others, and the natural environment around them. The "BARK" in B.A.R.K Ranger stands for.
Visitor centers at participating national parks will have BARK Ranger booklets and provide information about the program. National Parks staff will ask you (and your dog) to take the pledge of behavior committing to follow the BARK Ranger rules Dog guardians can then purchase BARK Ranger tags at the visitor center for their dog! Dog guardians can then purchase BARK Ranger tags at the visitor center for their dog! These tags make special souvenirs for dogs to bring home from their travels and are a great way to help support national parks.
Hiking with dogs in national parks
Be sure to check ahead for what areas of national parks are dog friendly. Many national park hiking trails have parts that are dog friendly, and other parts where dogs are not permitted. Many national parks have miles of carriage roads, and paved roads which are often dog friendly as are general recreation areas. Backcountry trails through national forests accessible only by backpacking and more secluded trails are generally not dog friendly and are off-limits to our furry friends. Pay attention to the signage in any park you visit to make sure you and your dog stay on approved trails. The hiking trails will be clearly labeled if dogs are allowed. Plan for weather conditions and make sure to have plenty of water for your dog. Even in dog-friendly national parks, dogs are not permitted in marked swimming areas or in many other natural water areas such as waterfalls.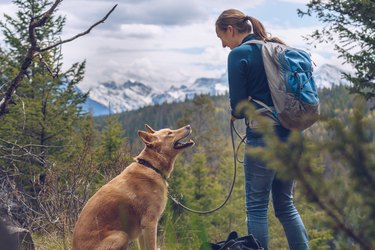 Trail training and behavior
If you have your dog with you at a national park it's important your dog is always on a short six-foot leash, both because it's the rules and for their safety. Be sure to pack treat bags, and plenty of training treats for rewarding your dog. When you see other hikers on the trail step off to the side to safely allow them to pass you. Don't allow your dog to approach people or other dogs. Always scoop after your dog and never allow your dog to chase or harass wildlife. Make sure to stay on the trail while you're hiking as the plants near the trail can be trampled and harmed by your dog walking through them. When hiking makes sure to keep your dog back from any overlooks to prevent them from falling off park trails and becoming injured.Make sure that your dog is properly conditioned for any hikes you do, and stick to short, easy trails if your dog isn't an experienced hiker.
Many campgrounds and some other lodging at national parks are welcoming to dogs. Pet-friendly rooms or campsites sometimes have additional fees. Just like on the trail for everyone's safety dogs need to stay on leash at national park campgrounds, picnic areas, and other recreational areas that are dog friendly. Dogs cannot be left unattended at campsites so if you want to go to an area of the national park where dogs aren't allowed make sure that someone in your group will be able to stay with your dog. Or consider a kennel or daycare facility nearby to give your pooch a safe place to be while you explore wilderness areas where dogs are not allowed.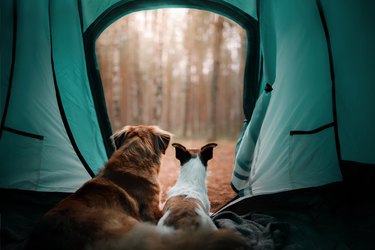 A National Park vacation can be a great way to spend quality time with your dog, but before heading out to the park, make sure to double-check that the national park you are wanting to visit is dog friendly. When spending time in national parks with your dog, don't forget to follow all the rules, picking up pet waste, staying on the trail, and keeping your dog on leash. If you're visiting a National Park soon, don't forget to check out the visitor center and see if that park has an active B.A.R.K. Ranger program.