Get your dog stylin' with these super easy bandana tricks!
1. The Cowboy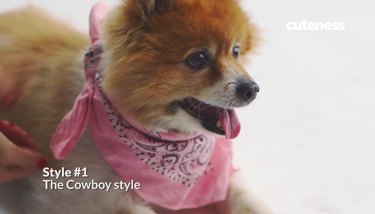 Step 1: Fold your bandana in half, to create a triangle.
Step 2: Tie bandana loosely around doggo's neck, leaving point of triangle at front.
2. The Cape
Follow instructions for The Cowboy, simply switch position of triangle to your pup's back. Stylin'!
3. The Basic Roll Tie
Step 1: Fold bandana in half, forming a triangle.
Step 2: Roll bandana, starting with point of triangle.
Step 3: Tie loosely around your dog's neck, creating a chic double knot. You can have your pup rock the style to the side, or to the front!
4. The Bow Tie
Step 1: Fold two points of bandana to meet at center.
Step 2: Fold in edges to meet at center.
Step 3: Fold in edges again
Step 3: Begin to tie a loose knot (don't tighten yet!) by looping one end of the bandana around the other. Keep one end longer than the other.
Step 4: Loop larger end over opposite side of bandana (the side you haven't started the knot on).
Step 5: Begin creating knot on the other side of the bandana.
Step 6: Before securing knot, weave leash underneath knot. Then tie tight and flip over to adjust the bow. Protip: Be sure to see if you need to loosen the length of your dog's collar!
Step 7: Ooh and aww at your dog's rad new look!