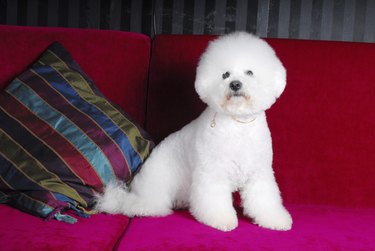 The Yorkshire terrier and the bichon frise are both adorable small dogs that get a lot of attention when walked in a crowd. The fact is that both dogs make good family pets and are popular in cities thanks to their minimal size and exercise requirements. However, the commonalities of the dog breeds generally stop there.
The Yorkshire terrier and bichon differ in character. The bichon frise is known to be easygoing and even comical, but the Yorkshire terrier, also called a Yorkie, is often bossy and in possession of a big personality. Therefore, predicting the temperament of a bichon/Yorkie mix — called a yochon — is difficult. One fact is certain: A yochon will be small, cute, and irresistible.
Yorkshire terrier, or Yorkie, facts
Yorkies are small, delicate dogs with long, silky fur that requires frequent brushing. Their adorable long "bangs" are characteristically swept up in a bow, giving them a doll-like appearance. Usually about 7 pounds at adulthood, these portable pets appear fragile and meek, but don't be fooled because looks can be deceiving.
The Yorkshire terrier was originally bred in England to be a working dog, used primarily to chase rodents out of barns, mills, and mines. Yorkies can be fierce little terriers at times, even while wrapped in blankets in a stroller. Yorkies are often bossy, have big attitudes, and do well in urban environments because they're affectionate, compact, and easy to exercise.
Similarly, bichon frise are popular small dogs who are also often seen sporting bows on their head, though these dogs are white and fluffy and require regular grooming. Slightly bigger than a Yorkie, the bichon can reach a height of 12 inches and weighs 12 to 18 pounds. Bichon frise are also known to be affectionate with family and excellent with kids and other dogs, sometimes even cats. Like the Yorkie, they have a longer life expectancy than many dog breeds.
However, personality is where the bichon and Yorkie differ slightly. Bichons are charmers, sometimes called comedians of the dog world. The soft, fluffy fur framing their face in a round dome invites petting and cuddles, making them great lap dogs. In fact, history indicates that the breed was a favorite lap warmer among French royalty.
Yochon, or bichon Yorkie, facts
As with any cross, it's not possible to predict with certainty what characteristics or appearance a dog will inherit from either parent. However, you can count on the fact that a bichon frise and Yorkshire terrier hybrid will be a small dog because neither breed grows larger than a foot tall or weighs more than 18 pounds. Plus, both breeds are known for longevity — possibly up to 15 years — and both are generally dedicated, affectionate, and loyal pets, so it's likely that a yochon will share these traits.
What's less predictable about the yochon, or bichon Yorkie, is exactly what they will inherit from each parent. Likely, they will have soft fur that is fluffy like a bichon but beige like a Yorkie, with big, soulful eyes. A yochon will likely be slightly smaller than a bichon but will have a sturdier bone structure than a Yorkie.
There's a good chance they'll be barkers and will need early and consistent training. Otherwise, they can lean toward their independent Yorkie traits and possibly even become reactive. However, if socialized early, this can be avoided.
Health concerns include those sometimes seen in both bichons and Yorkshire terriers, including Legg-Calve-Perthese disease, a degenerative condition in the bone of the dog's hind leg, causing hip joint issues. Small dogs, including the yochon, are prone to patellar luxation or a dislocated knee cap. If that's not enough, skin allergies and a sensitivity to vaccinations are also possible in a yochon.