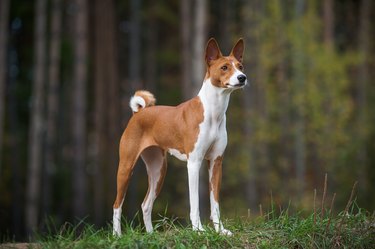 Domestic dogs are genetically similar to wolves, but some breeds are more similar than others. It's easy to assume that you could determine which breeds are most closely related to wolves based on how they look, but it isn't quite so simple. Surprisingly, some breeds are more genetically similar to wolves without necessarily having wolflike traits. Through DNA testing, researchers found that the closest relative to our companion dogs is the Japanese wolf, a subspecies of the ancient gray wolf.
How dogs split from wolves
Dogs are the closest relative to the wolf. In fact, they share 99.96 percent of the genes responsible for their physical and behavioral traits. They're so similar that they can even interbreed and produce viable offspring. So, what is it that makes them different? The answer lies in what separated them in the first place. It's estimated that the split occurred between 27,000 and 40,000 years ago.
The distinctive feature that lead to the separation was the inclination to interact with humans. The wolves who exhibited more social behaviors wandered into human-populated areas and started to form relationships. Instead of using aggression and intimidation to access food and shelter, which is the standard protocol for wolves, they used friendliness and cooperation. From then on, they've developed their ability to bond and communicate with humans.
One of the ways dogs and humans communicate is through gaze. They can look into each other's eyes and respond to each other effectively, much like how babies and adults interact with each other. These and other methods of communication have strengthened dogs' ability to socialize with humans, helping them to become our perfect companions.
Some people believe the breed that looks most like a wolf would naturally be the closest relative to a wolf or even have wolf content, but this isn't necessarily true. Small dogs, like Chihuahuas and Pomeranians, are just as closely related to wolves as other breeds.
According to a study published in Current Biology, researchers identified a gene responsible for small body size that also existed in ancient wolves. Over 50,000 years ago, many years before dogs were domesticated, some wolves exhibited a mutation in a gene that regulated growth hormone. It's the same gene that's responsible for small body size in dogs today. This may explain how smaller dogs could be just as genetically close or even closer to wolves than some larger dogs.
Researchers acquired cheek swabs from 414 dogs (85 breeds) at dog shows across the country and ran them through a database to compare their DNA. They found that the breeds were genetically distinct, and some breeds were clearly more similar than others. They also discovered which breeds are most closely related to wolves.
From the ancient gray wolf, which we understand to be the ancestor of domestic dogs, one line evolved into the Japanese wolf and one line evolved into domestic dogs. Some breeds on the list are more surprising than others given their smaller size and features that are not very wolflike.
The 11 closest breeds to wolves are:
Basenji
Akita
Afghan hound
Siberian husky
Shar-Pei
Pekingese
Alaskan malamute
Lhasa apso
Shih Tzu
Saluki
Samoyed