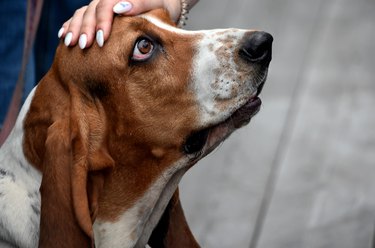 Dogs come in all different shapes, colors, and sizes, but there is one feature that stands out more than the rest: their ears. Why do we see both dogs with floppy ears and dogs with upright ears? The answer may lie in their evolution and may directly relate to their tameness. There may be other traits that coexist with their floppy ears that allow them certain benefits. To get to the bottom of this, we have to look to Charles Darwin, the father of evolution.
Domestication syndrome traits
When studying the differences between dogs and wolves, Darwin hypothesized that the domestication of dogs led to some significant physical and behavioral changes. In his book "On the Origin of Species," Darwin wrote that in every domesticated species on Earth, some of those animals have floppy ears. He added that the most probable explanation is that the drooping results from the ear muscles not being used because these animals are safe and aren't being alerted of danger.
A collection of traits are thought to be associated with domestication syndrome:
Floppy dog ears
Smaller ears
Smaller teeth
Curly tail
Juvenile behavior
Smaller brain
More frequent reproductive cycles
Docility
Lighter patches of hair
Lower stress hormone levels
These modifications were hypothesized to result from neural crest cells, which help determine various features of an animal, including facial, skeletal, and connective tissues; pigmentation; teeth; and adrenal glands, which affect the fight or flight response. They also regulate cartilage, which is largely what dictates whether a dog has floppy ears or upright ears.
The silver fox domestication experiment
Evolution: Education and Outreach discusses a long-term experiment by Dmitri Belyaev in 1959 that was fueled by his interest in how wolves eventually became the domesticated dogs of today. Instead of conducting his experiment on dogs, he decided to see if he could remove the wildness from silver foxes through selective breeding. He and his team tested hundreds of foxes in each generation and selected 10 percent of them using a scale he created to find the tamest foxes. The goal was to see if the foxes became more tame in future generations and whether they exhibited the traits associated with domestication syndrome.
Since silver foxes reproduce once a year, each year coincides with one generation of foxes. In six generations (six years) of selecting foxes to breed based only on tameness, the resulting foxes licked the researchers' hands, whined when humans left the room, liked being petted and picked up, and wagged their tail when humans approached them. This suggests that the traits associated with domestication syndrome are solely based on tameness.
Less than 10 years after the experiment began, some of the foxes had floppy ears and curly tails, their stress hormones were reduced by half, and their serotonin increased, making them happier animals. They had more juvenile facial features, longer reproductive periods, and greater synaptic plasticity, which represents cognitive ability, or their capacity for learning and memory. The results of this experiment strongly suggest that dogs developed floppy ears from years of mating with other tame, friendly dogs who liked being around humans.
How to care for dogs with floppy ears
With all the positive traits associated with floppy ears, your droopy-eared dog might need some extra care. While any dog could get an ear infection, dogs with floppy ears are at a higher risk, especially if they go swimming regularly. Check your dog's ears often and you'll learn how frequently you need to clean them. However, if they look red or inflamed, have a foul odor, or seem to be irritating or hurting your dog, head to the vet for a checkup. It could be an infection or mites, and cleaning them yourself might do more harm than good.
Clean your dog's ears when he's calm. It will make the process easier for both of you.
Squeeze a veterinarian-approved ear cleaner into the ear canal without touching the tip to the ear.
Wait about 30 seconds for the solution to work its way through the buildup.
Massage the base of your dog's ear while you wait.
Your dog may want to shake his head. Let him.
Take a cotton ball or some gauze and wipe the ear. Don't go any deeper than the length of one knuckle.