Cats can be allergic to many different things. They may get sick from certain foods. They can have aversions to outdoor elements, like hay or pollen. While it's not the most common irritant felines will have in their lifetime, cats allergic to dogs can get relief while keeping their canine friend around.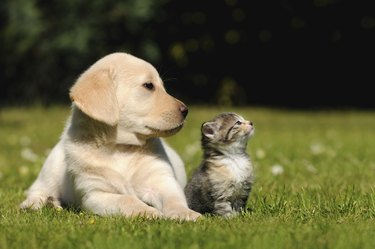 To determine whether a cat has allergies and what they are, your veterinarian can do a test to rule out the causes. For cats allergic to dogs, humans can help lower the severity of their pet's reaction by keeping their home clean. Dog allergy treatment for cats will most likely involve medication. Frequently brushing other pets in the home and cleaning up fur regularly are home remedies for dog allergies that can help lower the severity of symptoms for cats.
Dog saliva allergy breeds
Though not as common, like humans, cats can be allergic to dogs or other animals just as dogs can be allergic to cats. Prevalence and allergy level will vary by pet. The breed of a cat or dog can also play a part in the chance of allergies. If you believe your pet might be allergic to another furry household member, your veterinarian can perform tests.
Some dogs cause allergies more than others. People and other animals in the home are most likely to be allergic to bulldogs, Pekingese, Boston terriers, huskies, Saint Bernards, Doberman pinschers, and German shepherds. Dog urine and dander can also cause allergies in people and other pets. There are some breeds that are seen as "hypoallergenic," though they can still cause allergies to those around them.
One of the most common allergens for cats is food ingredients. When cats are intolerant or allergic to an ingredient in their meal, the first sign is chronically itchy skin on many different parts of the body. You may also notice them having diarrhea, having excess gas or vomiting.
Cats often develop environmental allergies. Pollen in the air, dust around your home, grass being cut, or mold growing can all give your cat discomfort. These types of allergies are often presented through congestion, coughing, and watery eyes. Synthetic products can also give cats respiratory problems. If you have pets, do not smoke cigarettes around them. If you notice them acting strange when you use certain household products, like cleaners or fragrances in their litter, discontinue use.
Cat allergies may also be due to insects, including fleas, worms, or dust mites. While all cats will have a minor reaction to flea bites, cats who are allergic to fleas will have a severe reaction to their saliva if they sustain a single bite.
Signs your cat has allergies
Regardless of the cause of the allergies, there are a few indicators that your cat is intolerant to something. One sign that your cat or dog is allergic to other pets in the home or another element is frequent itching of the skin and loss of fur. They may also frequently shake their head or have gastrointestinal or respiratory issues.
In addition to allergies, cats, like people, can develop asthma due to irritants in the air. This can present as chronic wheezing and shortness of breath. An x-ray, CT scan, or bronchoscopy may be needed to rule out other causes, like lung worms or cancer.
Treatment for allergies in cats
To determine whether your cat is allergic to your dog or vice versa, the vet will perform tests. If it's found that your cat has allergies to other animals in the home, he will likely be prescribed medication, and you will be recommended to frequently clean your home of pet fur as a dog allergy treatment. If it's found that a cat has asthma, corticosteroids and bronchodilators are most effective at treating the condition.
Other allergies will likely be treated with medication as well. However, do not give your pet any allergy medication without a veterinarian's prescription or approval. Veterinarians may recommend over-the-counter antihistamines, but any medication containing decongestants should never be given to a cat. If an allergy involves something environmental that can be changed, that may be enough to remedy the problem.