Your dinner party is over, and your dog is longingly eyeing the leftover ham. While it may be tempting to offer your pet a bite of a ham shank as a treat, it's not the safest or healthiest choice. Cooked bones can have sharp fragments, and ham is high in sodium, so pork bones for dogs are a bad idea.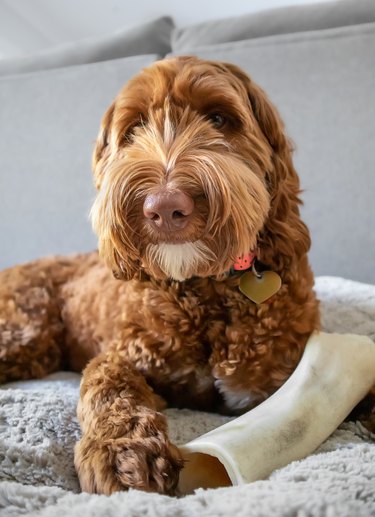 There are many foods humans eat that should not be given to dogs. Avoid cooked bones and anything high in sugar, fat, or salt. Processed foods are also a bad choice for pups. If you want to share your table scraps with your dog, lean meats, plain rice, and veggies cooked without seasoning are the best choices. If you're mostly seeking something for your dog to chew, there are many alternatives to bones that can keep your dog busy and stimulated.
Ham shanks and other pork bones for dogs are never a good idea. They can splinter, which can scratch your dog's throat or esophagus. If they break into too large of a chunk while your dog is snacking, they pose a choking hazard. Even if your dog is able to chew it up, it could cause mouth wounds in the process.
Any bone is best avoided, including bone treats. Though they may be marketed as good for pets, bone treats can pose some of the same risks as cooked bones from meats, and they may contain spices and flavors that are not great for your dog. Both illnesses and injuries have been reported in dogs who have eaten bone treats.
Dogs need both saturated and unsaturated fat, but as with all nutrients, these elements should be consumed in moderation. Ham is very high in fat, so if your pet eats a lot of it, he can gain weight and will have digestive issues from it.
Ham is also very high in salt. While that's what makes it flavorful, consuming excess amounts of sodium and nitrates is very bad for your dog, and ham is high in these elements. If your dog eats something with a high salt content, he may develop salt poisoning. If your pet consumes something containing salt and you notice lethargy, tremors, vomiting, diarrhea, dizziness, or increased thirst, contact your veterinarian immediately.
While certain foods humans eat are not great for pets, there are plenty of beneficial foods you can share with your dog. Rather than ham, you can offer your dog plain, trimmed pork. Chicken and other lean meats are also great sources of protein. Offer these foods without any seasoning, as many seasonings can cause gastrointestinal distress or may even be toxic to your pet. Onion, garlic, and nutmeg should never be on any food served to your dog.
Plain bread can be fed to your dog as well as small amounts of cheese. Cooked eggs and fish are safe sources of protein. Natural peanut butter without xylitol or other added ingredients makes a healthy treat. While dogs can eat peanuts, other nuts, like almonds and macadamia nuts, are toxic and can be a choking risk. Talk to your veterinarian before introducing new foods to your pet's diet and watch to make sure she does not have an allergic reaction or aversion.
Alternatives to cooked bones
While cooked bones from any meat are not safe for dogs, there are many other options. Since all dogs have a different level of chewing, there are different products designed in a wide selection to appeal to gentle to rough chewers.
Choose a chew toy for your dog that is a good size and material for him. Consider whether your dog is an aggressive or gentle chewer. Nylabones and other similar toys come in bone shapes and are made of durable, dog-safe rubber. Though they are touted as being beneficial for your dog's dental hygiene, use caution when giving your dog antlers, since they can lead to broken teeth, and like bones, they can chip and lead to choking and other issues.
While some dog chew toys, such as rawhide bones, are made from animal parts, these may be inhumanely sourced. Like cooked bones, they can still pose a choking hazard depending on their size. Your veterinarian can help you figure out the best chew toy options for your pet.