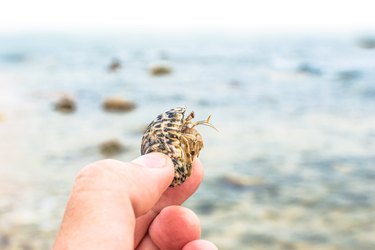 Often, when you find hermit crabs for sale, they are land hermit crabs. However, marine hermit crabs are ideal for saltwater aquariums and are easy to care for, needing an aquatic environment with rocks and substrate, shells that are a suitable size, and a healthy diet, which can vary depending on the species.
Selecting marine hermit crabs
Saltwater hermit crabs can be a beneficial addition to your saltwater fish tank. They clean algae from the tank and help to aerate the water. There are many species from which to choose in varying sizes and colors. Some examples include herbivores like the red tip hermit crab, yellow tip hermit crab, and zebra hermit crab. Some omnivorous species include the electric orange hermit crab, Halloween hermit crab, and blue leg hermit crab.
Marine hermit crab habitat
Can saltwater hermit crabs live in fresh water? Unlike land hermit crabs who need access to both fresh and salt water, marine hermit crabs need salt water to survive. Do saltwater hermit crabs need air? They do need air, but they breathe through their gills, which allows them to live under water. In fact, they can only survive for a brief time outside of salt water.
Marine hermit crabs have specific requirements in order to thrive. Don't add hermit crabs to a new aquarium; make sure the tank has been established for about six months before attempting to add the crabs. Keep marine hermit crabs in water that is between 72 and 78 degrees Fahrenheit. Keep the water pH between 8.1 and 8.4. Also check the kH, or carbonate hardness level, of the water. It should be between 150 and 215 parts per million. Finally, the specific gravity of the water should be between 1.021 and 1.028.
The tank should be at least 10 gallons, but you may need a larger aquarium depending on what other fish you have in the tank. Add 1 or 2 pounds of coral or live rock per gallon and make sure there are some rocks for your hermit crab to climb.
Feeding a marine hermit crab
What do marine hermit crabs eat in the wild? Hermit crabs are known for eating just about anything. Some species are herbivores and not only dine on algae but also plant life, such as seaweed. Omnivorous hermit crabs not only eat algae and other plant life but will also dine on cyanobacteria and meat, such as krill and popcorn shrimp. In your aquarium, hermit crabs enjoy the same diet. If you need to supplement their diet, add dried seaweed or pelleted food.
Hermit crab without a shell
The saltwater hermit crab life span is about two to four years, although this can vary by species. One of the hermit crab adaptations is their use of the shells of other creatures to provide protection. If you find your hermit crab without a shell, you may be concerned that it is dying. In fact, when saltwater hermit crabs are dying, they will fall out of their shell. However, throughout their life, the hermit crabs will also molt. When they do so, they must leave their shell and will return to a new, larger shell after molting.
Make sure you stock the tank with plenty of shells of various sizes, as hermit crabs may fight over suitable shells. In addition, make sure that the other fish in the tank aren't likely to consume your hermit crabs.