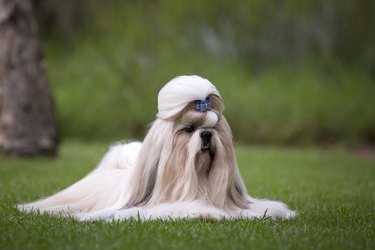 There are a lot of dogs in the world, but not every dog is unique enough to have an American Kennel Club (AKC) registration number. AKC-registered dogs are dogs that can be shown to have a known pedigree, and their ancestry is documented through the AKC. Their name is saved for posterity, and no other dogs can be registered with that name.
Registering is a great way to preserve your dog's unique heritage and get some advantages that only registered dogs get, such as being able to participate in AKC events. Registered dogs can also get a frame-able certificate. Registration for purebreds helps maintain a database of information about that breed and ensure that breeders are staying true to a dog's breed, because they have to be able to prove ancestry.
AKC-registered dogs
The AKC is a registry of purebred dogs that has operated since 1884. The club officially recognizes 193 distinct dog breeds as of 2019.
Having an AKC-registered dog's registration number allows you to learn more about the background of your dog and also register any offspring your dog may have. To register a dog with the AKC, the father and mother (sire and dam) of your dog must be AKC-registered. The litter that your dog is a member of must also be registered to obtain an individual registration application for your dog.
Find AKC registration number
If you know the registered dog's name but not its AKC registration number, you can search by name. And vice versa; if you know the dog's AKC number but not the name, you can search by that instead. The first step to either of these is to create a free account on AKC.org. Once you have an account, you can manage the information that you know about your dogs.
The AKC website has a section called Pedigrees, where you can purchase a frame-able certificate with your dog's name and information. This is a great place to start if you need to find a dog by his AKC registration number. If the number shows up in the registry, you'll be able to find out more information.
Registering a dog
Each registered dog must have a unique name. The AKC provides a name check form where you can enter in the name you are considering naming your dog to be sure that the name is not already registered on another dog. Dog names have certain limitations; for instance, they aren't supposed to be more than 50 characters, including spaces, hyphens, and apostrophes. If they are more than 50 characters, the AKC charges an extra $10 fee.
AKC registration cost
According to the AKC's fee schedule, basic AKC registration cost starts at $34.99, and costs increase as you add optional services. The Silver package for $42.99 comes with 30 days of pet insurance. The Gold package for $59.99 comes with insurance and a custom collar tag for your dog. The Platinum package for $79.99 comes with the insurance and tag, plus a frame-able pedigree certificate and more.
Transfer of ownership
The AKC has a protocol for ownership changes of registered dogs. If the dog you are getting is already registered, the AKC has a simple online transfer form you can fill out. All you need to know is the AKC registration number and the date the registration certificate was issued. If you lose the dog's registration papers before the transfer is completed, you can contact the AKC by mail or email and request a duplicate registration.