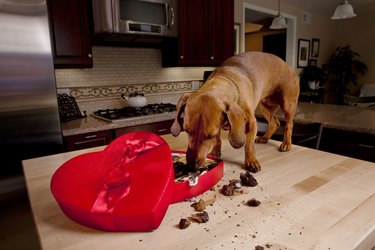 Cocoa powder, candy bars and chocolate chips are all on the "no eat" list for your dog. While chocolate is a popular treat in almost every country on the planet, it is not particularly pet safe. Most cases of chocolate poisoning are mild, but a voracious animal may consume enough to cause life-threatening symptoms. Specialized medical assistance may be required to treat severe poisoning from overindulgence or sensitivity.
Caffeine and Theobromine
Chocolate contains two similar chemicals that are both dangerous to your pet: caffeine and theobromine. Theobromine is the primary culprit in chocolate poisoning, but the caffeine also can contribute. Both toxins are absorbed through the lining of the stomach and intestines as the chocolate is digested. They then spread through the dog's body, impacting internal organs as well as brain function.
Symptoms of Toxicity
The absorption of toxins through the digestive tract can cause inflammation and other digestive ailments. Affected dogs may vomit or suffer episodes of diarrhea with doses of less than 10 milligrams of cper pound. The poison can increase heart rate and blood pressure, as well as cause irritable or restless behavior. Toxin concentrations of 30 milligrams per pound put your pet at risk of dangerous seizures, muscle spasms and other neurological issues, according to VCA Animal Hospitals.
Treating Toxicity
It can take six to 12 hours for any symptoms to appear after your dog eats chocolate. Take your pet to a local veterinarian or clinic if he shows any signs of toxicity or if you believe he consumed a significant amount. Treatment centers around stabilizing your dog through intravenous fluid and pharmaceuticals to ease tremors and spasms. Your vet also may force your dog to vomit to expel undigested chocolate if he swallowed it within the past hour or so.
Preventing Poisoning
Keep chocolate food items in a pantry or cabinet well out of your dog's reach. The concentration of theobromine in chocolate depends on the particular food item. Take extra care to store dry cocoa powder and baker's chocolate securely, as they contain a much greater concentration of toxins than milk or semisweet chocolate.
Always check with your veterinarian before changing your pet's diet, medication, or physical activity routines. This information is not a substitute for a vet's opinion.