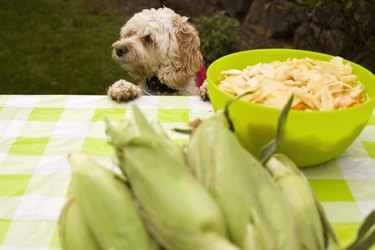 Dogs are carnivorous, in the sense that they are animals that eat flesh. Dogs, however, produce their own taurine, a nutrient only found in certain muscle meat proteins. In addition, their digestive systems permit them to ingest vegetable matter and grains, as well as meat. For these reasons, dogs can also eat an omnivorous diet as well. However, dogs should not eat a vegetarian diet, as they require a certain amount of meat protein to remain healthy.
Vegetable Nutrition Basics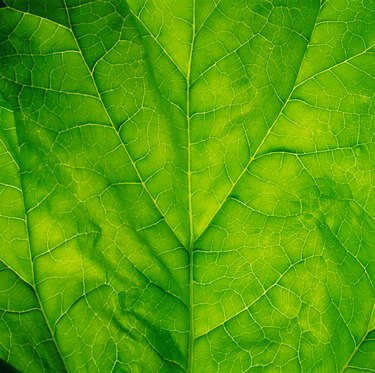 Vegetables are good for dogs primarily in two ways. They can be beneficial in a weight loss program, due to their low calorie content, and they can provide essential nutrients without resorting to vitamin and mineral supplements. The vitamins and minerals from vegetable sources can provide a number of nutritional benefits to dogs. Vitamin E supports healthy skin and coat, vitamin K supports blood clotting, niacin assists with digestion and food-to-energy conversion, and folate supports female dog health during pregnancy and embryo formation. Many sources exist that provide information about the precise nutritional benefits of each vitamin and mineral.
Three Good Leafy Green Vegetables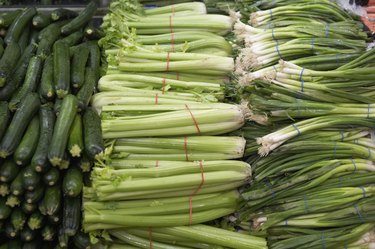 Celery can provide a reasonable amount of fiber, riboflavin, vitamins A, C, and K, as well as folate and other vitamins and minerals. While this nutritional cornucopia seems ideal for your dog, celery is also high in sodium. Celery can be used instead of salt to season vegetable stock being added to a dog's diet.
According to NutritionData.com, parsley is an excellent source of vitamins A, C, and K, as well as potassium, folate, copper, and manganese. People who own Bedlington terriers, and other dogs prone to copper toxicosis, should avoid feeding vegetables that are high in copper.
Spinach is high in iron; folate; vitamins A, C, E, and K; thiamine; calcium; and potassium. In addition, it is an adequate supply of niacin and zinc. Like celery, spinach is high in sodium.
Three Good Root Vegetables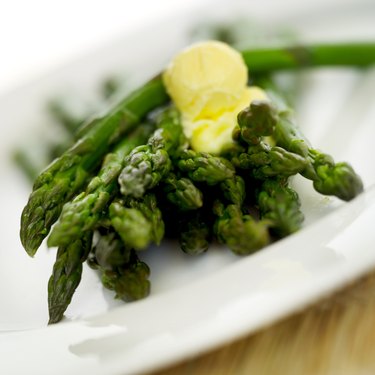 Asparagus is high in vitamins A, B6, C, E, and K, as well as iron, phosphorous, calcium, and copper. As with parsley, people who own dogs with copper toxicosis should avoid feeding their dogs large amounts of asparagus.
Instead of offering your dog a crunchy commercial dog treat, give him or her a raw baby carrot or two. Baby carrots, because of the high cellulose content, are not easily digested, making them low in calories. In addition, they are high in vitamin A and beta-carotene. Steaming or pureeing carrots makes them higher in sugar and more easily digested, making them less beneficial in a weight loss diet.
Sweet Potatoes are high in vitamin A and are adequate sources of potassium and vitamin B6. Like carrots, raw or dried/baked sweet potatoes make excellent low calorie treats for dogs.
Three Good Vine Vegetables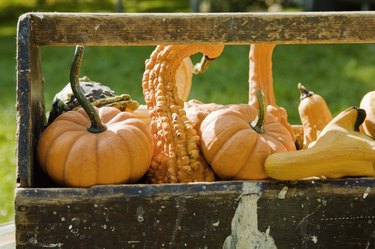 Cooked or pureed squash provides the nutrient potassium, which can be beneficial in supporting a dog's kidneys and may reduce a dog's risk of heart failure. According to NutritionData.com, squash also provides a significant amount of vitamin A and calcium, as well as being a decent supplier of folate.
Cucumbers must be peeled prior to use, but are very high in potassium. Like green and yellow squash, cucumbers can be beneficial in supporting a dog's kidneys.
Green Beans have a high cellulose content, making them difficult for dogs to digest in their raw state. This difficulty in digesting the beans is actually a good thing, in that they can be used in helping a hefty dog lose weight.
Always check with your veterinarian before changing your pet's diet, medication, or physical activity routines. This information is not a substitute for a vet's opinion.