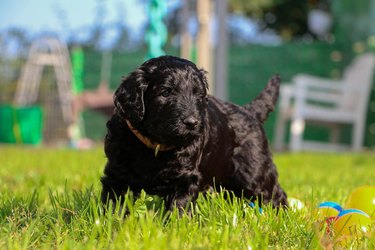 Poodles require grooming every six to eight weeks because their fur grows more than it sheds. Consequently, poodle mixes or hybrid crosses usually inherit the poodle coat, so they require a similar grooming regimen. Brushing the poodle coat almost daily is important because moving the brush from the skin out removes dead fur and prevents matting. Brush and wash the dog before clipping. Popular poodle clips, such as the teddy bear cut, work well on poodle mixes, including doodles, schnoodles, cockapoos, and even pomapoos.
Grooming poodle mixes at home
Poodle mixes often have poodle-like coats, so following guidelines for grooming poodles is a reasonable approach. Experts recommend two types of brushes for poodles: a slicker brush, which is good for removing tangles and dead hair, and a bristle brush, which is a softer brush for shine after using a slicker brush. Brushing every day is recommended, and some groomers suggest brushing only when the fur is damp after a bath or when moistened with a conditioning spray.
When brushing, don't drag the brush along the skin. Instead, start close to the skin and brush toward the ends of the fur. During the first brushing, you should be removing dead hair, which is fur being shed. With practice, some people give their mixed poodles haircuts at home with good-quality clippers. Clipping the dog's fur short all over — called the puppy or summer cut — is the easiest way. Clipping should be done only after brushing.
Professionally grooming mixed poodles
Like purebred poodles, poodle mixes benefit from professional grooming every six to eight weeks to keep them looking neat, clean, and mat-free. Groomers will also brush and bathe the dog, trim the nails, and possibly clean the ears and expel the anal glands. Also, professional groomers should be skilled enough to style your dog with popular cuts, such as the poodle lamb cut, and enhance the unique features of each type of hybrid.
Poodle lamb cut and others
The teddy bear cut is the easiest cut for poodles and poodle mixes, especially doodles and cockapoos, because it's especially cute. Brush first, bathe if needed, and clip along the dog's legs and then the belly and chest, working toward the head. A teddy bear cut is 1 to 2 inches in length all over the dog, including the face. Shaping the head to be round and characteristically fluffy takes a bit of practice.
The poodle lamb cut is a little more challenging. Clip the fur evenly all over the body like with the teddy bear cut, but leave the legs and ear area longer and neatly trimmed using scissors, which takes training. This is a popular cut for poodles and poodle mixes, such as cockapoos and pomapoos, a Pomeranian and poodle hybrid.
The continental cut is the classic poodle show cut with longer hair left on the chest, head, and ankles, but other parts, including legs and parts of the tail, are shaved very close to the skin. The face is also shaved, giving the poodle a narrow, regal show face. However, if you have a poodle cross, such as a schnoodle — a schnauzer/poodle hybrid — the face should be left longer and trimmed into a beard shape similar to a purebred schnauzer.
Long-haired poodle issues
Not grooming poodle mixes regularly results in many problems. Dogs with poodle-like fur will shed, but not enough. Their fur continues to grow, and a long-haired poodle or poodle cross will suffer from matting and possibly skin infections. Mats form close to the skin and grow tighter and tighter, stretching the skin and causing pain, irritation, and often infections.
The only solution for excessive matting that can not be brushed out is to shave the coat off, shearing the dog close to the skin. At this point, grooming at home is not recommended. It's best to leave an excessively long-haired poodle groom to professionals.