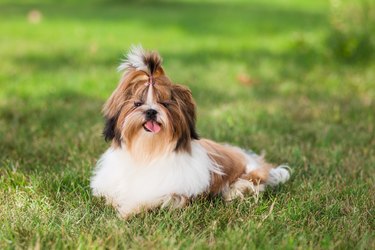 The Shih Tzu is a small, playful, affectionate breed that is believed to have originated in China or Tibet as early as 1,000 B.C. These adorable pups are well-known for their long, beautiful coat that requires regular grooming. Many pet parents opt for these popular Shih Tzu hairstyles, which can be done at home or by a groomer.
Shih Tzus require regular brushing and grooming to keep their coat healthy. Around 10 months of age, a Shih Tzu's puppy coat sheds and is replaced by the adult double coat. Shih Tzu puppies don't need to be brushed as often as adults, but brushing every couple of days will keep puppy coats free of tangles and will remove loose hair and dirt.
How often adult Shih Tzus should be brushed will depend on their coat length. Long coats need to be brushed every day. Medium-length coats should be brushed every two days, while short coats can be brushed every three days. Grooming tools that work best for Shih Tzus are a pin brush, bristle brush, two-level comb, de-matting tool, and leave-in coat spray.
This is one of the most popular Shih Tzu hairstyles, as it's both fashionable and functional. You'll often see the Shih Tzu top knot in show dogs, but it's a fairly easy style to do at home as well. Best for moderate to long coats, the top knot is achieved by gathering all the hair around the face and forehead and securing it on top of the head with a snag-free rubber band.
The top knot keeps hair out of your pup's eyes not to mention his food and water bowls. Make sure to remove the top knot before bedtime and brush it out, as it can get tangled and accumulate dirt throughout the day.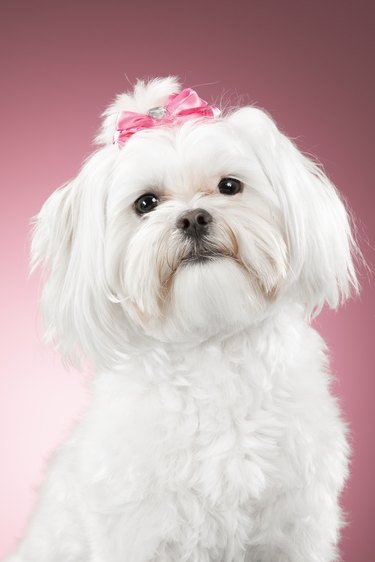 The puppy cut is an ideal Shih Tzu summer 'do that keeps them cool and cuts down on daily grooming. This hairstyle involves clipping or trimming the coat down to about 1 to 2 inches and creating a rounded look on the face. The tail can be trimmed to the same length as the coat, left a little longer, or trimmed with a small tassel at the tip. This haircut resembles the coat length and look of a Shih Tzu puppy.
A Shih Tzu puppy cut should be touched up every four to six weeks depending on how fast your dog's hair grows. This cut still requires regular brushing, but shorter coats are easier to groom and can go a couple of days between brushes.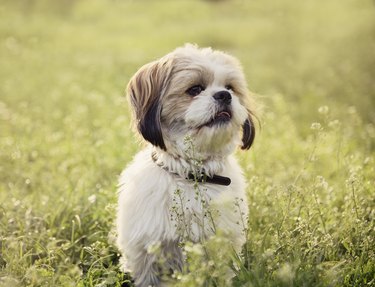 The Shih Tzu teddy bear cut is very similar to the puppy cut. This cut clips the coat to about 1 to 2 inches in length but leaves the hair on the face and ears longer. This gives a Shih Tzu the appearance of a cuddly teddy bear. The teddy bear haircut for Shih Tzus will require the same amount of maintenance and brushing as the puppy cut, but the longer hair on the face will need extra attention.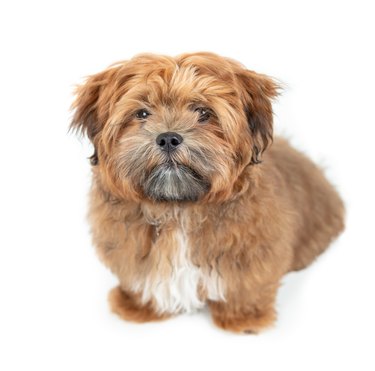 The Shih Tzu lion cut is another favorite hairstyle for Shih Tzus. As its name suggests, this hairstyle will make your pup look like a tiny lion. Similar to the teddy bear cut, a lion cut clips the coat short but leaves the hair on the face and head long to create a manelike appearance. The top part of the legs and tail are clipped to the same length as the coat, with the remaining portions left long. Maintenance for this hairstyle is the same as the teddy bear cut, with regular brushing for both the short and long parts of the coat.