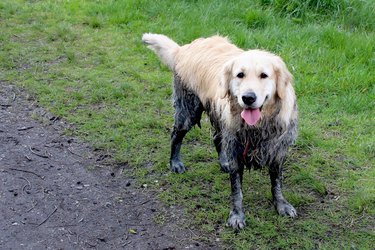 Owning a fenced area where your dog can run is advantageous, particularly when you have more than one dog and limited time to exercise them all. However, dogs and muddy backyards go hand in hand, especially if the yard was not originally designed with your energetic pup in mind.
There are solutions, especially if a complete landscape overhaul is not an option. Aerating, sand, and even wood chips for a muddy yard can help reduce excess water from building up in your dog's favorite playground.
Design, dogs, and muddy backyards
Starting from scratch when designing your yard is the best way to go, though clearly, not everyone can do this. If you can, plan for a dog area away from your garden or section off the garden with fencing. Select a durable lawn surface that hasn't been chemically treated to avoid health issues caused by exposure to toxins.
Varieties of turfgrass that are native to your region will grow the best and will likely withstand the climate and thrive. Starting with a durable lawn cover will help prevent a muddy yard. For instance, Buffalograss is a type of grass that's tough, grows slowly, and requires minimal water or little to no fertilizer. Note where you are installing lawn features, such as a raised garden bed, firepit, or shed. You don't want to block water runoff, resulting in pooling and a muddy backyard.
Using sand for a muddy yard
Sand can be used in two ways to prevent a muddy backyard. First, dogs love to dig, which often removes the grass covering contributing to mud patches. Providing dogs with a digging spot, or sandbox, can help alleviate the boredom that results in undesirable digging. However, unlike a children's sandbox, this one should be dug into the ground like a pit. It will have to be raked regularly and kept covered occasionally. Cats will also be drawn to this feature.
Second, apply sand to simply absorb excess water contributing to mud. Using sand for a muddy backyard is easy. Empty a bag of sand into a fertilizer spreader and wheel it over your yard several times. Allow the sand to settle between the blades of grass. You can repeat this in a week or so over the entire yard or one muddy corner. Aerating — poking holes in the yard to allow for drainage — is an equally straightforward option to reduce mud.
Using wood chips for a muddy yard
Wood chips and mulch are often found in dog parks for a reason: Both allow water to drain, and they keep the surface less muddy. But not all wood chips are equally useful. Cedar chips are nontoxic for dogs and are said to repel insects, but cedar can cause allergic reactions. Mulch is cheap and absorbent but can be sharp and can splinter. Engineered wood fiber, however, is designed to knit together and be free from rough edges, so it's easier on a dog's feet.
Likely, you don't want to fill your entire yard with wood chips or mulch. Creating a rectangular fenced-in dog run and using mulch on the ground is an option, or you can use engineered wood fiber mulch in select muddy backyard areas worn bare thanks to the dog. Never use cocoa mulch, or processed hulls from cocoa beans, near your dog. Cocoa, the source of chocolate, is highly toxic to pets, especially dogs.
Using gravel for a muddy yard
If chewing or ingesting wood chips is a concern, pea gravel is another option to cover surfaces or patches prone to mud. Pea gravel is tiny and smooth, so it usually doesn't bother dog paws, and it can be hosed off easily if it's peed upon. Gravel provides natural drainage and eliminates mud. Watch for dogs ingesting small rocks. Gravel can become hot in the sun, so it's only an option for select areas of your muddy yard.