Things You'll Need
Shovel

Landscaping fabric or builder's plastic sheeting

Compacting roller (optional)

Gravel (needed for wood chips)

Grit sand (needed for using artificial turf)

Pea gravel, wood chips or artificial turf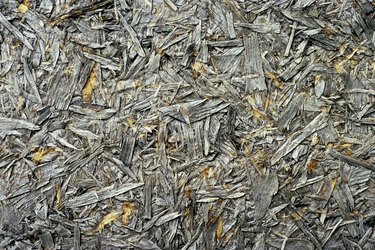 Dogs can turn your backyard into a muddy mess if you don't protect the ground. Grass is unlikely to last long with dog traffic, unless you section off parts of it. The challenge is to find materials that are practical, attractive and will keep the mud where it belongs. Make sure you use materials that will not harm your dogs.
Pea Gravel
Step 1
Level the ground in the yard and fill any holes. Try to do this when the soil is soft, like after a rain shower. Wait for sunny weather to dry the ground as much as possible before proceeding.
Step 2
Lay landscaping fabric or builder's plastic sheeting on the ground you are planning to cover with gravel. This will help to prevent grass and weeds from growing and ensure the gravel remains separated from the soil. Allow the sheeting to slope down slightly at the edges so rainwater can drain.
Step 3
Lay pea gravel on top of the material to a depth of about 6 inches. Use round stones to avoid cutting your dogs' paws. Make sure your dogs do not try to eat the gravel.
Wood Chips or Artificial Turf
Step 1
Clear and level the ground, removing large stones and filling any holes. Allow the earth to dry in the sun as much as possible. Lay landscaping fabric or builder's plastic sheeting and slope it at the edges to allow for water runoff.
Step 2
Cover the fabric or sheeting with a thin layer of gravel and compact it with a mechanized roller. Spread a 6-inch layer of wood chips across the gravel. These will be soft on your dogs' paws and will provide an attractive ground covering for your yard.
Step 3
Leave out the wood chips and add a layer of grit sand on top of the compacted gravel to form a base for artificial turf. Cut the turf to size and attach it to edging stones or wooden stakes. Artificial turf is maintenance-free and hard-wearing, and will provide your dogs with a soft surface to run on.