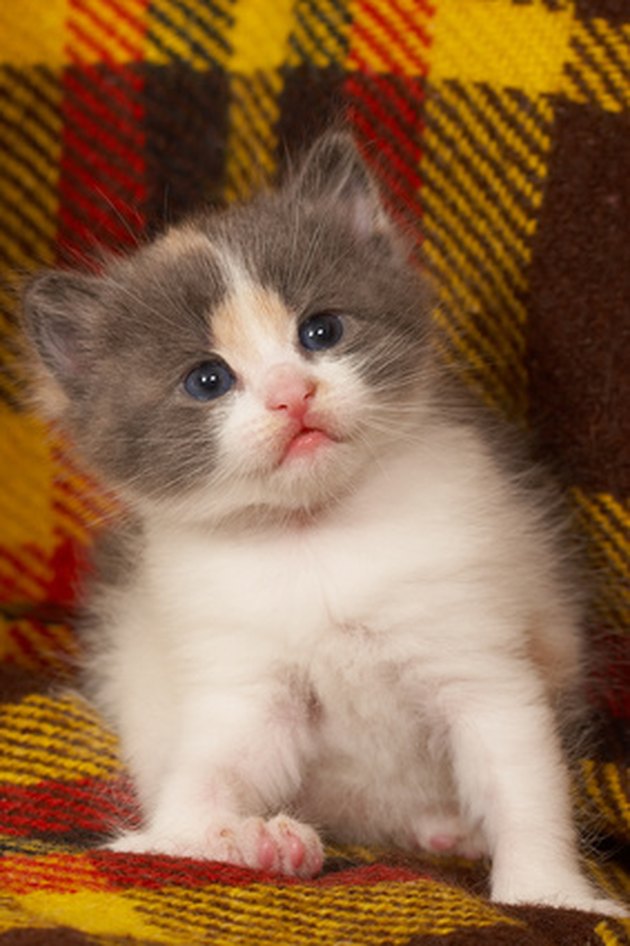 A kitten can be a joyous addition to any home, and caring for a kitten can help teach a child responsibility. Watching a kitty play on the floor or lap at a bowl of milk can help you feel good even on a bad day. Unfortunately, buying a cat can easily cost $100 or more. Avoid this expense with options like fostering a kitten temporarily or adopting one through a classified advertisement. State and local programs also have occasional free adoption fairs. Once you've spared yourself the initial expense, you'll have more resources for your kitten's health maintenance and upkeep.
Step 1
Ask your neighbors if they know of any available litters of kittens. Going local gives you the chance to get to know your area and lets you make a big difference in a little kitten's life. Your neighbors may also know of wild cats in the area. Feral cats can be caught and tamed with patience and skill. Such cats may also have kittens in dire need of adoption. Contact your local rescue groups for details about feral kitten capture and fostering.
Step 2
Look for pet ads in the local newspaper. Often cat owners will place ads offering free kittens for adoption. A cat owner may have failed to neuter a pet or may have found an abandoned kitten. At the interview, bring documentation of your ID, residence and possibly your income. The owner may also ask you for references from friends and relatives to indicate that you are capable of caring for a kitten. Bring a clean cat carrier or a well-lined cardboard box to house the kitten as you take it home with you.
Step 3
Contact local colleges to enquire about a pet adoption service. Some dorms allow students to have a pet, and many students who bring a kitten to campus find they lack the time for care for it. Make and put up signs indicating your interest in acquiring a kitty. Contact student organizations on campus and get permission to post a "Kitten Wanted" poster.
Step 4
Contact a rescue group or a shelter. Rescue groups work with cats and kittens that have been abandoned or abused. Some do not charge an adoption fee for a kitten, or offer reduced fees in exchange for volunteer work. Rescuing a kitten allows you to welcome a new member of the family and save a life at the same time. Shelters may also waive fees for adoptions under certain circumstances, such as adopting a long-term shelter resident or during special promotions. State and local programs offer intermittent financial assistance with adoption fairs as well as spaying/neutering and vaccinations.
Step 5
Foster a kitten. Most shelters and rescue groups are swamped with abandoned and needy animals, and are grateful to anyone who can temporarily care for a kitten while it awaits adoption in a permanent home. People who foster are often supplied with food and supplies from the rescue group or shelter, although other volunteers are expected to provide food but are not charged an adoption fee should they decide to make the fostering a permanent arrangement. Veterinary care is usually covered by the shelter or rescue group. Fostering can be ideal for someone who isn't sure they want to adopt a kitten or has never done so before.
Step 6
Check Craig's List.This online community bulletin board features classified advertisements in most major cities. The website has a specific forum devoted to pets, where you can scan listings or post a "Kitten Wanted" ad of your own. You may find the perfect kitten just around the block.