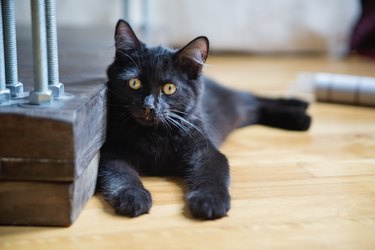 Adding a kitten to your life can be a fun and loving experience for you and your feline. Sometimes, litters of kittens find themselves in need of safe homes with someone who will love and care for them as part of a lifelong commitment. If you're looking to add a young cat to your life and hope to find free kittens, there are countless options that may help you find your match. To prevent the influx of kittens in need of homes in the future, and keep your cat healthy, according to VCA Hospitals, spay and neuter your cat, which can be done for little to no cost in most areas.
The best place to find free kittens or cats in need of a safe and loving home is with people that you know and trust. Asking your friends, family, coworkers, neighbors, and social media followers to keep you in mind if they see or hear of anyone looking to rehome kittens is an excellent first step. Additionally, asking your veterinarian's office to contact you if they hear of any kittens in need, or creating and hanging flyers around your local pet, grocery, and hardware stores is a good way to get the word out as well — you never know who your message may reach.
Sometimes, sites like Craigslist, Facebook Marketplace, or other community sharing and selling sites may feature free kittens in need of a home. If you're looking for kittens of a certain breed or type, checking with your local cat rescue may help you find it, or you may find purebred kittens for sale online. If you're not having luck finding a kitten for free with someone you know or on popular sites like Craigslist, typing "free cats around me" in your search engine can yield more results.
If you're looking for a way to add a kitten (or a few) to your home, fostering a kitten or a litter of kittens through your local shelter or rescue is a fantastic, low-cost and temporary way to do so. Often, shelters and rescues become overwhelmed with an explosion of kittens for adoption during the warm months of the year, sometimes referred to as "kitten season." By fostering, you not only get to experience the playful, early months of a cat's life, you're also relieving stress felt by your local animal welfare organizations, and prime your foster kittens for a happy life in their respective forever homes, says the ASPCA. Fostering often includes free food, litter, and medical care, although terms may vary depending on the organization you work with.
Low-cost options for kittens
If you can't find a kitten for free, or simply don't feel comfortable utilizing any of the above options in search of your forever friend, there are low-cost alternatives available. Your local animal shelter or cat rescue is a great place to start if you're looking for kittens for adoption, and most will ensure that your kitten has had some medical care, like vaccinations. Some shelters may offer discounted adoptions during certain times of the year as well. Baby kittens for sale at Petsmart may be affiliated with local rescue organizations as well, as many partner with the retailer to help their cats find homes with potential adopters.