​Cuteness may earn compensation through affiliate links in this article.​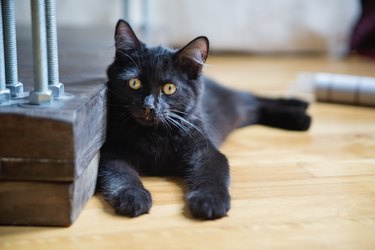 Adding a kitten to your life can be a fun and loving experience for you and your feline. There are always litters of kittens that need safe homes with someone who will love and care for them as part of a lifelong commitment. If you're looking to add a young cat to your life and hope to find kittens that are affordable to atopt, there are countless options that may help you find your match.
Avoid Cragislist and "free kittens"
It can be tempting to first ask people you know if they have any or know of any kittens or cats in need of a safe and loving home. Even with people you know and trust, however, it can be difficult to know how the cats have been cared for and what medical attention, if any, they have received. If you're talking with someone who is desperate to rehome a litter of kittens, it can be difficult to know if you can trust what they say about the kitten's health and behavior.
One danger in taking a kitten from someone online or even an acquaintance is that your kitten may be younger than they say. Removing a kitten from its mother too soon can result in life-long behavior challenges if they are not properly weaned and socialized. While the reasons for this statistic are not clear, a 2000 study by the National Council on Pet Population Study and Policy (NCPPSP) and published in the Journal of Applied Animal Welfare Science (JAAWS) stated that dogs and cats acquired from friends were relinquished to shelters in higher numbers (31.4 percent of dogs; 33.2 percent of cats) than from any other source.
The Cornell University Feline Health Center says that respiratory infections are common in cats, especially among cats who live in breeding catteries or are feral cats born on the street. Vaccines and keeping a cat indoors eliminates many of these concerns, but for cats who are born to mothers who have not received medical care or who are born outdoors, these infections can persist for life. If the person you are trying to get the kitten from has noticed sneezing or coughing in the mother or the kittens, they may not tell you the truth about it.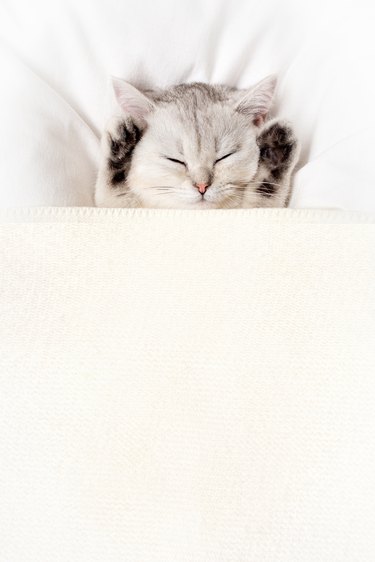 Asking your veterinarian's office to contact you if they hear of any kittens in need, or creating and hanging flyers around your local pet, grocery, and hardware stores is a good way to get the word out that you are looking for a cat. If it's your first kitten and you don't yet have a relationship established with a veterinarian, checking in with their office for recommendations on where to safely adopt kittens can be a great way to get to know a veterinarian that you feel comfortable with.
Check with shelters in your area. Paying cat adoption fees to a shelter or other organization often helps financially support the organization and allows them to provide services to more cats. Most shelters provide basic medical care and vaccinations before they adopt out any pets. Some will even provide spay or neuter services. When you add up the veterinary costs associated with a "free" kitten, it is often more than what you would pay to a shelter. For instance, when you pay an adoption fee at a shelter or rescue you might pay anywhere from $50 to $150, and a veterinary examination is typically $100 to $200. Initial vaccinations are around $50 to $100, and microchipping is $50 to $100.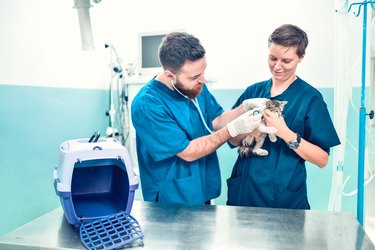 If your local shelter doesn't have what you are looking for, keep checking back. Sadly, shelters and rescues get new animals every day. If you live near a shelter or rescue in a larger city, go for a drive and visit there too. Shelters in larger cities may have more animals to choose from. If timing is not an issue, consider waiting until spring when there is often a large influx of kittens being born during the warm months of the year. During periods when there are a lot of kittens, some shelters may offer discounted adoptions.
Stores like Petsmart often partner with local shelters and rescues to help connect adoptable cats with people like you who are looking for a new companion. They occasionally host in-store meet and greets, or if not, often have links to adoptable cats on their website.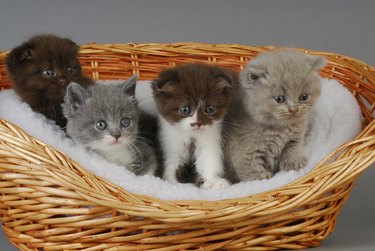 If you're looking for a way to add a kitten (or a few) to your home, fostering a kitten or a litter of kittens through your local shelter or rescue is a fantastic, low-cost and temporary way to do so. Often, shelters and rescues become overwhelmed with an explosion of kittens for adoption starting in spring, which is sometimes referred to as "kitten season." By fostering, you not only get to experience the playful, early months of a cat's life, you're also relieving stress felt by your local animal welfare organizations, and prime your foster kittens for a happy life in their respective forever homes, says the ASPCA. Fostering often includes free food, litter, and medical care, although terms may vary depending on the organization you work with.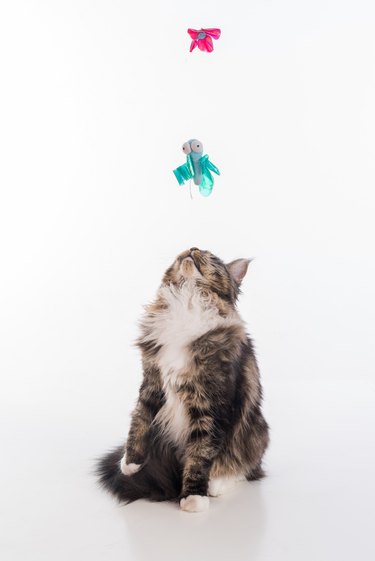 Cats need litter boxes and cat litter. You'll probably want a scratching post or two, if you don't want your couch and walls to become claw magnets. Food and water bowls and some toys are a must. You'll also probably want a cat carrier. Other items to consider are a comb or brush.
A kitten should be about 8 weeks old before it leaves its mother, and at that time it's going to be a bundle of energy. Get your kitten running around and tired out (they'll be less likely to climb your curtains!) with a teaser toy like the Whisker City Chirping Mouse Teaser Cat Toy. This one teases cats with feathers and a little bell. You can't go wrong with a cat toy with a laser. The Whisker City Wobble Ball With Laser Cat Toy has a weighted base, so it rolls, and also chirps with the help of a battery. Cats don't need much encouragement to do their business in a clean litter box with litter they can scratch in, but when your kitten is little a box with lower sides like the Grreat Choice Open Pan Litter Box will be easier for them to get into.
All cats love to scratch in loose litter, but while your kitten is small and still developing, choose a litter that is dust-free to help keep their little lungs clear, and one that has no additives or scents that may be irritating. A natural litter like Exquisicat's Crystals Low Dust Formula Fragrance Free Cat Litter fits the bill. You can reduce the amount of cat litter that gets tracked around your house (especially while kittens are little and are more likely to want to "play" in the litter box) by placing a mat underneath the box. One like the Exquisicat Cat Litter Trapping Mat is easy to clean and captures litter before it gets stuck to their paws. Finally, a bed is necessary for any new kitten. Most kittens like small cuddler beds that they can curl up in. The Whisker City Cat Hut provides a comfortable hidey-hole where your cat can feel safe.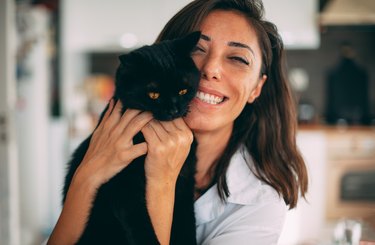 Adopt your cat from trusted sources, like your veterinarian, a shelter, or a rescue. That way, you'll know that the cat has received some basic health care like an examination and vaccinations. Check various shelters and rescues for promotions on kitten adoption fees. Visit an adoption center in a larger town near you if you are having a hard time finding the perfect companion, as larger venues typically receive more kittens and have more to choose from at any given time. To prevent the influx of kittens in need of homes in the future, and keep your cat healthy, spay and neuter your cat, which can be done for little to no cost in most areas.