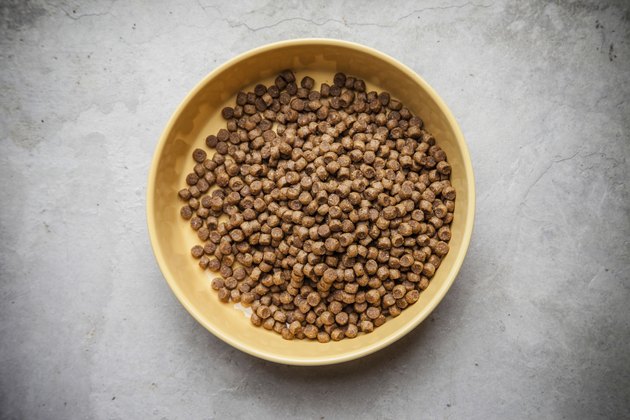 With rising concerns over the preservatives and additives in commercially prepared dog foods, homemade canine kibble is more popular than ever. Before attempting to feed your dog a dinner made from scratch, research is essential to ensure you are providing your dog with a complete balanced and healthy diet.
Protein Is the First Ingredient
Before changing your dog's diet, check with his veterinarian. Certain medical conditions may prohibit a homemade food diet. When deciding on a protein source, consider flavors your dog likes best. Protein ingredients should make up at least half of your dog's dietary intake. Common meat protein sources include beef, chicken, venison, fish, turkey, duck, organ meat and pork. Dairy products such as cottage cheese and plain yogurt are sources of protein, but should be used in conjunction with meat. It is essential to add omega-3 fatty acids to your dog's diet and those can be found in egg yolks, oatmeal and natural oils from fish and plants including salmon, pet prepared cod liver, walnut, safflower, corn and soybean oils.
Additional Essential Ingredients
While dogs are primarily carnivores, additional nutrients are required for a balanced diet. According to a study conducted by the University of California School of Veterinary Medicine, essential ingredients for homemade dog food should include minerals such as copper, zinc, calcium, iron and vitamins such as A, B, C and E. These ingredients are obtained from ground egg shells, organ meats and green vegetables. Your dog also needs the nutrients provided by fruits, vegetables, whole grains, carbohydrates and fiber. These ingredients include high-carb vegetables such as potatoes, sweet potatoes, legumes and squash. Nutritional vegetables such as broccoli, kale, green beans, carrots, collards, alfalfa and grass sprouts should be added for vitamins. Sources of grains for your dog can include brown rice, barley and quinoa. Fruits including bananas, apples, berries, melon and papaya can be offered as treats, or mixed into your dry dog food recipe.
Preparing Homemade Dry Dog Food
Pet nutritionists recommend you purchase a food scale to ensure ingredient amount accuracy. Whichever protein source you choose, grinding the meat for easy digestion is the preferred way to prepare this nutrient. Prior to baking, thoroughly grind and mix your ingredients; some pet parents use a food processor or blender. If the blended mix needs thickening, add whole wheat flour until you have a dough-like consistency. Flatten the dough to roughly 1 inch. Using a cookie sheet, set the dough in the center. Place cookie sheet on the middle rack and bake at 350 degrees for 45 minutes. Allow to cool and break into small, bite-sized, pieces. Adding a vitamin supplement will help to ensure you're meeting all of your dog's nutritional needs.
Precautions and Proper Storage
Some dog owners do not realize there are certified pet nutritionists and Ph.D. veterinary graduates specializing in canine nutrition. Before settling on an ideal recipe for homemade dry dog food, check with your veterinarian or one of these professionals. Within a couple of weeks of feeding your dog his homemade recipe, a veterinary checkup is necessary to examine your dog's body condition, and ensure his nutritional needs are being met. Pet nutritionists recommend preparing homemade dry dog food batches suitable for nine days of feeding. Separate mixture into three-day portions, seal in airtight containers and freeze. Thaw containers as needed and refrigerate unused portions. It is best not to prepare large amounts of dry dog food in advance as cooked and frozen foods slowly lose essential vitamins, nutrients and probiotics.