​Cuteness may earn compensation through affiliate links in this article.​
Many dog foods today contain preservatives and allergens that may not be good for dogs. They could also include highly processed ingredients, low-quality meat, genetically engineered starches like rice, potatoes, corn, and wheat, and added colors and chemicals. High-quality dog foods can be expensive, which means that dog owners may not be able to afford them. Or, perhaps dog owners would rather spend some time making their own dog food instead of buying anything that's been processed.
If you'd like to make homemade dog dry food for your pup, here's what to do.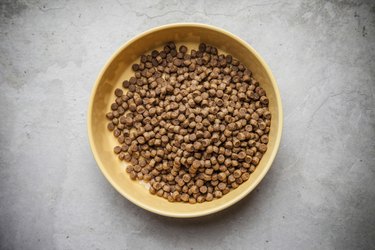 Speak to your veterinarian
The first thing to do is speak to your veterinarian and make sure it's OK for you to make homemade dry dog food. Ask your vet if there are any special ingredients you need to include or ingredients you should avoid including because of your dog's specific diet or health issues. For example, your dog could be allergic to a certain vegetable and it wouldn't be good for him to eat it. Once your veterinarian gives you the go-ahead, you can find some recipes that your dog might enjoy.
Use a homemade dry dog food recipe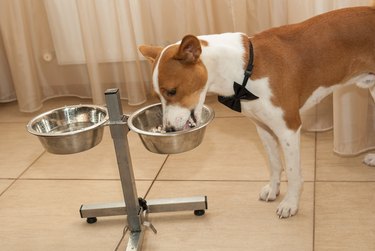 1 cup and 1 tablespoon brown rice
5 cups (1¼ liters) water
½ cup (100 g) lentils
¾ cup (100 g) steel-cut oats
3 medium carrots, peeled and chopped
1 medium sweet potato, scrubbed and chopped
1 apple, peeled, cored and chopped, or ½ cup unsweetened applesauce
2 small sprigs fresh rosemary, finely chopped
1¼ tablespoons finely chopped fresh parsley
2¼ cups ground turkey, about 18 ounces
¼ cup olive, sunflower or canola oil, plus additional oil for greasing
You'll want to put the lentils and rice into a saucepan and then cover them with water and bring the mixture to a boil. Then, reduce the heat to medium and cook for 20 minutes.
Once they are cooked, you can add the sweet potato, chopped carrots, and applesauce. Stir in the chopped herbs and oats and simmer gently for 20 minutes.
Add a cup of water if the mixture is too dry, and then preheat the oven to 350 degrees Fahrenheit. While the oven is heating up, brown the ground turkey in another frying pan for about 10 minutes.
Place half of the cooked vegetable and grain mixture into a food processor with half of the cooked turkey, and then add half of the oil and pulse until the mixture comes out as a thick purée.
Then, grease two cookie sheets and spread the mixture onto one of them. The mixture should be around ¼ inch thick. It shouldn't be too thick or else the food will not cook through. You can repeat this for the second cookie sheet.
Put both of the sheets into the oven and bake for 45 minutes. Then, turn the food over so that it dries through. Then, cook it for another 30 to 45 minutes. It'll look like two large cookies. If it's not completely cooked through, put it in for longer or else the moist parts will become moldy within a few days.
Reduce the oven to 325 degrees Fahrenheit, remove them from the oven, cool them, and cut them into smaller pieces. Then, place them back on the sheet and bake them for one more hour or until they're dried out. Once they're done, remove them from the oven and let them cool. You can keep them in the refrigerator for 10 days.
If your dog wants a wet version of this homemade dry dog food, then you can always mix it with one part warm water and one part dog food. You could also mix it with peanut butter to make it more appetizing for your pup.
Products to help you make your homemade dry dog food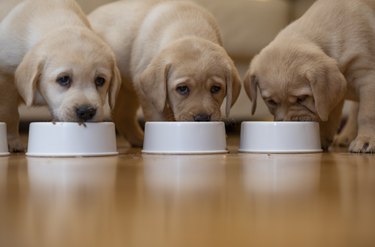 For your homemade dry dog food, you're going to need the right cookware. You could buy these Stainless Steel Cookie Sheet Baking Sheet Pans, which come in a set of two. They have a non-stick finish, so your dog food will easily come off, and they are non-toxic, which means they are safe for your pup. Since they are heavy-duty, they are built to last, and they're rust-free and simple to clean.
You'll also need measuring cups to measure out the ingredients. U-Taste Measuring Cups and Spoons Set (10 Pieces) are safe for you to measure out dry and liquid ingredients, include colorful handles, and are made of anti-rust food grade 18/8 stainless steel.
Another helpful item would be a peeler, like this Aniso Kitchen vegetable peeler. It can also be used for fruit, it has an ergonomic, safe, and comfortable design, and it can be put into the dishwasher.
If you don't want your dog eating highly processed dog food, then you can make your own homemade dry dog food. As long as your veterinarian says your dog is healthy, then you can keep feeding him your food and ensuring he lives a long and happy life.