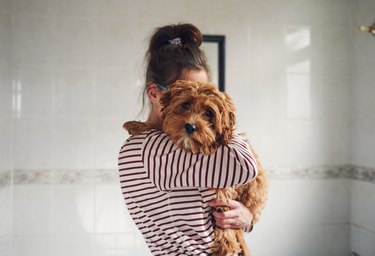 No one wants to see a dog sick and suffering from an infection. Commercial antibiotics can help treat bacterial infections, but they can also kill off good bacteria as well as the bad. Additionally, some owners prefer to avoid giving their pets commercial medications whenever possible, either because they don't trust the ingredients or for ethical/moral reasons. Whatever the reason, if you want to prevent or treat an infection using a holistic approach, there are a great number of homemade antibiotics for dogs, many of which have been used for centuries.
Before using antibiotics for dogs
If your dog already has an infection, it is important that you see a vet before starting a holistic approach. While it is fine to use natural antibiotics for dogs who are at risk of infection from an animal bite or cut or for those with minor infections, it can sometimes be hard to tell if an infection is serious or not without a vet's assistance. You should never treat a sick dog with a staph infection using a home remedy, for example, unless you get the go ahead from your vet first.
Commercial antibiotics are more aggressive and work faster, and while these might be the very things that bother you about them, in some serious infections, it is critical that you treat the problem as fast and effectively as possible. If your veterinarian suggests commercial canine antibiotics and warns against using natural treatments, do not ignore her advice. As SimpleWag points out, prescription antibiotics could mean the difference between life and death in your dog.
Because allergies to natural antibiotics are common, VetInfo recommends administering herbal remedies in small portions for a short period of time and to start the proper dosage only after you are sure your dog has no allergic reaction. If an infection gets worse despite using a natural remedy, be sure to take your dog back to the vet.
Goldenseal as an antibiotic
PetMD says that goldenseal is a powerful antibiotic that works by preventing bacteria from latching onto cell walls. It can be used as a tincture for skin infections, a tea for stomach and intestinal problems, or an eye wash for dogs with eye infections and weepy eyes.
Calendula flower applied topically
Calendula flowers are a fantastic antiseptic and can be a great way to prevent infection in dogs with bites or other wounds. The petals can be applied directly to an injury and bound up as part of the wound dressing, or they can be brewed into a tea and used as an antiseptic wash that can be applied a few times a day.
Oil of oregano
One of the most highly regarded natural antibiotics for pets is oregano oil. Veterinarian Stephanie Flansburg Cruz says that oregano oil for dogs has antiseptic, anti-fungal, anti-viral, and anti-bacterial properties. You can apply it topically on skin rashes and wounds or give it to your dog orally by putting it in a tea or mixing it with your dog's food. Straight oil of oregano should be avoided because it is too strong for dogs and because most animals will reject it for the taste anyway.
Garlic as an antibiotic
Garlic is an anti-inflammatory, an anti-parasitic, and an antibiotic that is safe for dogs in small quantities. Be careful with the dosage of garlic, though, as it can be toxic in large portions. One clove can be given to a large dog, while a medium dog under 25 pounds should get no more than half a clove, and a small dog 10 pounds or under should get no more than a quarter of a clove. Because most dogs do not like the flavor, you'll probably have the best luck smashing up a clove and adding it to your pup's food.
Always check with your veterinarian before changing your pet's diet, medication, or physical activity routines. This information is not a substitute for a vet's opinion.