Most dogs love to frolic in the snow, especially after an intense winter storm when many people prefer to huddle indoors. Dogs, however, need to be walked in any weather and rarely complain about being outside. Do dog paws get cold in the snow? They don't get cold very easily thanks to a unique circulatory system that draws heat into their feet. Dog paws can tolerate cold temperatures and snow.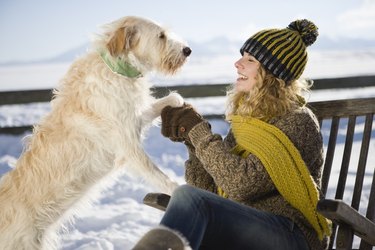 However, this doesn't mean there are no reasons to protect your dog's paws in the snow. Other cold-weather threats demand that people think about the best dog paw protection for winter. Doggie winter boots are one solution, and paw balm is another. Even if you use a waxy paw balm, wipe a dog's paws after a snowy walk to remove any de-icing chemicals and dampness. Chemicals can burn the paw pads, and moisture can lead to discolored, yeasty feet.
How dog paws tolerate cold
Dog paws can tolerate most cold temperatures because they have a unique circulatory situation called a countercurrent heat exchange system. Within their paws, dog veins run parallel to the arteries so warm blood flows constantly from their hearts to their toes. Heat heads to the areas of the dog that get cold first, which is the paws. This means if it's snowing outside, it's not too cold for a dog's paws.
Interestingly, the countercurrent heat exchange system is also found in arctic animals, including penguins and seals. Dogs are the only domesticated pet with this system, suggesting it was inherited from canine ancestors once living in the arctic. However, despite being able to tolerate most winter temperatures, dog paws are susceptible to frostbite.
Walks in the snow are generally not harmful to dogs, though older dogs can slip and hurt muscles and tendons just like people. However, in extremely cold temperatures, dogs can get frostbite, especially on their paw pads and ears. Frostbite occurs when the blood vessels in the skin constrict to preserve internal temperatures and block out the cold. Symptoms include discoloration of the skin, swelling, blisters, or patches of blackened and dead skin.
While most dogs can easily tolerate walking in the snow for short distances, some might need protection on longer walks or when there's more than just snow to worry about. Salt, sand, and chemicals used on sidewalks and roads during the winter to melt snow and ice are often a greater threat to dog paws than snow alone. Limping or holding up one paw during the walk is a clear sign of salt irritation. Using dog paw balm is one solution.
Best dog paw protection for winter
Dog paw balm is a waxlike substance applied to the dog's paw pads that offers a barrier of protection against the cold snow and more damaging salt. There are many brands of dog paw balm, but one of the most popular is Musher's Secret, which is said to be used by sled dog racers (hence the name). In the best dog paw balms, the primary ingredients are a combination of beeswax and moisturizing oils, such as shea butter or coconut oil. In addition to commercial products, there are many do-it-yourself recipes available, and in a pinch, you can even use petroleum-jelly-based products.
Dog winter boots can also protect a dog's feet from winter hazards, though snow is the least damaging to a dog's paws. Clearly, dog boots will reduce or eliminate contact with snow and ice, but they must be snug-fitting boots. Otherwise, losing one or more in a snowdrift is a possibility. Also, dogs might take some time to get used to them, often high kicking along before acclimatizing to their new winter footwear.