Boston terriers are one of the most popular small dog breeds for good reason. These dogs are known to be gentle, consistent, and intelligent, so they make great family pets. The "American gentleman," as this breed is affectionately nicknamed, loves playing and generally just being around people. Something to keep in mind is that Boston terriers are prone to allergies, so they may need to follow a special Boston terrier diet.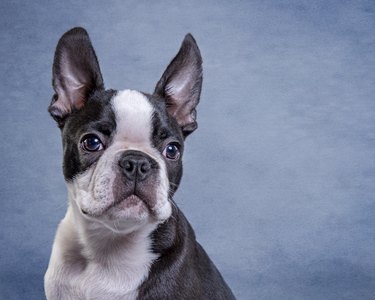 Choosing dog food can feel daunting, so if you are unsure, consult your veterinarian for advice and suggestions. You may have to try multiple types of food before finding something that works for your pet, and you might need to seek allergy testing to see if your canine is allergic to common dog food ingredients. There are also dog foods formulated specially for Boston terriers.
Boston terrier breed characteristics
Boston terriers are bred to be short-haired, small dogs with large eyes and pointed ears that stick straight up. Their coat, which is typically black and white, gives them a dressed-up appearance that many people compare to a tuxedo. True to their city-inspired name, their calm disposition and compact size makes them a good pet for people living in urban areas. They do not do well in hot, humid places for long periods of time due to their susceptibility to breathing issues, and they need regular eye care and examinations.
These dogs tend to be loving, and they enjoy playing. They are loving and good with kids, and they tend to get along well with other dogs. Though they can be silly, they are also often stubborn, so training will take persistence and consistency to help them learn. Boston terriers require daily exercise. They love to play fetch, but walks and short jogs are great ways for this breed to stay active and healthy.
Like other dogs, Boston terriers need a variety of vitamins and minerals to live a healthy live and have the energy needed to stay active. All dogs are omnivores. Protein will need to be the main ingredient, but dry or wet foods also need a moderate level of healthy fats and complex carbohydrates. Boston terriers tend to easily become overweight, which puts a strain on their small body and shorter legs, so portioning out their diet is an important part of keeping them healthy.
A Boston terrier diet should be one designed for a small, short-haired dog. Due to their quick metabolism, small dogs sometimes need more calories than larger breeds, and they may need more frequent feeding to prevent hypoglycemia. There are breed-specific formulas available that you can buy from the store, or you can get a prescription from your veterinarian, but food rich in necessary nutrients for small dogs should be sufficient if your pet has no major health problems. Since Boston terriers are prone to allergies, watch out for rashes or gastrointestinal issues, as these are indicators that they are intolerant to something.
Common allergens of Boston terriers
While all dogs can be bothered by food and environmental allergens, these occurrences are more common among Boston terriers. This type of dog has a higher risk for allergies in addition to skin and gastrointestinal issues. Boston terriers also have an increased chance of developing cherry eye, cataracts, heart murmurs, and deafness.
Any changes in what your Boston terrier eats should be done gradually to avoid digestive upset. If you have concerns about your dog's diet in terms of nutrition or potential allergies, before you make any sudden changes, get in touch with your veterinarian for advice. Proteins like beef, lamb, eggs, soy, and chicken are all common causes of food allergies in dogs, though your Boston terrier can be intolerant to any ingredient.
If you notice your dog frequently itching, developing a rash, having digestive issues, or experiencing weight changes, these could all be a sign that your dog is allergic to an ingredient in his meal. Consult your veterinarian for a proper diagnosis, letting her know everything you feed your pet.