As predictable as a dog's reaction may be when kibble hits his bowl, it is his unpredictability that may cause him to become lost. Sadly, dogs are lost every day, sometimes due to something as simple as a hole in the fence or as catastrophic as a car accident involving a dog in the vehicle. If you find a lost dog, his rabies tag number may help you reunite him with his owner.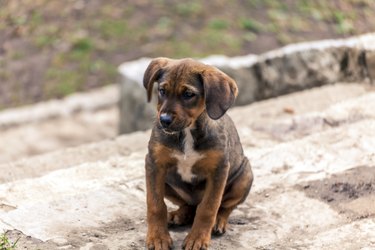 Approach a lost dog carefully
If you find a lost dog, you need to exercise caution in your approach. A lost dog is likely scared or may be injured. For an aggressive dog, call the police or animal control. If the dog seems friendly with her tail wagging, use a calm voice and encourage the dog to come to you. Give the dog any treats or food that you have to help lure her to you so you can get her to a safe location.
Once you've secured the dog, examine him for dog tags. Ideally, he may be wearing a tag that lists his name, his owner's phone number, and his home address. Be sure to call the number.
If the dog isn't wearing an identification tag but has a rabies tag, his veterinarian's name may appear on his tag, as will a unique number that identifies the tag's owner. Contact the veterinarian, tell him where the dog was found, and provide him with the tag number. The vet will either provide you with the owner's information or will allow you to bring the dog into the office so that the owners can come pick him up there.
Some municipalities may only list limited information on the rabies tag, like the rabies identification number, location, and possibly the year of the vaccination. In this case, you can look online to find the municipality and check its dog tag number lookup information page to see if you can search the database for the number online. You can also call the municipality directly. The rabies tag number will pull up any contact information on file with the city, county, or other municipality about the dog's owners. Use this information to get in touch with them.
Get the microchip checked
If the tag isn't on file, take the dog to a vet's office or to an animal shelter so she can be scanned for a microchip. For microchipped pets who are properly registered, the owner's information should be on file with the pet registration service to which the chip is linked. The vet will also check for a tattoo, usually a place on the ear, thigh, or belly of a pet adopted from an animal shelter.
If she isn't chipped or tattooed, be certain to file a found dog report with area shelters. You'll also want to post lost-and-found fliers around the neighborhood with your contact information on them and a picture of the dog.
Consider fostering the dog until her owner can be found. Many shelters have limited stray holds. Her best hope for being reunited with her owner might be a temporary stay with you.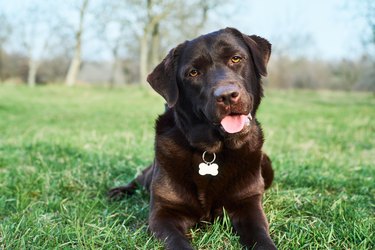 While you're taking care of the lost dog, if you've had no luck locating the dog's tag number and a veterinarian has scanned him for a microchip and found nothing, it's best to head online to post pictures of the dog in lost-and-found groups on various social media platforms. Look for groups dedicated to reuniting lost pets with owners or place a post on your local animal shelter's social media page. This will give the owners a chance to search for the dog online and hopefully be reunited with him.