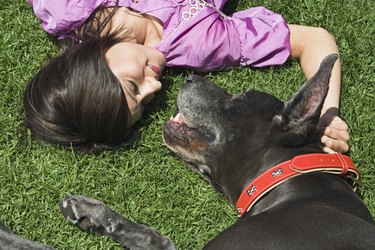 Skin disorders on a dog's elbow run the gamut from infection to skin tags, warts and various benign tumors. While any dog can develop a skin problem on his elbow, it's more common in large breed dogs with short hair. If you notice any skin problems on your pet, take him to the vet. Early detection and treatment can nip some disorders in the bud.
Elbow Pyoderma
If your dog develops a bacterial infection in the elbow region, he could come down with pyoderma. While pyoderma can occur anywhere on a dog's skin, as pressure points the elbows are particularly vulnerable. Pyoderma can result from allergies, parasites or thyroid issues. The initial sign usually consists of scaling on the elbows, with hair loss and scabs. If the pyoderma is deep within the animal's body, the area might ooze pus and blood and smell foul. Your vet will clip the affected area, and prescribe medicated shampoos for regular bathing until signs of infection are gone. She'll also prescribe antibiotics to combat the infection. It can take three weeks or more for a dog to recover.
Canine Calluses
Calluses usually develop on the elbows because of constant pressure when the dog is lying down. While they are most common in large breed, short-haired canines, constantly sleeping on a hard surface contributes to callus formation. The callused skin turns gray and hard. Providing your dog with a comfortable bed and discouraging him from resting on hard floors or ground can prevent calluses. You can soften calluses by using vitamin E oil or other oils that moisturize and won't harm your dog if he licks them.
Elbow Hygromas
Calluses aren't usually a serious issue, but they can turn into elbow hygromas. The original callus formed to protect the elbow from trauma, but excessive and repeated trauma to the joint can result in a fluid-filled pocket -- the elbow hygroma. If you're lucky, the hygroma resolves on its own within a few weeks if the dog has softer bedding and little continued trauma. However, if the swelling becomes infected, your vet will have to drain it. Often, drains are installed in the hygroma and the area bandaged so fluid can escape. They usually must stay in place for about two weeks -- with daily bandage changing -- before the hygroma resolves.
Skin Tumors
Your dog could experience a variety of skin tumors on his elbow, including warts, cysts, skin tags or collagenous nevi, raised or flat lumps. Many of these benign skin tumors don't require treatment, unless they are bothering the dog. Your vet can surgically remove them. However, always take your dog to the vet if you find any lump or growth on him, elbows or elsewhere. There's always the possibility that the tumor is malignant, requiring excision and further treatment, including chemotherapy or radiation.
Always check with your veterinarian before changing your pet's diet, medication, or physical activity routines. This information is not a substitute for a vet's opinion.