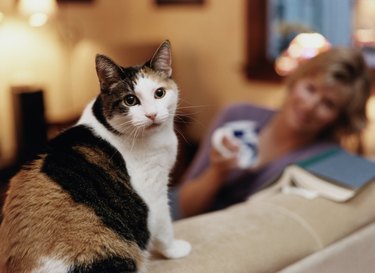 It can be difficult for cat owners to find durable sofas that can stand up to the wear and tear that cats may cause. To prevent against scratching and stains, it is important to purchase sofas that are made of materials that are resistant to these damages. Sofas made with wood or metal frames are less susceptible to scratches, while cushions made with crypton or faux leather are resistant to stains and are easy to clean. Combining wood or metal framing with crypton or faux leather upholstery makes for a cat-friendly sofa.
Wood Framed Sofas
The most likely place a cat will scratch a sofa is the sides or armrests. Choosing a sofa with wood framing will significantly decrease the likelihood of scratching. Wood is durable and difficult for a cat to damage with its claws. In addition, it does not provide an attractive place for a cat to dig into due to its solid feel. According to Comfy1, a furniture manufacturer dedicated to pet friendly products, polyurethane finished oak is a popular material for sofa sides because of its durability and its classic aesthetic.
Metal Framed Sofas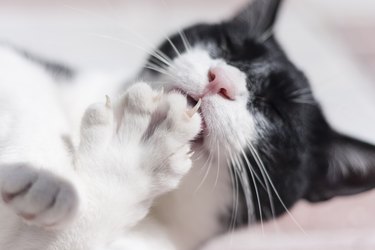 Metal is another material that is scratch resistant. It too is solid and difficult for a cat to damage. For many of the same reasons as wood, cats find metal an unattractive place to dig their claws. When deciding between wood and metal, it is important to consider the desired home décor.
Crypton Upholstery
A popular material used to make beds for pets, crypton makes sofa cushions that are cat friendly. According to Crypton Super Furniture, a furniture manufacturer specializing in crypton products, their crypton super fabric resists stains, spills, odors and bacteria and is easy to clean. Sofa cushions made from crypton prevent substances like urine, mud or cat hair from staining and ruining the sofa. Though a wonderful material for cats, crypton is not scratch resistant.
Faux Leather Upholstery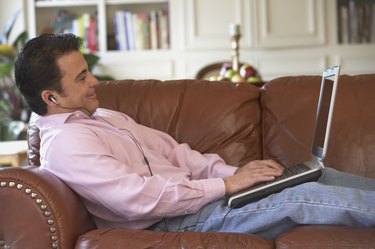 Like crypton, faux leather is resistant to liquids, and in most cases can be cleaned with a paper towel or washcloth. It is not resistant to scratches either. Its leather-like aesthetic is appealing for cat owners concerned with home décor. Though it is considerably stiffer than actual leather at first, it becomes softer and more comfortable with time. Faux leather sofas can be found in most furniture stores.
Materials to Avoid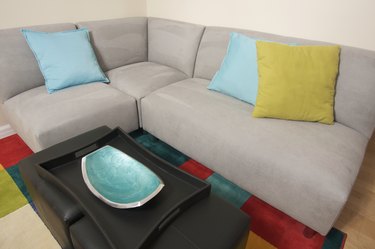 Cat owners should avoid sofas upholstered with suede or leather. Both of these materials stain easily and are difficult and expensive to clean. In addition, they are attractive surfaces for cats to dig their claws into because they are a soft and giving fabric. You should also avoid sofas with upholstered sides and armrests, no matter what the material.