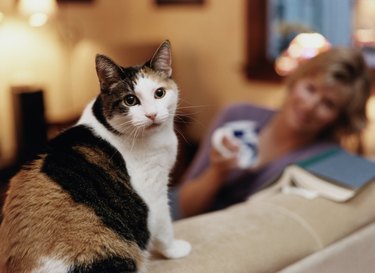 If you've ever seen a couch that's been scratched by a cat, you know the destruction those tiny claws can wreak. A catproof couch doesn't really exist, which means the best couch material for cats may be the one you've trained your feline to leave alone.
Still, some fabrics and sofa frames can resist a cat's claws better than others, and cat-scratch deterrent for leather furniture exists in the form of unappealing sprays and blocking mechanisms that can convince your cat to take his claws elsewhere. With time and patience, you should be able to protect your loveseat and live in harmony with your cat (and her claws).
Best couch for cat owners
The best couches for cats are those that don't entice a pet to scratch them. Unfortunately, plush fabrics, like velvet and leather, along with looped materials that cover overstuffed legs, cushions, and the sofa's back are prime materials for destructive clawing by your feline. Anything resembling carpet is also going to take a beating since cat-approved scratching posts are often covered in this same sort of material.
Instead, catproof couches are on the bare side, with less soft covering and more exposed wood or metal. A couple of wood-framed options to consider are a futon couch or a Mission-style sofa. Metal frames can also resist scratching, as can crypton, a synthetic fabric that's frequently used on cat beds.
Other ways to deter scratching
Once you've found a (nearly) cat-friendly couch, you'll still want to teach your kitty not to approach it as a plaything or scratching post. Learn some tips to deter this behavior.
​Trim her nails:​ Cats need to scratch with their nails to maintain good health, but you can cut them short to at least stave off some scratching and minimize the damage to your sofa.


​Ease her stress:​ Your kitty could be clawing at the couch because she's upset or anxious. To help, try a stress-beating spray with appealing pheromones to calm your pet.


​Add a post:​ Cats tends to scratch after a good nap, so set up a designated post near her favorite sleep spot. You could also rub catnip on the post to make it even more appealing.


​Try a spray:​ On the other hand, something your pet doesn't love smelling is another smart way to deter her scratching. One to try is citrus spray, which is an unattractive odor to cats.


​Block her access:​ A layer of tin foil or tape on the couch will make scratching less fun.


​Offer treats:​ If your kitty tries to scratch your sofa, remove her from the piece and place her near her scratching post. If she stays there and scratches, give her a treat.
What not to do when cats scratch
Keep in mind that cat scratching is instinctive, so it's in your cat's nature to use his claws frequently. Cats scratch to play, stretch themselves, communicate with other animals, and keep their claws healthy. So, while a cat who destroys your couch's arm is a huge pain to deal with, never scold or strike your pet.
Don't force him to scratch in a different place by holding onto his paws to mimic the movement. This only serves to frighten your pet, and he may decide the scratching post is scary as well and then stop using it altogether. If you're thinking of declawing your cat to fix a couch issue, the experts are against it. This ineffective and painful procedure is risky for cats and won't address the behavioral issue at hand.