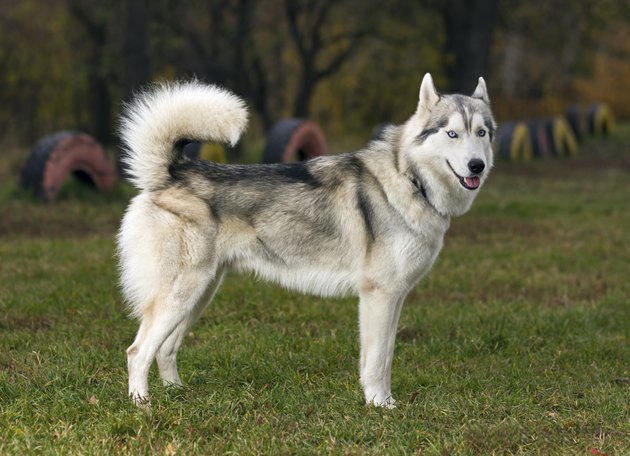 Parents and Misrepresentation
Coloring, Body and Size
In comparison to pure Siberian huskies, wolves have longer legs, larger feet, narrower chests and straight tails. The coloring of gray wolves is more blended than the Siberian husky's. Wolflike coloring and other physical traits might be the result of a mix between a Siberian husky and another wolflike breed, such as a German shepherd, making identification based on appearance challenging.
If your dog is part wolf, he may be larger than average. Wolves weigh [up to 175 pounds with a head and body up to 63 inches long with a 20-inch tail.]
Eyes, Head and Face
Yellow or light eyes don't prove a wolf mix; Siberian huskies often have light eyes. A more telling sign is if your dog's eyes are farther apart than a typical Siberian husky's, although this can result from other mixes, too. Pure wolves don't have masks, spectacles and other distinct facial markings common to huskies.
The wolf's head is larger in proportion to its body than the dog's and its muzzle is smooth from the nose to the top of the head, without the bump dogs have between their snout and head. [Wolf ears are significantly smaller and more heavily furred than the Siberian husky's.](http://wolfpark.org/animals/hybrids/sloan-poster/poster01/) Lack of smaller ears doesn't rule out wolf heritage; a part-wolf Siberian husky could have large pointed ears.
Behavior Traits
Your dog's personality and tendencies won't give a definite answer as to whether he's a wolfdog, but once he matures, he may display wolf traits. A wolfdog may be aggressive, territorial and unpredictable. Siberian huskies aren't the easiest dogs to train, so a lack of obedience doesn't mean the dog is part wolf. Likewise, hybrids vary in temperament just as domestic dogs do, with some adapting better to life with humans than others.
If your Siberian husky is part wolf, he's likely to be much less sociable than typical Siberian huskies. It takes far more time and consistent, experienced care to socialize a wolfdog than it does to accustom a husky to life with people.