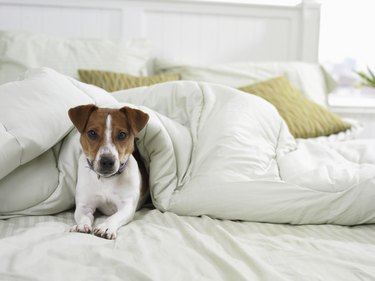 There are several different kinds of worms that can infect your dog. Most types of worms can be easily treated or prevented if you understand the ways they infest your dog. Though worms can be contracted in a number of ways, there is only one type of worm that your dog can get by eating fleas.
Tapeworms
Dogs can get tapeworms by eating fleas. Some fleas contain tapeworm eggs. These fleas can get on your dog a number of ways. When the fleas bite your dog, he may try to bite the flea. Dogs tend to use their mouths to protect or scratch themselves. During this process, it is common for the dog to swallow the fleas. If the dog swallows fleas containing tapeworm eggs, he will contract a tapeworm.
Dipylidium Caninum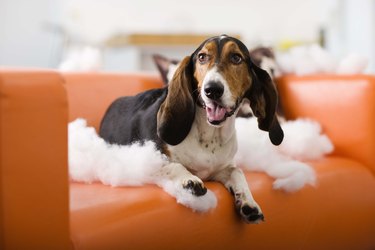 Dipylidium Caninum, sometimes known as the cucumber tapeworm, is the specific type of tapeworm a dog can get from eating fleas. These tapeworms develop inside the body of the flea. When the tapeworm becomes a cysticercoid larvae it is ready to infect mammals. As an adult, these worms look like a long flat worm about 40 to 50 centimeters. It has hooks meant for attachment and its body is made up of segments that look like cucumber seeds.
Symptoms
The main symptoms of this type of tapeworm would be abdominal pain, diarrhea or itchiness. Your dog's feces might have white moving worms in it; these are the segments detaching from the main body of the worm. As the worm develops, it sheds some of its segments. You may also find dried up segments around where your dog is sitting or sleeping, which may look like dried rice or cucumber seeds.
Treatment and Prevention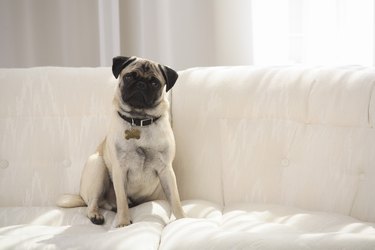 Your vet can prescribe a medication to kill the tapeworm. This medication is usually an edible tablet that dissolves the worm, leaving your dog's body to naturally absorb it. Prevention is an important step because it is very common for dogs to become infected with tapeworms again, once they've had it. The best form of prevention you can practice is flea prevention. Use flea protection products to keep fleas off your dog. Your dog will become much less likely to eat a flea if they are protected against them. A clean living environment will also protect against fleas and tapeworms.
Always check with your veterinarian before changing your pet's diet, medication, or physical activity routines. This information is not a substitute for a vet's opinion.