Exotic and unique girl dog names
Your dog is unique and wonderful and no one can blame you for wanting a name that befits her personality. If you're looking for a unique or exotic female dog names for your new best friend, think outside the box. Sure, for any dog you can look at baby books for name inspiration. But you can look beyond the baby books and so-called "normal" names for inspiration for your pup's name from places where you might not expect to find inspiration.
Creative ways to give your dog a unique female name
Sometimes the hardest thing about having a new puppy is choosing the right name. Unless you're going to register her, there are no "rules" for her new identity (registered dogs do have naming guidelines they have to follow — but you can still call your dog whatever you want to!), but there are some useful guidelines to follow for her benefit and yours.
Keep her name simple — a syllable or two — so you won't trip over your tongue when it's time to call her to you. She'll also recognize it quickly, making it easier for her to respond.
When you choose her name, take care that it doesn't rhyme with common words or commands; for example, "Kit" is very close to "sit," so instead of coming to you at what sounds like her name, your dog may take a seat. As well, if there's a human "Zoe" in the house, both her and your dog will be wondering why you're calling.
Finally, don't name your dog anything you'd be embarrassed to call out in public.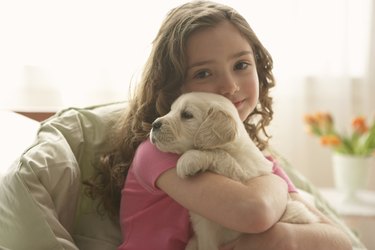 Unique British names for girl dogs
Many of the names that are popular in the United States are not commonly in use in other countries and vice versa. For instance, the most popular name for a baby girl in the United States in 2023 is Olivia. But the most popular name for a baby girl in Germany in 2023 is Emilia. So looking at names from other countries can give you a whole lot more to choose from. If you're looking for a name that's fit for royalty, check out these unique British names for female dogs and puppies.
Abigail

Adele

Alexandra

Alice

Amelia

Amy

Annabelle

Arya

Augusta

Ava

Beatrice

Bertie

Caroline

Charlotte

Cheshire

Chloe

Cordelia

Daisy

Darcy

Diana

Duchess

Eleanor

Elizabeth

Ella

Ellie

Emily

Emma

Eunice

Evelyn

Felicity

Florence

Gillian

Gwyndolyn

Helena

Hermione

Imogen

Isabelle

Isla
Jane

Jemima

Kate

Kiera

Lesley

Lily

Lottie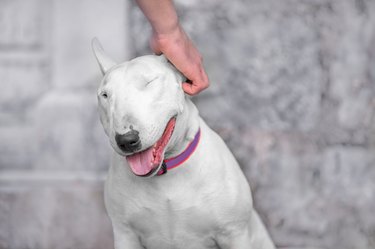 Louisa

Lulu

Madison

Maisie

Margaret

Marie

Marnie

Mary

Mathilde

Maud

Mia

Millie

Nicola
Olivia

Patricia

Penelope

Phoebe

Pippa

Poppy

Princess

Prunella

Queenie

Rosamund

Rose

Ruby

Scarlett

Sophia

Stella

Sue

Twiggy

Valerie

Victoria

Violet

Zara

Zoe
Unique Italian names for female dogs
Lovers of Italy and Italian culture might find a great name among this batch of unique girl dog names filled with Italian monikers. The names of Italian cities roll off the tongue, as do the names of foods, or even historical names like Catherine. Catherine was the most well-known of the Medici women, but other names from that lineage include Lucrezia, Maddalena, and Giulia (pronounced "Julia").
Alessia

Andria

Angelica

Aria

Aurora

Baronessa

Beatrice

Bella

Bianca

Camila

Catherine
Celeste

Charity

Chiara

Contessa

Desdemona

Donatella

Elda

Elena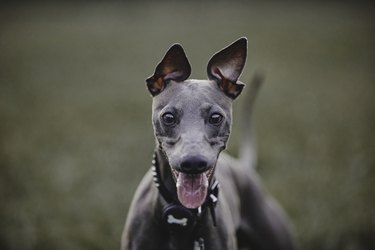 Elisa

Elisabetta

Emily

Emma

Florence

Fortuna

Francesca
Frida

Gaia

Gemma

Giada

Giulia
Giorgia

Giuliana

Greta

Ilaria

Iniga

Irene

Isabella

Laura

Leona

Liliana

Lunetta

Lucrezia
Madonna

Maria

Marta

Martina

Matilde

Mercedes

Mia

Miriam

Mona

Nicola
Nives

Nocciolina

Olivia

Olympia

Perla

Pietra

Pippa

Puci

Ramona

Renata

Rossella

Sara

Serena
Silvana

Sofia

Stella

Teresa

Trista

Vaentina

Valeria

Viola

Vittoria

Viviana
Zaza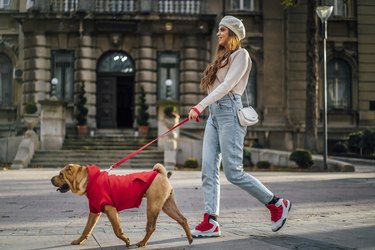 Creative Celtic names for girl dogs
Celtic names can be meaningful, mythological, or both, including any of the unique name options on this lengthy list.
Aife - warrior woman

Aina - joy

Aithne

Aleen - fair

Alys

Andraste

Ardena

Arela

Beatha

Berta - splendid

Bridgette - strong

Brienne

Brietta - strong

Cara - friend

Carey

Carmel

Cinnie

Colleen
Cordelia

Deidre

Deva
Donella

Doreena

Edna

Eisha

Enid

Evelina

Fiona - fair-complected
Genevieve

Gilda

Ginessa

Gitta

Grania- love

Gwendolin

Gwenneth - blessed

Iona- from the king's island

Isolda- fair

Jenny - white wave

Joyce

Keelin

Kennocha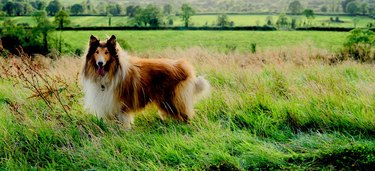 Lavena
Lesley

Linette - idol

Lyonesse - little lion

Mavelle

Melvina

Mirna

Morgane

Morna

Morrigan

Muriel

Nareen - contented

Nola

Oifa

Oriana - blond

Ove

Reaghan

Rowena

Selma - comely

Ula

Venetia - blessed

Winnie - white or fair
Strong German names for girl dogs
Powerful personalities require a strong, solid name, like these German names, any of which would be a great fit for a female dog. As we mentioned above, the most popular girl name of the time right now is Emilia with another spelling given as Emylia. But 10 years ago, the most popular German girl name was Sophie or Sofie. so go back in time to look for popular names, especially if you want something that is a classic, enduring name that is always popular and not a trending name.
Ada - noble, serene

Agatha - good

Alessia

Alfreda - wise counselor

Alina

Amelie

Andrea

Angelika

Anna

Annika

Brunhilde/ Brunhilda - dark warrior

Clara

Dagomar - splendid or glorious day

Elisa

Ella

Emilia

Erika

Felda - from the field

Fredrika - peaceful ruler

Frieda
Gerda - beloved warrior

Gerwalta - mighty with a spear

Greta - pearl

Griswalde - from the gray forest

Helena

Helga
Hilda - battle maiden

Hildagarde - fortress

Ida

Ingrid

Johanna

Josephine

Katrin

Leni

Lia

Lina

Lotta

Mara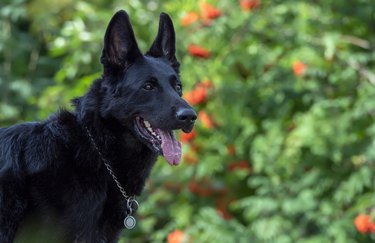 Maritza - of the sea

Marlene - from the high tower

Martina

Mathilda

Mia
Miriam

Nadine

Nele

Nina

Nora

Paula

Pia

Romhilda - glorious battle maiden

Rosalie

Rosamund - famous guardian

Sabine

Serihilda - armored battle maiden

Sofia / Sophia

Stefanie

Wilhelmina -resolute protector

Winifride - peaceful friend
Cute French names for girl dogs
There's just something timeless and classic about French names. The French have influenced so many aspects of our culture here in the United States and also around the world, that even if you don't speak French there are probably a lot of names you already know that are tres bon (very good). So sweet and very femme, these French names for female dogs are beautiful and poised, just like your special girl.
Adeline

Adrienne

Agnès

Aimée

Amelie
Anouk

Apolline

Arielle

Bébé

Bisou

Brigitte

Camille

Capucine

Carmen

Céleste

Céline

Chanel

Chérie

Coco

Danielle

Delphine

Estelle

Eva

Gabrielle

Geneviève

Ida

Isabelle

Jeanne

Joséphine

Juliette

Léa

Liliane

Lise

LouLou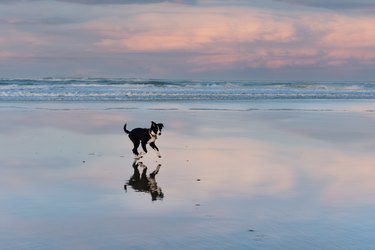 Madeline

Margaux

Marie

Marion

Martine

Mathilde

Mélanie

Minou

Morgane

Patricia
Paulette

Romy

Rosa

Simone

Violette

Yvette
Unique Russian dog names for female dogs
Another batch of strong names with lovely feminine appeal, these unique Russian names for girl dogs are a great option for pet parents with a new furry friend. Russian names can sound similar to some of the names we use in the United States, like Aleksandra, but they typically have a different spelling which makes them seem more like exotic female dog names. And to make your Russian dog name even more exotic, you could practice writing it using the Russian alphabet, which is different than the alphabet used in English.
Adelaida

Agnia

Akilina - eagle-like

Aleandra

Aleksandra

Alla

Alyona

Anastasia - resurrection

Angelina - God's messenger

Anna

Arina

Belka

Calina

Czarina - born empress

Devora

Dinara

Ekaterina - innocent, pure

Eva

Evgenia

Fenya

Filippa - friend of horses

Galina - woman of serenity

Gennadiya - woman of generosity

Inessa

Irina
Ivanna

Karina - pure

Katerina

Katja - natural, pure

Kira

Klarika - bright

Kristina

Ksana

Lada

Levka - lioness

Lidia

Luba - love

Lusha

Mara

Margosha

Marina - woman of the sea

Mila

Mischa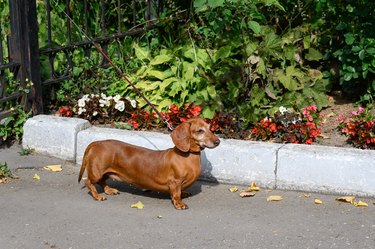 Nadia - fulfillment of promises

Nadine - trusting

Nastasia

Natalya

Nikita

Oksana - bright light

Panya
Polina

Raiya - heaven

Sashenka - she who defends

Sofiya - wise woman

Sonia

Svetlana - shining brightly

Tanya

Tasha

Tatiana - queen of the fairies

Toma

Vanna

Vladlena

Yasemin

Zia

Zina
Unique names for female dogs inspired by Disney
Naming your dog after your favorite Disney princess is a sweet way to honor them both! There are so many Disney princesses! And if you've watched a lot of the movies yourself or maybe with your family, you likely already have a favorite, or at least a favorite movie to start from! Some Disney princesses have really recognizable names, like Cinderella, of course
Aurora (Sleeping Beauty)
Cinderella

Jasmine (Aladdin)
Snow White
Ariel (The Little Mermaid)
Rapunzel (Tangled)
Tiana (The Princess and the Frog)
Pocahontas
Merida (Brave)
Belle (Beauty and the Beast)
Moana
Mulan (not a princess, Mulan is actually a warrior, but is still considered part of the princess pantheon)
Elsa (a queen, who is best friends with Princess Anna in Frozen)
Anna (Frozen)
Esmeralda (a Roma dancer from The Hunchback of Notre Dame, Esmeralda is not a princess but is still a popular Disney character)

Megara (the female heroine of Hercules)

Jane Porter (from The Legend of Tarzan, she is not of royal descent but is still a popular character)

Princess Kida (Kida is also known as Kidagakash Nedakh, and is a character from Atlantis: The Lost Empire)

Jessie (the cowgirl doll from Toy Story is not a princess, but she is nevertheless a main character from one of the most popular movies in the Disney franchise)

Princess Dot (Dot is a princess in the ant kingdom from A Bug's Life)

Vanellope (also known by her full name Vanellope von Schweetz, she is a character from Wreck-It Ralph and not of royal descent, but a popular character nonetheless)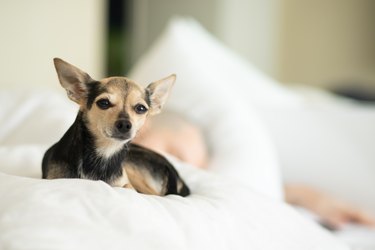 Nala (the lioness from The Lion King)
Cruella de Vil (a villain from 101 Dalmatians and not a princess or queen, but still a very recognizable name and character) **
Maleficent
Ursula
Princess Eilonwy
Lilo
Miss Bianca
Duchess
Wendy
Alice
Unique female names for dogs inspired by food
Maybe you never start your day without a bagel or end a nice meal without a cannoli. These are all potentially cute food-inspired dog names! For a cute, funny, and heartwarming name for female dogs, check out this list of food-inspired female dog name ideas that would make anyone smile.
Alfredo

Almond
Apple

Bagel

Baguette

Bailey

Banana

Barley

Basil

Beans

Biscuit

Brandy

Brie

Brownie

Burrito

Buttercup

Butters

Butterscotch

Cabbage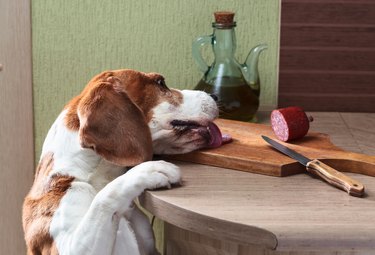 Candy

Cannoli

Cappuccino

Caprese

Caramel

Carrot

Cashew

Caviar

Cayenne

Chai

Cheddar

Cheerio

Cherry

Chesnut

Chickpea

Chili

Chip

Churro

Cinnamon

Clementine

Cocoa

Coconut

Coffee

Cookie

Cranberry

Crêpe

Croissant

Crouton

Crumbs

Cucumber

Cupcake

Curry

Date

Dijon

Donut

Dorito

Dumpling

Éclair

Espresso

Fig

Flan

Flapjack

Fondue

Frappe

French Fry

Frito

Fritter

Fudge

Garlic

Ginger

Granola

Gravy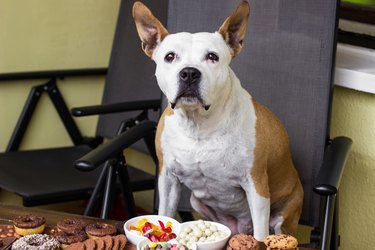 Grits

Guacamole

Gumbo

Gyro

Hash Brown

Hazel

Hershey

Hoagie

Honey

Hummus

Jack

Jalapeño

Jambalaya

Jasmine

Jello

Jellybean

Juice

Kabob

Kale

Kimchi

Kiwi

Kumquat

Latke

Latté

Lemon

Lentil

Licorice

Macaron

Macaroni

Mango

Maple

Marmalade

Marshmallow

Meatball

Milkshake

Mocha

Mochi

Mousse

Muffin

Mushroom

Noodle

Nori

Nugget

Nutella

Nutmeg

Oatmeal

Olive

Oreo

Pancakes

Parfait

Parsnip

Peach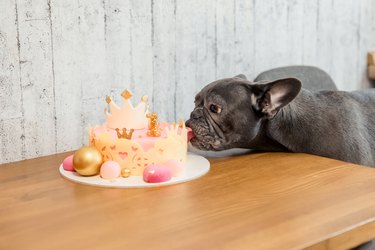 Peanut

Pear

Pecan

Peperoni

Pepper

Peppermint

Pesto

Pickles

Pistachio

Pita

Plum

Popcorn

Poppy

Potato

Pretzel

Pudding

Pumpkin

Queso

Quiche

Quinoa

Radish

Raisin

Ramen

Ratatouille

Ravioli

Reeses

Rosemary

S'mores

Sage

Salami

Sausage

Scampi

Scone

Shortcake

Skittles

Snickers

Sorbet

Spaghetti

Spam

Sprout

Squash

Sriracha

Strawberry

String Bean

Sugar

Sushi

Sweet Pea

Taco

Taffy

Tater Tot

Toast

Toffee

Tofu

Tootsie

Truffle

Turnip

Twinkie

Vanilla

Waffle

Wasabi

Whiskey

Wonton

Ziti

Give your female dog an athletic name!
Your dog may be your running, hiking, or boating companion, able to keep up with your athletic ways. Naming her after one of the great female athletes can tap into her active personality.
Wilma Rudolph - an Olympic trailblazer, the first to win three gold medals in track and field
Consider "Pica" for Picabo Street, another Olympian; she made her mark on the ski slopes
Serena Williams - American tennis player
Venus Williams - sister of Serena. Both are considered among the best ever tennis players
Simone - Simone Biles is the most decorated American gymnast and Simone Manuel, an American swimmer with Olympic and World Championship medals, was the first African-American woman to win an Olympic gold medal in swimming
Allyson Felix - American track and field athlete
Lindsey - Lindsey Vonn is a highly successful American alpine skier and Lindsey Horan is an American soccer player who has won an Olympic gold medal
Ronda Rousey - American mixed martial artist who was the first woman to win a UFC championship and is considered one of the greatest female fighters of all time
Billie Jean King - American tennis player and a pioneer for gender equality in sports
Katie Ledecky - American swimmer with World Championship and Olympic gold medals
Marta Vieira da Silva - Brazilian soccer player considered to be one of the best soccer players of all time
Jessica Ennis-Hill - British track and field athlete with Olympics and World Championship wins
Mia Hamm - American soccer player considered one of the greatest soccer players of all time
Danica Patrick - American race car driver who was the first woman to win an IndyCar race
Mary Lou Retton - American gymnast, won the all-around gold medal at the 1984 Olympics and was the first American woman to win an Olympic gymnastics gold medal.
Naomi Osaka - a Japanese tennis player who has won four Grand Slam singles titles and is known for her activism and advocacy for mental health awareness.
Alex Morgan - an American soccer player who has won Olympic gold medals and helped lead the United States women's national soccer team to FIFA Women's World Cups
Discover feminine female dog names inspired by beauty
Perhaps your girl is more peaceful or known for her beauty and refinement. Consider looking to nature for inspiration. Daisy, Jasmine, Lily, and Lotus are delicate, feminine possibilities. If flowers aren't your thing, consider looking beyond the U.S. for beautiful labels. In Armenian, "Siran" is "beautiful," in Greek, "Calla" or "Calli" is "the most beautiful," and "Kumi" is "rarely seen beauty" in Japanese. Other pretty names for a pretty dog include Inga, Adah, and Lana.
Find inspiration for female dogs names with your favorite celebrities
Plenty of women have made their mark on the world, including some with unique names. If you love fashion, consider "Coco" for Coco Chanel. Brigitte Bardot was not only a beautiful actress, but a tireless animal rights activist. Mata Hari was a spy and an exotic dancer, while Maya Angelou was a great poet and writer.
Other ways to choose an exotic female dog name for your dog
You may want to take a few days to get to know your dog and get a greater understanding of her personality and work from there. Think about words in other languages that represent the way she makes you feel or some aspect of her personality that you notice. For instance, if she's a sweet little thing, she would be "Miette" in French. Exotic female dog names don't have to be traditional names. Consider for instance words that have some meaning in a foreign language that you appreciate. If your dog has a black coat, words that mean "black" or "dark" in other languages might do the trick, like "Noire" meaning black in French. Midnight in Japanese is Yonaka.
Another option is to work your way through the alphabet, choosing a name for every letter and trying it on for size. Is she an Audrey for A, or an Edna for E? A little time getting to know your dog will help you figure out the name that fits her to a T — perhaps a Tia.
Do you need more inspiration for your new pet's name?
Pets are like our children. We love them, care for them, and we get to dress them up in adorable outfits — if that's a thing we feel like doing! So it's extra important that we take time to find the perfect name that reflects our new pet's personality and potential. Naming can be hard, which is why we've gathered nine pet-naming techniques to find the perfect fit, as well as assembled a handful of our most beloved lists of pet names!