Another year, another November. While elections (ugh), Thanksgiving (nom-nom-noms), and Movember mustaches (heck to the yaaas) are the associations that likely come to mind first, it's also Adopt-a-Senior-Pet Month!
Created to boost the adoption rate for elderly animals, which lags stubbornly behind that of kittens and puppies, this public service campaign helps shelters and humane societies across the country find new homes for their oldest— and most at-risk— cats and dogs.
In honor, then, of this pawesome holiday, we've rounded up 13 awww-inspiring senior adoptions that will suplex you squarely in the feels.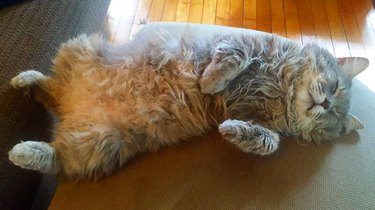 Not all seniors come from shelters; that's the lesson from this hilarious Instagram of Gomez Addams, aka Goméi, a feral cat that is now "living large" in the suburbs of Kingston, Ontario (Canada). According to his loving owners, he's lavished with attention and treats "just a little bit."
Bonded buds Mojo, then 11, and Max, 16, arrived at a Maryland shelter together but were caged separately.
Mojo found a home first but his new owner could tell something was amiss so three weeks later, on the day after Christmas, she returned to the shelter to jailbreak his friend.
As the picture above makes clear, the reunited BFFs are downright inseparable.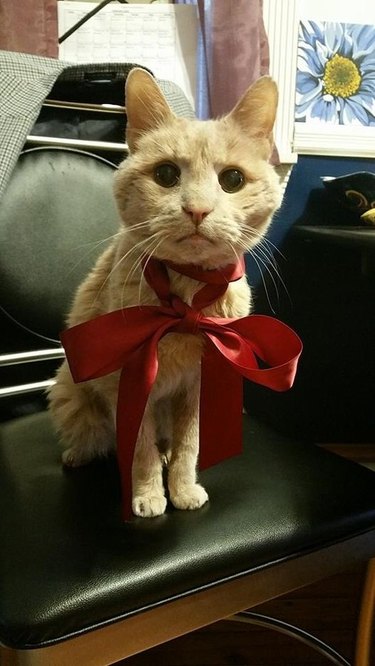 Adopted at age 20 by a Maryland couple eager to give their other cat, also a senior, a companion, Tigger is a stout little dude that's been living his best life—even after he was diagnosed with kidney failure.
4. Banjo The 27-Year-Old Cat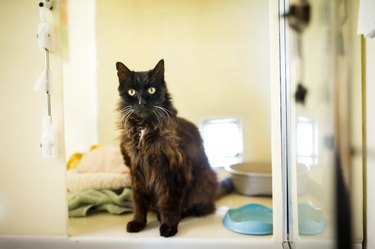 Found earlier this year on the doorsteps of the RSPCA Southall Cattery in west London, Banjo shocked employees when a scan of his microchip revealed that he was 27-years-old (or an astounding 125 in human years!). Likely the oldest feline to ever be adopted, he's currently living out his golden years with a new family after his plight went viral.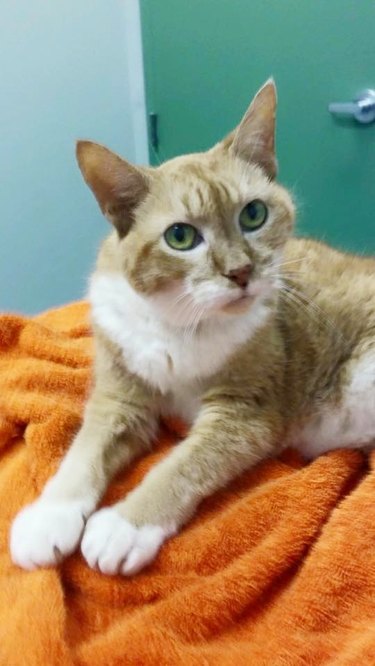 When Tiger's former owner fell ill, the 25-year-old orange tabby found himself in a cage at Lee County Domestic Animal Services in Florida. Enter Big Hearts For Big Dog Rescue, which was moved by his unlikely story.
Reaching beyond its nominal focus on canines, the animal welfare org found him a new residence—at an antiques shop, where he's free to lounge on the furniture of his choice. :)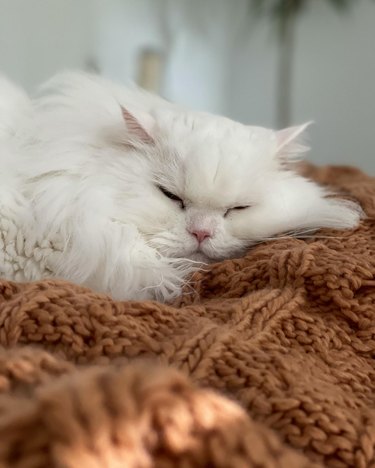 Nursed back to health after arriving at a South Korean kill pound gravely ill and dehydrated, Jon Snow's stunning recovery and transformation is due to his tenacious owner, Rachel, who rushed him to emergency care and refused to give up on him.
He's now a growing celebrity on Facebook, where his 7,500 followers fawn over his every update.
7. Holly The Half-Headed Cat
Cancer is a scourge that comes for the best of us—animals included. Case in point: Holly, a half-headed stray, who lost an ear when UK veterinarians removed a tumor from her brain. After the internet caught wind of her heartbreaking history (there were 8 total operations!), offers to rehome poured in from around the globe.
While she may only have half a head, as her Facebook cheekily notes, she makes up for it with "a whole lot of heart!"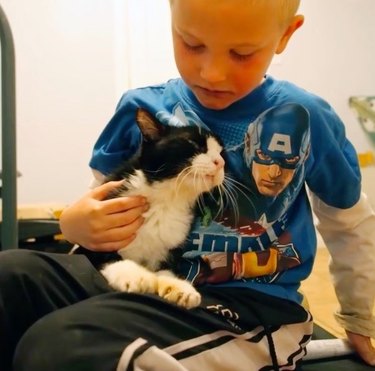 The Williams clan originally planned to adopt a kitten. That all changed the minute they laid their eyes on Dexter, a toothless 20-year-old at the Best Friends Animal Society in Utah.
The cuddly kitty promptly won everyone over with his unconditional love, but the bond was strongest with the family's young son, JJ, and their three dogs, who were also extremely protective of him.
After two years of living with the Williams, Dexter crossed over the rainbow bridge, but as this tender video slideshow with more than 1,000,000 views makes clear, he is sorely missed and definitely not forgotten.
Transferred to a New Jersey shelter following the passing of her former owner, 13-year-old Sienna wasn't going to take no for an answer. This tuxedo cat would literally press its paw against the window every time new visitors arrived.
And after the kitty connoisseurs at LoveMeow shared her story, it wasn't long before a new owner stepped forward to adopt her. Judging by her Facebook feed, the pampered feline seems to have adjusted rather nicely to her new digs.
Surrendered by his previous owners after cysts force the amputation of both ears, Otis, a deaf 10-year-old, is now enjoying the good life with his new human, Molly. His Insta reveals a deep and abiding love of hugs and paper bags.
Plucked from the Ramona Humane Society after what is described simply as a "A LONG TIME", Baby, a 14-year-old short hair, was immediately smothered with kisses and cuddles from her new mom, Maddie. No word on their current whereabouts, but it seems safe to say that the newly-minted duo is off to a great start!
​Want to give a senior animal a new lease on life? Petfinder has you covered!​