Does the material of your pet food bowl really make a difference? You'd be surprised! Choosing the best water bowl for dogs should be a simple task, but there are still some important points to consider — such as weight and quality of finishes — even if you've narrowed the field to only stainless steel or ceramic.
Advantages of ceramic and stainless steel
Stainless steel is a no-nonsense choice. These dishes are virtually unbreakable and are easy to clean — and the most basic stainless steel dishes are typically very affordable. Indulgent owners can also find stainless steel dishes that incorporate drinking fountains, thermal insulation, and elevated platforms into their design. They are also resistant to bacterial buildup, unlike plastic bowls, and can stand up to very high temperatures when cleaning.
However, if aesthetics are important to you, it might be hard to resist the visual beauty of ceramic bowls. Ceramic provides a large array of colors, shapes, sizes, and patterns to match any type of home decor. Creative types can even paint their own picture-perfect bowls for their pets. Ceramic bowls, even handmade, are also resistant to bacteria, as long as they're properly glazed.
Disadvantage of ceramic and stainless steel
You need to put the skids on lightweight stainless steel bowls. Unless you buy a design with a non-skid rubber bottom, you can expect messy meals as your dog pushes or chases his food bowl around the kitchen floor. Also, some mischievous pets have been known to hide their food bowl if it is light enough for them to carry, which many stainless steel dog bowls are.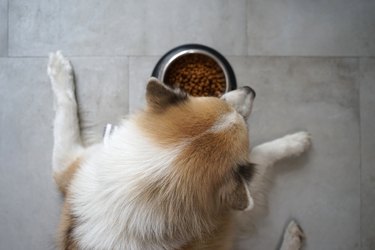 Ceramic bowls, on the other hand, crack under pressure. They do not stand up well to extreme temperatures and seldom bounce back from a fall. Even a small chip in a bowl can leave a very sharp edge, so it should no longer be used to feed your pet in order to prevent injury. Cracked bowls should also be discarded.
Challenges of finding the best water bowl for dogs
Not all stainless steel dog bowls are created equally, years ago Petco recalled several models of stainless steel bowls as a precaution. Apparently, some overseas manufacturers use recycled scrap metal containing unacceptable amounts of radiation. Officials reported that the amount of radiation detected posed no significant health risk. More recently, PetSmart recalled the Top Paw Double Dinner bowl after complaints of cuts and scratches from an exposed metal edge.
The use of lead in some ceramic glazes can also cause health concerns for both pets and people. The only way to be sure that ceramic dishes do not contain lead glaze is to purchase items that are labeled "food safe." If you choose to paint a personalized bowl for your best friend, be sure to use lead-free glazes or paint only the outside of the bowl.
Ceramic vs stainless steel dog bowl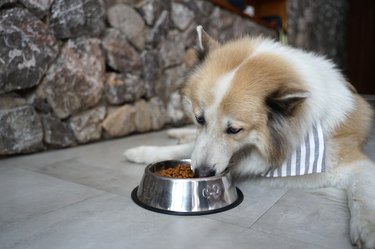 Stainless steel and ceramic are both good choices for use as dog dishes. Be an informed consumer and only purchase items that are clearly labeled "food-safe" to avoid exposing your pet to environmental hazards. A far greater health threat is posed by poor hygiene. Wash your pet food bowls daily, including the water bowl, and wash your hands thoroughly before and after handling dog food or pet dishes.