A well-prepared pet parent will find camping with a dog to be a bonding and rewarding experience. Dogs who love the outdoors love camping, especially when there are wide open spaces and water features involved. Even small house pets will enjoy the chance to romp in the grass and explore new trees, shrubs, sights, and smells.
Prepare ahead of time and take necessary precautions when taking your dog camping to make your experience great for everyone. Visit the veterinarian, pack more than enough food and water (in case your stay is longer than expected), a pet first-aid kit, and familiar comforts from home like his bedding and toys. Don't forget to contact the campsite to enquire if they accept dogs and if you must adhere to specific rules during your stay.
Take your dog for a checkup and discuss the health of your dog with the veterinarian. Make sure vaccinations, including rabies, heart worm, flea and tick prevention are up to date. Veterinarians will determine if your dog is healthy to attend a camping trip by reviewing your dog's overall health, including age, certain conditions and ailments.
The proper amount of prescribed medication should extend beyond your camping trip to assure the medication doesn't run out before the camping trip is complete. Camping involves hiking, physically demanding activity and exposure to wildlife; keep the nearest veterinarian or animal hospital name, address and phone number handy in case of an emergency. Always make sure your dog is wearing his identification tag or has a microchip.
Provide the comforts of home
Bring your dog's familiar bedding, food, water, leashes, collars, harnesses, bowls, blankets, and outdoor toys. Make sure that he will be protected from the elements at all times. If the temperatures in your campsite will be colder or warmer than your dog is used to, make sure to take that into consideration.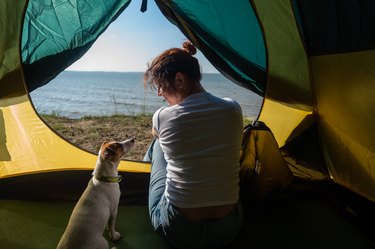 If you expect low temperatures, research your dog's breed to see whether he should wear a dog coat in very cold weather. Though some dog breeds fare well in all weather, not all do, so make sure to do your homework! Have plenty of water in case your pet is running and jumping in the hot sun.
Pet parents should check their pet safety kits before going on the camping trip. Useful items include:
ice pack
hydrogen peroxide
cotton balls or swabs
absorbent gauze pads
antiseptic spray
lotion
powder or wipes
adhesive spray
a foil emergency blanket
flashlight
plastic eye dropper
tweezers, scissors
disposable gloves
rectal thermometer
petroleum jelly
ear-cleaning solution
crate or pet carrier
splints
rubbing alcohol, muzzle
nail clipper
antibiotic ointment
glucose paste
tongue depressors
needle-nose pliers
towels
styptic powder
booties to protect injured paws
Also bring a pet first-aid kit. Bring instructions on how to treat dogs for specific ailments, injuries, bites, and more. Carry a copy of your dog's medical records and proof of vaccinations in case you need to visit a local vet.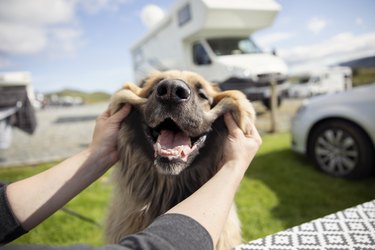 Whether you are traveling by car, SUV, truck, RV or other mode of transportation, remember to provide a safe ride for your dog. Supply a blanket and toys to make your dog feel comfortable and entertained during the trip. Provide a pet safety belt or car seat such as a pet booster seat, skybox car seat or snoozer console for your dog to be able to look out of the window. Create a space in the car that your dog can call his own and where he can sit or lie down comfortably.
During the road trip, make regular stops along the way to allow your dog to exercise and use the bathroom. Always provide proper ventilation in the car and plenty of water, food and treats. If your pet is prone to getting carsick, it's best not to feed him treats (or anything else) while the car is in motion.