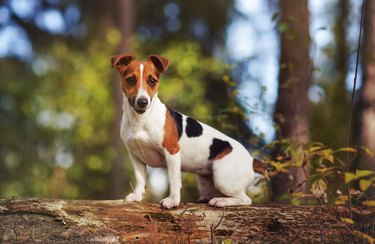 Jack Russell terriers are intelligent, athletic, and easily trainable for hijinks designed to steal the show on sitcoms like "Frasier" (Eddie) or upstaging Jim Carrey in the movie ​The Mask​ (Milo). However, the breed was originally developed to assist in fox hunting. Although there are two different strains, the type sometimes referred to as "English Jack Russell" most closely conforms to Parson Russell's original dogs.
Parson John Russell was an avid fox hunter back in the mid-1800s. The sporting Parson developed the dog breed to ride along on the fox hunt in a saddle bag. The dog's keen nose could pick up a fox's scent and could then be turned loose to bolt the fox from the den. Once the fox emerged, the mounted hunters and the larger foxhounds could pursue it.
The dog's loud voice could help hunters stay oriented to the fox's location as it emerged from the den. At 10 to 12 inches, the little dog sported a narrow chest, pointed snout for poking into dens, and agility that allowed her to turn around in tight quarters underground. She also needed a confident, no-fear attitude that is characteristic of the breed today.
The Jack Russell terrier developed through the years into two strains. Although both types of the breed are commonly called a Jack Russell terrier, you won't find that breed registered by the American Kennel Club or the United Kennel Club. The breed diverged into two separate lines, so the registries now divide the Jack Russell type of dog into two separate breeds, each with its own standards.
Jack Russell terrier vs. Russell terrier
The type of Jack Russell dog known as the Russell terrier stands 10 to 12 inches high at the shoulder and is slightly longer than he is high. This can give him a rectangular, long appearance when viewed from the side. This variation is sometimes referred to as a "shorty Jack Russell." The short-legged Jack Russell can also be used in smaller dens of rabbits and other small prey.
The Parson Russell terrier is taller at 14 to 15 inches high and has a square silhouette when you look at him from the side, with his legs being roughly the same length as the length of his back. This variation is sometimes called a long-legged Jack Russell.
Both varieties of dogs must have a shallow chest that is compressible for them to be able to squeeze into and turn around in underground dens. They are primarily white with black, brown, tan, or tricolor markings.
Although there are many Jack Russell names, don't let that confuse you. There are only two distinct breeds. The long-legged Jack Russell is the Parson Russell terrier. When you hear unfamiliar names associated with the Jack Russell, they are most likely referring to the shorter Russell terrier. The shorty Jack Russell is sometimes called an Irish Jack Russell, Puddin' Jack, or English shorty.
Any type of Jack Russell terrier will always be predominantly white, however. Parson John Russell specifically bred for white-bodied dogs so that he could easily see his dogs at a distance and readily tell the difference between the prey and his dogs. Black dogs or dogs of other colors that are not predominantly white are always mixes, as Jack Russell genetics will always produce dogs who have a base of white.
Breeders of designer dogs commonly mix the Jack Russell terrier with other small breeds to get a dog who is an atypical color or who stands smaller than the Russell terrier's minimum 10 inches. Jackshunds, also known as Jackweenies, are usually the base color of brown or black dachshunds, sometimes with Jack Russell markings. Chihuahua and Russell mixes will also come in a variety of colors.