Royal Names for Cats and Dogs
Hear ye, hear ye! Is your pet accustomed to the lifestyle of a prince or princess? Then they should have the name to match! Not only will these names immediately alert all of your pet's loyal subjects that they are dignified, but it is also fun to name your pet after a famous knight, king, queen, or lady. Royal names for dogs and cats don't have to be limited to the names of existing or former royal pet, or their royal owners — many people like to give royal pet names in the form of royal titles, like Baron, Countess, or King.
For a royal pet name fit for a King or Queen, check out these 122 royal names for dogs and cats.
Pet names inspired by royal titles
One great way to give your pet a royal name is to name them after a royal title. Royal titles say a lot about the position a person is appointed to serve, or born into, and can offer a lot of insight into your pet's personality. If you're looking for inspiration, check out these pet names inspired by royal titles to see if your canine or feline friend has the energy of a Knight, a Malik, a Countess, or a Shah.
Baron

Baroness

Basileus

Bey

Caesar

Caliph

Chevalier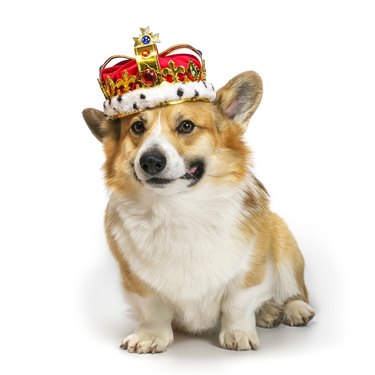 Chief

Count

Countess

Czar

Dame

Duchess: Meaning "the wife or widow of a duke," this is a cute name for a female pet.
Duke

Earl

Emir

Emir

Emperor

Empress

Esquire

Highness

Junker

Kaiser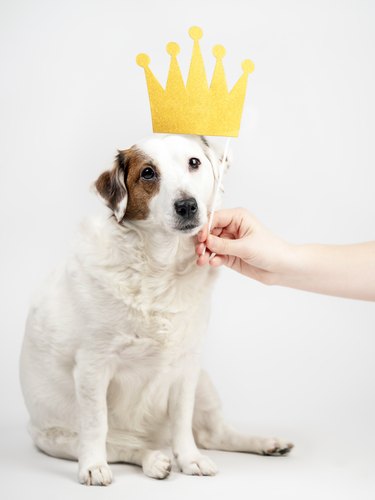 Khan

King
Knight

Lady

Laird

Malik

Mansa

Marquis

Negus: This is the term for a ruler or king in sovereign Ethiopia, and could be a great name choice for a confident dog or cat.
Pharaoh

Prince

Princess

Queen

Raja

Rani

Rex

Samrat

Sapa

Satrap

Shah
Sheikh
Shogun: Another term for a military ruler in Japanese from about the 8th to 12th centuries, this is a good name option for a furry friend that's got an "old soul" spirit.
Sultan

Vicereine

Viceroy

Viscount

Wang

For a name that's not just inspired by royals, but actually named after their favorite felines, this list of established kitties in history is sure to inspire. The names on this list span centuries, and include ancient Egyptian cat gods like Bast and Mafdet, as well as more recent royal felines, like Queen Victoria's cat, Peter. You can also look to cats who aren't technically royalty, but belonged to people in positions of authority, like cats of American presidents, a few of which are included on this list!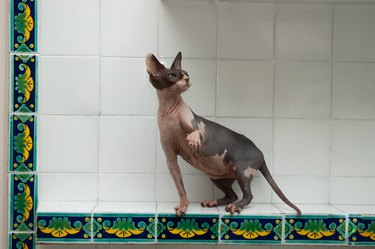 Baste and Mafdet: Ancient Egyptian gods of protection depicted in cats
Brilliant and General: Louis XV's two Angora cats
Mii and Seven: The cats of Princess Aiko of Japan
Muezza: The cat of the Islamic prophet Muhammad, 7th century AD
Tiger, Blackie, Smokey, and Timmy: While American presidents aren't royalty, you could consider some names that come from presidents as royal cat names, like these names which belonged to President Calvin Coolidge's 4 cats.
Nedjem: The cat of Puimre from the 15th century BC
Pangur Bán: the cat of an Irish monk from 8-9th century AD
Peter: Queen Victoria's cat
Snowdrop: Prince Leopold's cat
Ta-Miu: The cat of Crown Prince Thutmose, 14th century BC
For names specific to dogs who belonged to royalty, check out this list of dog's who laid to rest in royal chambers throughout history. The British Royal Family is known for having an ever-changing pack of royal corgis, which is a good starting point in finding the best royal dog name for your pet. Additionally, some entire breeds of dogs are known for their royal status, including Pekingese, great Pyrenees, Shih Tzu, and more.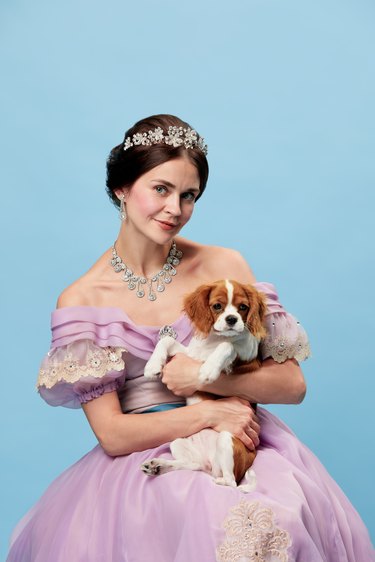 Bee
Brush
Buzz
Cindy
Foxy
Honey
Hytien
Jolly
Looty: A Pekingese from Yuanmingyuan in China who was presented to Queen Victoria.
Mask
Pickles
Rufus
Schlorff
Sherry
Sugar
Sweep
Tinker
Tiny
Whiskey
Royal last names for dogs and cats
For a solid royal name for dogs and cats, you can always pull inspiration from the surnames and monikers of literal royalty as well. With countless rulers throughout history, this category provides nearly endless opportunities to find a royal pet name that's perfect for your companion. When choosing royal dog names or royal cat names, look at your pet's personality, then compare it with some famous royal figures to see if you have a match!
Augustus - This is the surname of Rome's emperor, and a great name for a cat or dog with a commanding personality.
Balliol
Barclay
Bernadotte
Bolkiah
Bourbon
Bruce
Charlemagne
Conrad
Ferdinand Fouad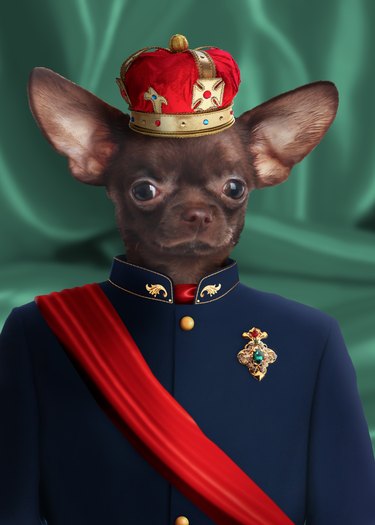 Germanicus
Glucksburg
Guillaume
Gustav
Herbert
Howard
Izyaslavich
Jimmu
Kamehameha - The surname of the royal Hawaiian family, this translates to "Lonely One," in English, and is a great choice for a more introverted or solitary animal.
Khan
Kiev
Mahlangu
Makedon
Markle
Middleton
Mountbatten
Nefertiti
Pema
Sho
Stanley
Tudor
Vajiralongkorn
Wangchuck
Wettin
Windsor
Yi
Yin
Do you need more inspiration for your new pet's name?
Pets are like our children. We love them, care for them, and we get to dress them up in adorable outfits — if that's a thing we feel like doing! So it's extra important that we take time to find the perfect name that reflects our new pet's personality and potential. Naming can be hard, which is why we've gathered nine pet-naming techniques to find the perfect fit, as well as assembled a handful of our most beloved lists of pet names!