It's always best when neighbors see eye to eye. That's the takeaway from an adorable photo that captures a pit bull and labrador sharing a moment through a mesh window cut into a backyard fence.
Posted on Reddit earlier this week, the tender snap promptly trended to the top of r/awww and attracted a flurry of upvotes (10,000+) and supportive comments (137).
What prompted this clever doggie hack? Explains ryanispiper, the man who MacGyvered it, to The Dodo:
​"[I] got the idea after watching [my] three dogs constantly peering through the slats in [the] fence to catch a glimpse of [the] neighbor's dog, whom they'd often engage in a friendly game of chase along the boundary."​
This playful back and forth would often end with Pete (the pit in the picture) gnawing on the partition, an unwanted habit that Ryan happily reports has since largely abated (along with barking, which is definitely a win for all involved).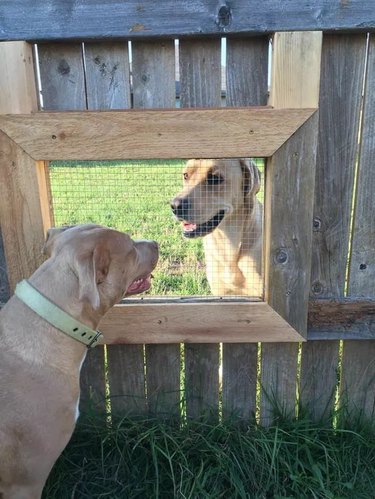 Naturally, the pooches, both his and the neighbor's, love their new porthole and the interaction it affords:
​"The dogs really do enjoy it. They go out each morning and visit with each other if they are all out together. They still chase each other along the fence line, but I think they are happier actually seeing who they are chasing. They give each other some puppy love and sometimes just stare or bark at each other a bit."​
While they are new to us here at Cuteness.com, it appears that woofer windows are already something of a thing. To wit: google-sleuthing reveals that other folks have taken similar steps to give their puppers an opening to the world.
"All in all, just another pug in the wall…"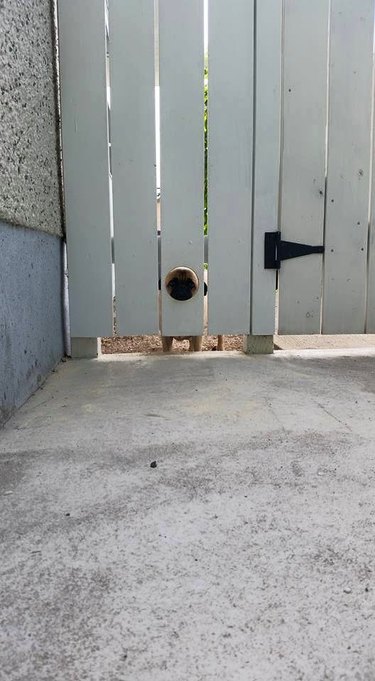 "Excuse me sir...have you seen our ball?"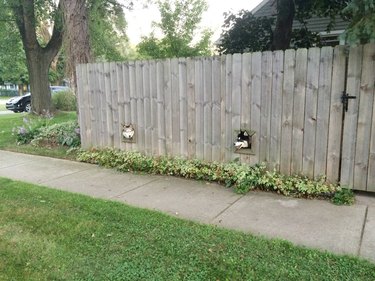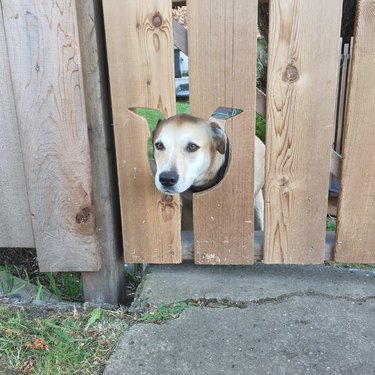 Because you can't spell feline overlords without L-O-L.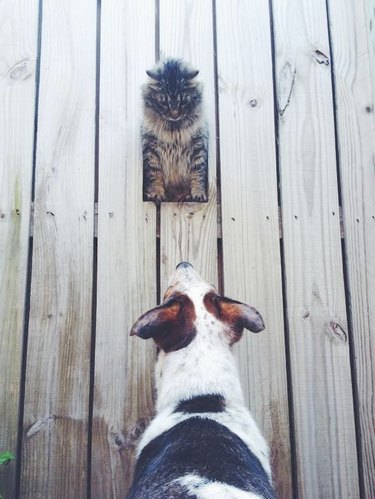 ​Interested in modding your fence to include a window? Learn more about materials, design, and technique at this tutorial!​