A woman is going viral for hilarious photo shenanigans, and her mom is none too pleased about it.
Meet Marissa Hooper, a 21-year-old Texas woman, and her four-legged BFF, Dixie.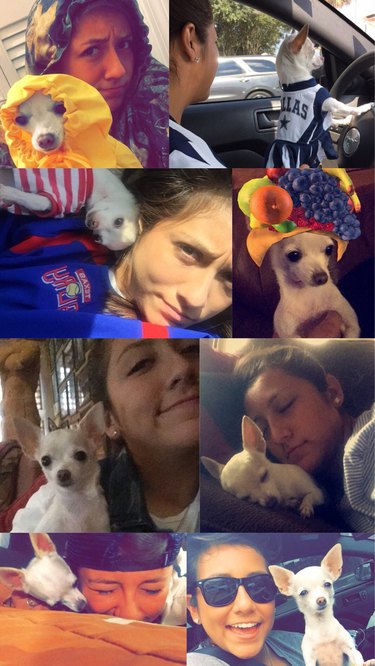 The college student has been secretly replacing family portraits around her parent's house with recreations that feature the photogenic AF chihuahua — and the internet is LOVING it.
The first target of Hooper's subterfuge was a kindergarten photo of her sister.
From there it progressed to a glammy shot of Hooper's grandmother.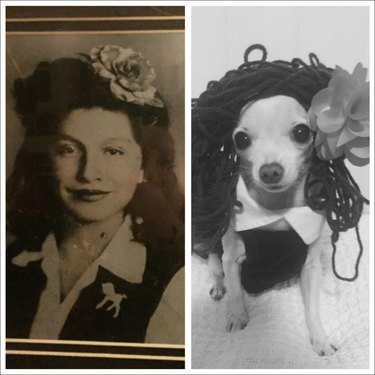 She then applied the same treatment to her high school graduation snap.
Though the replacements look fancy and professional, they were actually taken using everyday items from around the house. The miniature dresses, hair accessories, and wigs — all were crafted from things Marissa had on hand.
After several weeks without noticing anything was amiss, Hooper's mom, Kathryn, finally caught on to the chicanery during housecleaning, which spurred the even more hilarious text exchange between mother and daughter embedded below.
"Stop doing that with my pictures!!! I know it was you! I keep having to explain to company why we have 5x7 of Dixie everywhere!"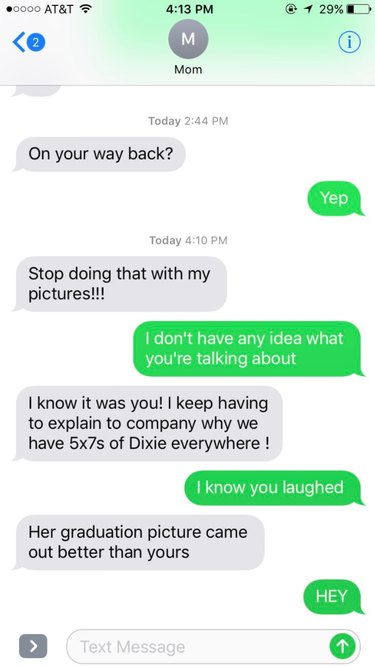 Like all good stunts, this one was sparked by a seemingly innocent thought experiment.
Speaking with The Dodo, Marissa revealed what led her to meddle with mom's prized photographs:
"One day my older sister, who has also moved out, and I were sitting on the couch wondering if my parents ever look at all the pictures to remember us when they miss us ... And I wondered, 'If the pictures changed, would my parents even notice?'"
After getting an earful from her mom, Marissa's prank likely would have wound to a close, only to be remembered in family lore.
But the college student subsequently bundled the assorted Dixie swaps into a single tweet and the story found new life on Twitter — where it has been retweeted nearly 30,000 times and faved by another 70,000+ folx — and the social web.
"I've been recreating family pictures with my dog and slowly replacing them around the house to see if my mom would notice. She wasn't amused"
Praise for the creative photoset came from far and wide.
"THIS IS PURE GREATNESS 😂😭," stressed one commenter.
"Wow this is the best thing I have ever seen," said a second.
"omg who's gonna let me borrow their dog so i can do this," asked another.
Others urged her to stick with the project: "Keep doing this. Instagram."
Accolades were rightfully heaped on Dixie: "This is not a dog, this is obviously a supermodel"
But some thought that Kathryn was the real star: "Your mum's pretty good with the sick burns though so I think it balances out."
While Marissa's mom has vowed to police her photographic keepsakes more carefully moving forward, her daughter insists that more switches are coming!
For more of Dixie's antics, bounce on over to her newly created Insta!