Online dating is literally the worst, but these flirty singles are having fun with it thanks to help from these adorable animals.
2. Such handsome, so dateable.
3. These two come as a package deal.
4. Move over dudes, she's the real chix magnet on this dating app.
5. You wouldn't wear a cape either if you had a stomach this cut #notallheroes.
6. When it's a group portrait and you can't tell whose profile it is.
7. They didn't choose the pug life, the pug life choose them.
8. He's the lead singer of an up-and-coming emu band that's shopping their first demo to local record labels.
9. "I don't do well with large cats like lions, but smaller breeds are okay" = and now I'm dead, RIP me.
10. Remember: You only get one Super Like per day so use it wisely.
11. Like the planet, my love life was way hotter 65 million years ago.
12. Swipe every week like it's Shark Week.
13. Here's one way to hide the male pattern baldness that runs in your family.
14. "I'm not real great at writing about myself, so instead I'm going to list some things about cats, specifically the one growing out of my foot ... " = 😂 😂 😂
15. Love life stalled? Looking for something more stable? Hot to trot for a woman whose mane preoccupation is with horse puns? Then saddle up to this cowgirl's profile!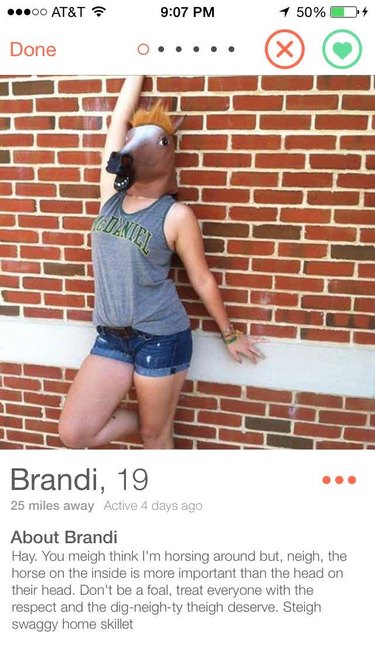 16. The tension before a first kiss can be so awkward. You might even say it's ... wait for it ... UNBEARABLE.
17. I'd bet everything that dog actually belongs to his coworker.
18. When bae flashes their resting bitch face during the selfie.
19. Ban Photoshop forever.
20. Seems legit. ¯_(ツ)_/¯
21. Put a bird pun on it.
22. You can lead a horse to water but you can't make them thirsty.
23. "I'd swipe right on that" — Kristen Bell
24. "He's my +1 for a black-and-white ball."
25. When you get the "seal" of approval at the end of a first date (I'll be here all week, folks ... )
BRB, gonna go tie my mobile device to a cinderblock and chuck it into the nearest ocean.