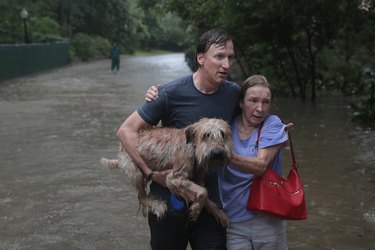 Natural disasters happen with very little warning, which is why it's important that pet parents not get caught off guard when a storm or flood strikes. Ensuring the health and safety of our pets should always be a priority, even during a disaster.
Alyssa Fleck of the ASPCA, one of the organizations that works with pet parents in the wake of natural calamities, provided many suggestions to keep your furry friends as safe as possible in a scary situation.
Have a to-go bag ready.
The most basic element of an emergency preparedness kit is having a bag with water, food, medical records, and any pet medication ready to go. That kit should include about 3-7 days worth of pet food and water in a sealed container.
3-7 days worth of sealed pet food and water

medical records

pet medication

basic cleaning supplies
Maintain that kit by replacing the food and water every two months with fresh supplies. If your pet has certain special medications, you'll need to have back up supplies of those in your kit. You'll also want basic cleaning supplies included to clean up after them. And, of course, you can include some of your pet's toys as a comfort for them.
Get your pet crate ready.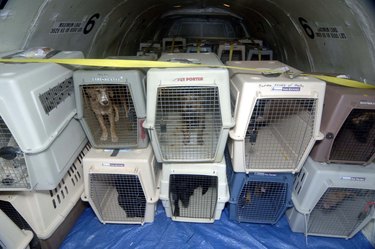 Along with having a kit for their needs, it will be helpful to have ways to transport your pet, including crates or carriers. If your pet isn't already accustomed to being in a crate, it's important to take the time to train them to at least be used to a carrier — even if they don't love it. Doing so will hopefully decrease some of the stress on your pet during an already stressful time.
Have identification prepared in advance.
Despite your best efforts, you and your pet may get separated from your beloved pet. Your best chances of getting reunited with your four-legged friend are by having an ID tag on them, making sure they're microchipped, and carrying pictures of them with you. Remember, electricity could be spotty in a natural disaster, so having physical pictures of your pet will help you identify them and keep other people on the lookout in case your phone dies.
Dogs and cats have different emergency needs.
It doesn't matter if you're a dog or a cat person, or a combination of both. In a natural disaster, everyone wants to make sure their fur baby is safe and protected. For dogs, you can help do that by making sure their kit has extra things for them to chew to get out some of their stress. You'll also want to bring their leashes and collar so they can stay near you and, hopefully eventually, go for calming walks around safe areas. For cats, make sure to bring them disposable litter trays and extra litter. And, of course, maybe some of their favorite scratching toys and some catnip to help the time pass more enjoyably. And for both animals, don't forget bowls so you can actually feed them their food and water.
Create a plan B.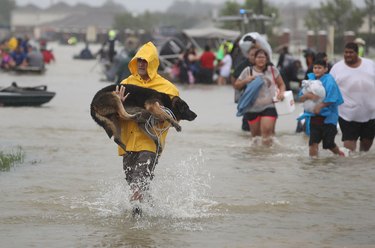 If, for some reason, you and your pet can't evacuate together, have a friend or family member outside of the disaster zone who is willing to take them in. The ASPCA also provides a mobile app that allows pet owners to store and share important information on their animal that can help you both be prepared, and hopefully keep a level head in case of a scary situation.
Never leave your animal restrained during a disaster.
Fleck says to at least remember your pet! "The ASPCA urges pet owners to always bring their pet with them if they need to evacuate. If it's not safe for you, it's not safe for your pet." Never leave your animal tied up or where they can't escape.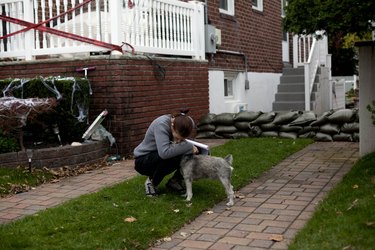 Taking some of these steps immediately can help pet parents better keep their furry companions safe in emergency situations.