One of the best things about fall is candy corn and Halloween, and this recipe is a candy corn inspired treat for your pup. It's delicious and healthy with probiotics, potassium, vitamins, and more. With these nutritious treats, your dog will have the best candy in the neighborhood!
Here's how to make candy corn inspired treats for your dog this Halloween.
What you'll need:
Bananas

Nonfat plain yogurt

Canned pumpkin

Measuring cup

Ice cube tray

Mixing bowl

Stirrer
Step 1:
Fill ice cube trays 1/3 full with yogurt, and freeze 1-2 hours until set
Step 2:
Mix equal parts yogurt and canned pumpkin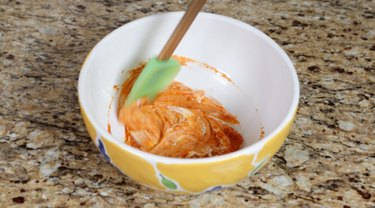 Step 3:
Pour over the yogurt in the ice cube tray, leaving space for a 3rd layer, then freeze 1-2 hours until set
Step 4:
Mash bananas in a small bowl and stir in remaining yogurt
Step 5:
Pour into ice cube tray, filling to the top of each mold, and freeze until set.
Step 6:
Serve your doggo, and they'll have the best Halloween ever!
Do you love pet DIY projects? Check out our DIY hub to find the best projects to do at home, and then like us on Facebook for more how-to guides. You're about to take your DIY game to the next level. Congratulations!