Folks, I'm literally quivering with excitement right now. This year was brimming over with sticks of all kinds, and it's my absolute honor to present the top of the heap, the crème de la crème, the picks of the litter. Here are 27 of the best sticks we saw in 2017.
1. We have to start with this gorgeous branch from January. So fresh! So primal!
2. Light and functional, the best stick for a dog on the go!
3. This stick is ideal for off-roading in springtime.
4. We adore the youthful energy of this stick when paired with a sporty racerback harness.
5. This utilitarian stick works for the modern dog without losing its earthy appeal.
6. A refined, classy stick for mature dogs who still know how to have fun!
7. We're all about sticks that can stand up to some tough love.
8. This stick is a must-have for you and your BFF.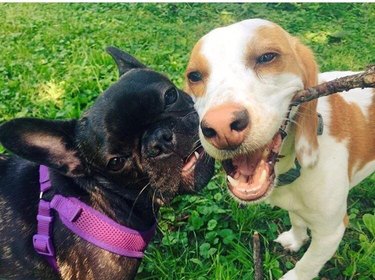 9. Folks, when you find a stick that works for you, keep it close. Treasure it.
10. Fabulous example of a naturally distressed stick. The definition of rustic chic!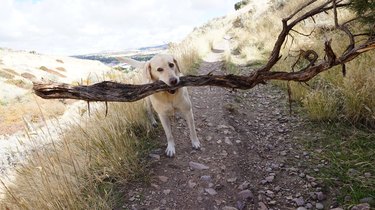 11. Made from repurposed broom handle, this eco-friendly stick is all the rage.
12. A good strong dog needs a good strong stick!
13. This year brought us some great sticks, but it also taught us some hard lessons.
14. Mesmerizing! The kind of stick that turns heads.
15. This flirty, daytime stick is best displayed at a rakish angle.
16. Festive and autumnal. Who wants a pumpkin spice latte? We do!
17. This sturdy, polished stick is a real statement piece.
18. Cute, understated, the little black dress of sticks.
19. Not everyone can pull off accessories like this, but when it works, it works!
20. This rugged, full-bodied stick is a total show-stopper.
21. We're crazy about this eye-catching bouquet of sticks. Very ambitious.
22. Synthetic sticks were a hot-button issue this year. Avant-garde or tacky?
23. Streamlined and sporty, an all-day stick for the active dog.
24. Beautiful, over-sized stick, worth the challenge!
25. Chic and trendy, this stick is a hit at dog parks everywhere.
26. Sleek, minimalist, must-have!
27. Just remember: it's not the stick that makes the dog. It's the dog that makes the stick.