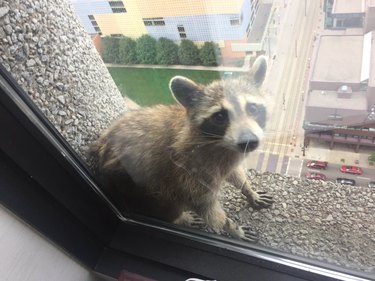 From swiping sweets to climbing all the things, trash pandas have a knack for getting into mischief — and going viral on the interwebs.
Below, we look back at some of their greatest hits from the last couple of years.
1. 4/16/2015 — Raccoon Climbs 700 Foot Crane, Takes A Poop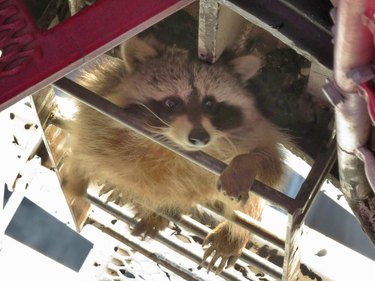 Raccoons may not have wings but that doesn't mean they don't aspire to great heights.
In 2015, one ambitious little procyon lotor (that's, excuse me, a racoon's fancy, scientific handle) inched its way up a 700 foot crane in Toronto (a/k/a the capital of Raccoon Nation) where it came face-to-face with the operator.
After exchanging pleasantries, errr, hisses, the mammal promptly defecated on a platform and slowly retreated down a series of ladders to the ground below, where it found a quiet spot to take a disco nap.
2. 6/14/2015 — Raccoon Rides Gator Like A Surfboard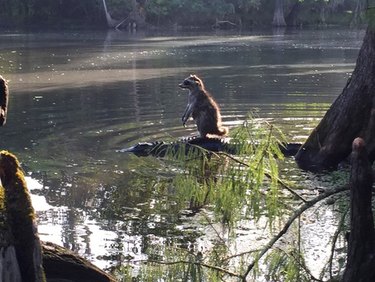 Out for a hike with his family in the Ocala National Forest, a man captured the most Florida picture to ever Florida: A raccoon striding atop an alligator like a scene from the Atari classic, ​Pitfall​. In an interview with WFTV, Richard Jones detailed how the amazing composition came together:
"​I snapped a lucky picture right when the gator slipped into the water and before the raccoon jumped off and scurried away. Without the context you'd think the raccoon was hitching a ride across the river .... Definitely the photo of a lifetime.​"
While most sites were quick to run with the photo, others, like Snopes and National Geographic, labeled it a fake or called its legitimacy into question. Even today, more than 3 years later, the debate rages on ...
3. 11/11/2015 — Raccoons Ransack Oregon Art Gallery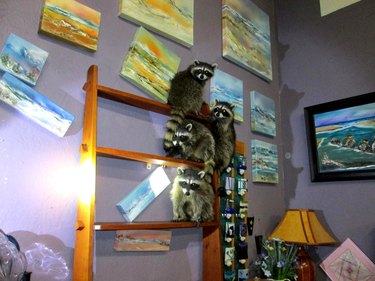 Responding to a report of a late-night disturbance, police officers in Newport, Oregon stumbled upon a gang of masked intruders — later dubbed "Home Dog," "Da Nails," "Squeaky Feets," and "2-Toes Todd" — in an art gallery.
Despite protests that they were there only "to straighten a few pieces of art on the wall," the suspects were rounded up, turned over to wildlife officials, and released on the outskirts of the coastal community.
In a follow-up post on the anniversary of the break-in, the police department revealed that the quartet had given up a life of crime and passed through their probationary period without additional incidents.
4. 12/29/2015 — Raccoon Poaches Donut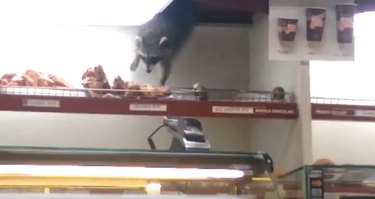 Proving that fortune does indeed favor the bold, a Toronto raccoon helped itself to an early Christmas prezzie when it reached down from the heavens to snag that most forbidden of fruit — an orange donut bar — in front of shocked customers.
"Full commitment, full commitment. Go raccoon go!," remarked an onlooker (and presumed videographer) as the furry burglar retreated, prize clenched firmly in paw, back up into its hiding spot between ceiling tiles.
Watch the audacious heist in the embed below:
5. 10/11/2016 — Raccoon Steals Cellphone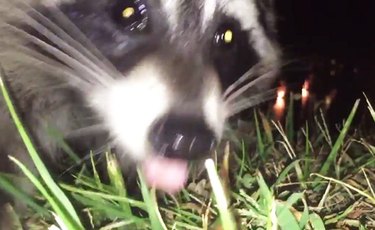 When a college student at Bellarmine University in Kentucky put his mobile device on the ground in a misguided attempt to record video of "Stanley", a raccoon frequently spotted on campus, the four-legged bandit dashed off with it — in its mouth!
After a short chase, the critter eventually relinquished the man's phone, but the resultant 37-second clip was subsequently posted to Twitter (because of course it was), where it racked up 6.95 million views and was shared widely on the social web.
6. 2/17/2017 — Raccoon Hitches Ride On Garbage Truck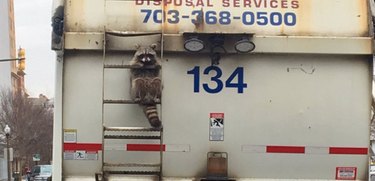 Proving that their reputation as dumpster divers is not without merit, a raccoon was photographed on the back of a Virginia garbage truck by a reporter with ​Politico​.
After being alerted to its presence, the waste hauling company redirected the driver to a nearby suburb where an animal control team was waiting to corral the creature.
But, in an not altogether unexpected twist, the wily trash panda eluded his would-be captors and escaped into a nearby park, never to be seen again.
7. 5/6/2017 — Raccoon Greets New Arrivals At Airport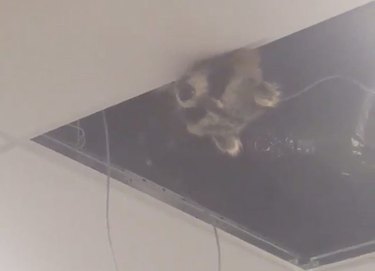 On a busy Saturday in 2017, passengers landing at Toronto's Pearson International Airport were stunned to discover a set of beady eyes peering down on them.
Befitting of the era in which we live, video and images quickly blazed a trail across the viral internet, spawning a mess of memes and jokes in their wake (hover over embed to play).
Like the other beats on this list, this one had a happy outcome: The scofflaw's jet-setting ambitions were grounded when he was lured into a cage and relocated to what the airport called "his natural habitat."
8. 9/21/2017 — Raccoon Jumps On Moving Police Car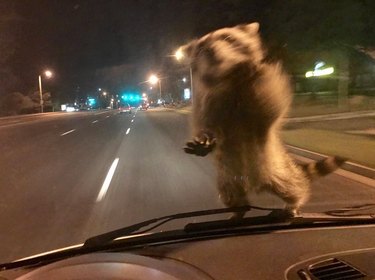 Not to be outdone by his Floridian brethren, a baby raccoon in Colorado Springs hopped onto the hood of a moving squad car that was en route to the scene of a car crash earlier this year.
Fortunately, the officer driving was able to safely pull over and let the hitchhiker disembark, but not before the dashboard cam chronicled the the kit's moving violation with amazing snaps later posted on the department's social media feeds.
9. 4/18/2018 — Woman Brings Raccoon Exposed To Too Much Marijuana To Fire Station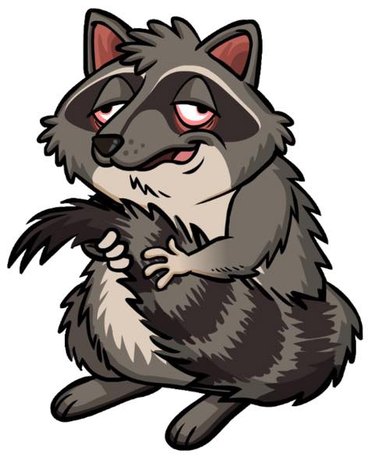 When an Indiana woman's pet raccoon fell into a lethargic state, she did what any of us would do: She took it to her local fire station. (J/K: Almost no one in their right mind would do that.)
Upon questioning, the woman (identity unknown) confessed that the animal had been "exposed" to her stash of Satan's Spinach (that is to say, weed). While officials sympathized with the raccoon's plight, they also had no way to remedy it so they advised her to let the stoned critter "sleep it off".
The episode was later immortalized in a massively popular Facebook post that also spawned the amazing sketch seen above.
10. 6/12/2018 — Raccoon scales UBS building in St. Paul, Minnesota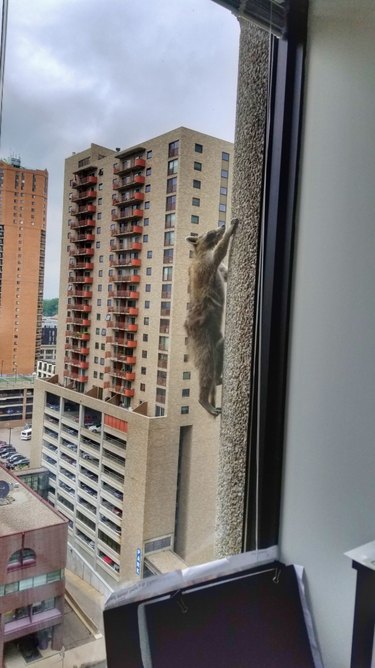 Bringing this list full circle, our last and most recent raccoon celebrity brought the Internet to a screeching halt with another gravity-defying ​pawdyssey​ (soz, not soz).
We're talking of course about the so-called #mprraccoon who successfully scrambled up a 25-story skyscraper in downtown St. Paul, Minnesota.
Though it's unknown exactly what spurred him upwards, the raccoon's daytime (and overnight) climb successfully dislodged the President's summit with North Korean officials from the front page of basically every newspaper and website in the country — no mean feat.
Adding to the suspense was the raccoon's timeout on a ledge of the 23rd story before scurrying to the rooftop where staff with the building had baited traps with delicious cat food.
Officials released the newly famous raccoon back into woods south of the city. Awwww!
​Did we miss your favorite viral raccoon story? Share it with us in the comments below!​