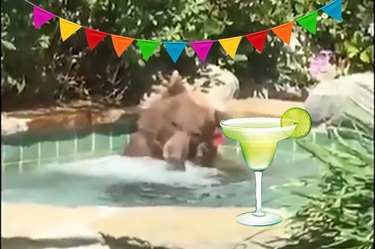 A homeowner in Southern California was shocked to find a hairy stranger in his unheated jacuzzi earlier this week.
But the stranger in question wasn't some gate-crashing teen trying to chill off: No, it was a brown bear that had stumbled into the man's backyard from a wooded glade that borders his property.
After beating a retreat into his ranch-styled house (because, ya know, bears), Mark Hough did what pretty much any of us would: He reached for his phone and started recording the spectacle (because, ya know, content).
And as the 1-minute video embedded below makes clear, the trespasser was living his very best life, splashing his face and scritching his head (press play to watch).
In an interview with Fox 26 News, Hough revealed that he had just sat down with an icy-cold margarita when he heard "twigs snapping and leaves rustling."
Thinking it might be a neighbor, Hough went in for a closer look only to discover that he wasn't alone. In his haste to get inside, the Altadena man left behind his cocktail — a detail that did not go unnoticed by the creature who, obviously a fan of the rap group Three 6 Mafia, promptly slurped it down after exiting the hot tub.
Eventually the scofflaw ambled off into the woods for a disco nap: According to media reports, Hough later saw the same bear doin' a snooze high up in a tree.
Not surprisingly, folks on social media were smitten with the party animal's relatable antics, reacting with all manner of "same," "relatable," and "this-is-me" takes.
"Wow I really hope my summer is half as good as this bear's," quipped one woman.
"Hot tubs, margaritas, naps in trees. This bear is my spirit animal," joked another.
"Summer 2018: do you. 🍹🐻," advised a third with emojis.
"Any summer plans?" quizzed this man speaking (presumably) from the bear's perspective.
As for Hough's forfeited bevy, he made up for the only way any sane person would: By mixing two more!
"It was an interesting Friday to say the least," he told reporters, breathing a sigh of relief.