A cool, sporty, athletic dog needs a cool, sporty, athletic name. In case your favorite sports team doesn't have a fun mascot whose name you can borrow, we've got your bases covered with names inspired by famous athletes and sports lingo from basketball to wrestling and everything in between.
Famous athlete names for male dogs
Ali (Muhammad Ali)
Andre (Andre Agassi)
Apollo (Apolo Anton Ohno)
Babe (Babe Ruth)
Barkley (Charles Barkley)
Beckham (David Beckham)
Bird (Larry Bird)
Blair (Bonnie Blair)
Bo (Bo Jackson)
Bolt (Bo Usain)
Brady (Tom Brady)
Buster (Buster Posey)
Cal (Cal Ripken)
Cobb (Ty Cobb)
Dempsey (Jack Dempsey)
Emmitt (Emmitt Smith)
Frazier (Walt/Joe Frazier)
Gordy (Gordy Howe)
Griffey (Ken Griffey)
Hamm (Mia Hamm)
Hawk (Tony Hawk)
Honus (Honus Wagner)
Jack (Jack Dempsey)
Jackson (Bo Jackson)
Jeter (Derek Jeter)
Jordan (Michael Jordan)
Kemba (Kemba Walker)
King (Billie Jean King)
Kobe (Kobe Bryant)
Lionel (Lionel Messi)
Magic (Magic Johnson)
Manning (Eli/Peyton Manning)
Messi (Lionel Messi)
Montana (Joe Montana)
Palmer (Arnold Palmer)
Pele
Peyton (Peyton Manning)
Posey (Buster Posey)
Rafa (Rafael Nadal)
Ripken (Cal Ripken)
Satchel (Satchel Paige)
Shaq (Shaquille O'Neal)
Tiger (Woods)
Ty (Ty Cobb)
Tyson (Mike Tyson)
Vonn (Lindsey Vonn)
Wagner (Honus WAG-ner)
Walker (Kemba Walker)
Willie (Mays)
Yogi (Yogi Berra)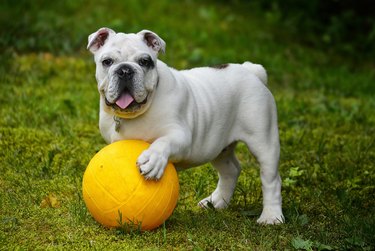 Famous athlete names for female dogs
Abby (Abby Wambach)
Althea (Althea Gibson)
Aly (Aly Raisman)
Angelique (Angelique Kerber)
Annika (Annika Sörenstam)
Babe (Babe Ruth/Didrikson Zaharias)
Billie Jean (Billie Jean King)
Bonnie (Bonnie Blair)
Brandi (Brandi Chastain)
Carli (Carli Lloyd/Carly Piper)
Caroline (Caroline Wozniacki)
Cathy (Cathy Rigby)
Coco (Coco Miller)
Danica (Danica Patrick)
Eugenie (Eugenie Bouchard)
Flo Jo (Florence Griffith Joyner)
Florence
Gabby (Gabby Douglas)
Hannah (Hannah Teter)
Holly (Holly Holm)
Hope (Hope Solo)
Jackie (Jackie Joyner-Kersee/Jackie Robinson)
Joy (Florence Griffith Joyner)
Kerri (Kerri Walsh Jennings)
Laila (Laila Ali)
Lindsey (Lindsey Vonn)
Lolo (Lolo Jones)
Maria (Maria Sharapova)
Martina (Martina Navratilova)
Mary Lou (Mary Lou Retton)
May (Willie Mays/Misty May-Treanor)
Mayweather (Floyd Mayweather)
Mia (Mia Hamm)
Misty (Misty May-Treanor)
Morgan (Alex Morgan)
Nadia (Nadia Comaneci)
Paige (Paige VanZant)
Peggy (Peggy Fleming)
Picabo (Picabo Street)
Piper (Carly Piper)
Rigby (Cathy Rigby)
Ronda (Ronda "Rowdy" Rousey)
Ruth (Babe Ruth)
Saina (Saina Nehwal)
Sania (Sania Mirza)
Serena (Serena Williams)
Sonje (Sonje Henie)
Steffi (Steffi Graf)
Tessa (Tessa Virtue)
Teter (Hannah Teter)
Tracy (Tracy Anne Caulkins)
Wilma (Wilma Rudolph)
Venus (Venus Williams)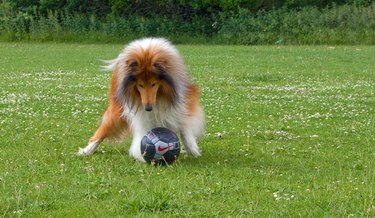 Dog names from sports lingo
Ace
Arby (RB, Running Back)
Ash
Batter
Beanball
Beezer
Bender
Birdie
Blitz
Buzzer
Caddy
Captain
Chase
Cheese
Clutch
Coach
Crackerjack
Crank
Curveball
Cutter
Derby
Deuce
Diamond
Driver
Dugout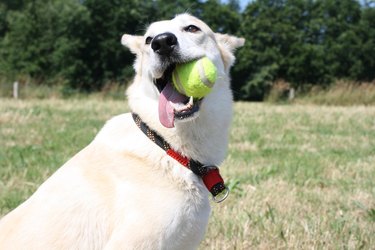 Earnie
Eephus
Fungo
Gambit
Gopher
Grand Slam
Grounder
Gunner
Homer
Hoops
Jumbo
Kayo (KO)
Kicker
Maddux
Meatball
Mitt
Mulligan
Pecota
Pepper
Pickle
Pitcher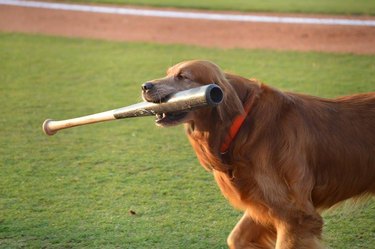 Racket (great for a noisy dog)
Rally
Relay
Ribbie/Ribeye (RBI)
Rookie
Runner
Salami
Screwball
Shortstop
Slider
Slugger
Southpaw
Stretch
Striker
Sweeper
Swish
Tackle
Tag
Tater
Whiff
Windup
Zip
Do you need more inspiration for your new pet's name?
Pets are like our children. We love them, care for them, and we get to dress them up in adorable outfits so it's extra important that we take time to find the perfect pet name that reflects their personality and potential. Because settling on a name for your new pet can be hard and emotionally wrenching (oh the indecision!), we've gathered nine pet-naming techniques to find the perfect fit, as well as assembled a handful of our most beloved lists of pet names below!