If you have two or more dogs, you're probably all too familiar with the antics that can ensue when attempting to enjoy a simple walk around the block: tangled leashes, one lead constantly having to be unwrapped from around the other, that spinning move to get the right leash back in the correct hand… the possibilities are endless.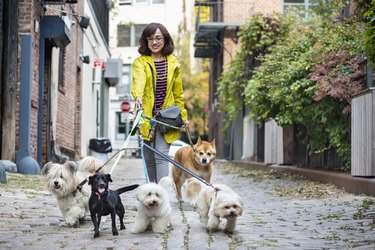 Unless you're a seasoned NYC dog walker, chances are walking more than one canine at a time comes with hassles, but luckily for you, the pet-care industry has provided an answer to your problem — rather than use a leash for each of your dogs, why not use one multi-dog leash? Here are five of the top-rated options out there used by pet owners and dog walkers every day.
Caldwell's Original Two Dog Leash Coupler
If you already have a dog leash that you love using, or have no shortage of perfectly functional leashes already in your possession, an attachment may make walking a little easier. These little devices are called leash couplers, and Caldwell's Original is the highest-rated option on pet retailer Chewy.com. To use, simply clip the ring onto your existing leash, and just like that you've got two leash ends instead of one.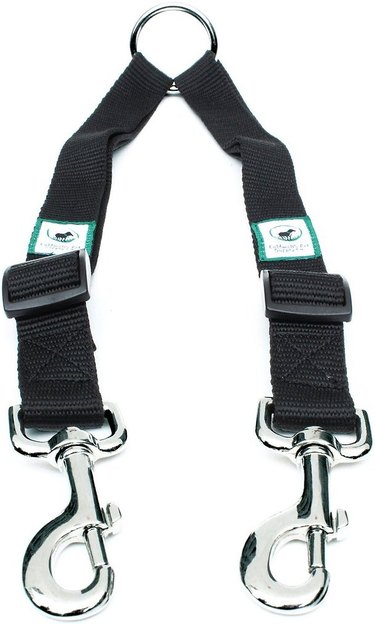 Wigzo Dual Dog Gel Rope Leash
For those who have two dogs that don't tend to sniff and stray into the exact same areas while walking, a couple may be a little too close for comfort. In this case, a dual leash with one handle can make walking easy on you while allowing for a little more space between your four-legged friends. Chewy also offers the Wigzo Gel Rope leash, which comes very highly-rated by users for its durability, affordability, and relative ease of use.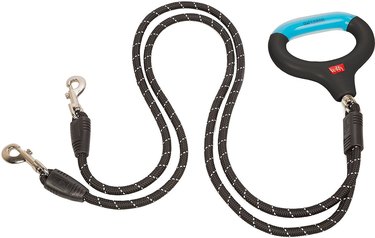 Son Queen Heavy Duty Double Dog Leash
This leash is listed as a double dog leash for walking two canines, but this multi-dog option by Son Queen on Amazon does come with an extra lead, which makes it possible to walk up to three dogs at a time. Using the same concept as the leash coupler, this option provides added comfort for dog walkers thanks to its rotating swivel connector, which prevents all three leashes from becoming entangled.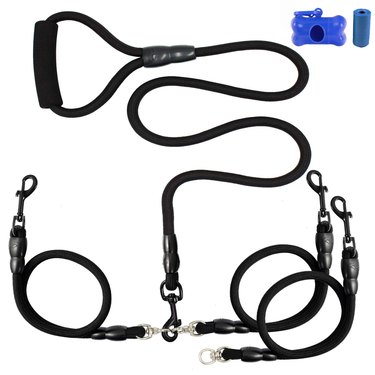 Additional options for 4 or more dogs
Walking for or more dogs at a time is usually left to the pros, but anyone can do it with a little preparation and creativity. Most multi-dog leashes on the market are designed with two or three dogs in mind, but fortunately, those options can be used to walk even more dogs by pairing items together. One way to add additional leashes is to clip another leash coupler onto the coupler that's attached to your leash. This can quickly turn two leash clips into four, all of which can be controlled in one hand. Guardian Gear offers couplers of various sizes including short options, which may be a good option when pairing with others. This may be a more safe option to try with smaller, lightweight dogs that you already have experience walking with, as larger dogs can become crowded in that tight space, and could even break your couplers if they're especially hard to control.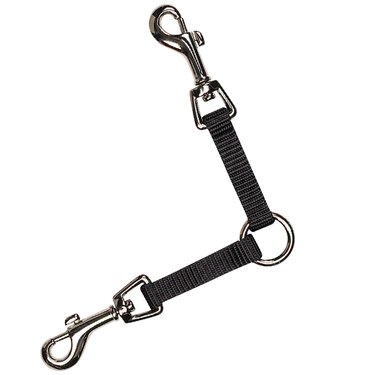 Another option for a multi-dog outing involves an item that isn't a leash at all, but a handle designed to manage more than one leash at a time. The UTurn Triple Dog Leash Handler is made of thermo-plastic material and features four holes — one to wrap your hand around and hold onto and three to loop your existing leashes through so you can walk everyone all at once. A UTurn handler in each hand can hold up to six leashes, and dogs, all of which can become untangled with a simple half-turn of the handler.