Our pets are so important to us that they really do feel like members of the family. So, when it comes to planning a swank vacation or moving abroad, it's natural to want to bring your nearest and dearest along for the adventure. What if that dream vacation you're planning involves a passport and crossing a border (or even an ocean)? In that case, traveling overseas with a dog gets a little more complicated.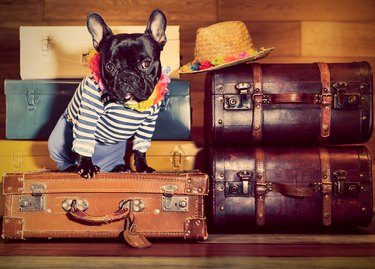 Traveling overseas with a dog
The short answer, unfortunately (but predictably), is that it depends on a whole host of factors. Most countries have strict health and quarantine requirements or prohibitions for pets. These regulations vary by country and the type of animal you are transporting. If you are traveling abroad with a pet, the State Department recommends checking with the embassies of the countries you will be visiting to learn about any specific requirements they may have.
When deciding to travel abroad with your pet, it is important to consider what you will do in case of an emergency. If there is a disaster or other event and the U.S. government evacuates citizens out of the country, it does not usually provide transportation for pets, with the exception of service animals. You would likely be responsible for getting your pets home.
Vaccinations and pet passports
Most countries do require that pets traveling be up to date on certain vaccines, especially rabies. Many also require blood tests and microchips. You can find out the specific requirements for the country to which you are traveling by visiting the USDA's pet travel website. Make sure you also check the requirements for returning to the U.S. with your pet if you are planning round-trip travel.
While some countries have pet passports for traveling overseas with a dog, they aren't necessarily required. The European Union, in particular, has an EU pet passport that simplifies pet travel in EU member countries if you plan to travel to multiple countries in Europe. You will need to visit a veterinarian and obtain the passport upon arrival in the European Union.
In addition to meeting the requirements of the country you will be visiting, it is important to make sure you check airline requirements for pet travel. Airlines have their own rules and regulations, so contact them to find out if you need any additional documentation. Be sure you also understand the fees they may charge and what type of carrier you need for your dog.
Quarantine requirements and considerations
Some countries do require that dogs (including service dogs in some cases) undergo quarantine periods upon entering the country, but quarantine policies vary by country, both of destination and origin.
Animal quarantines are a measure to protect the health of the native animals where the local wildlife haven't been naturally exposed to outside illnesses and could be devastated (or even wiped out) by an outbreak. As frustrating as the process might be for the owner of the quarantined animal, these policies are important for the safety of literally every other animal in the country in question.
One of the top conditions considered when it comes to quarantine policies is rabies and whether the country from which you are coming is classified as a rabies-free country, rabies-controlled country, or high-rabies country. Quarantine requirements are likely stricter when arriving in a rabies-free country, and at times, some countries will prohibit entry for pets coming from a high-rabies country. The United States is considered a rabies-controlled country by most other nations.
Traveling with a small dog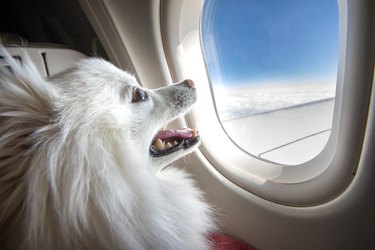 Like traveling within the United States, traveling internationally can be a little easier with a small dog than with a larger one. Your small pup has the added benefit of being able to travel in the cabin in an under-seat-sized carrier. You'll need to contact your airline for the specific rules and fees associated with pet travel. And note that the rules and fees for traveling internationally with a dog can be different than when traveling domestically.
You'll also want to reach out to your hotel (or Airbnb, etc.) before traveling to ensure that your pet will be welcome. Many hotels and other accommodations that are pet-friendly will have strict size and breed requirements, which smaller dogs are more likely to satisfy.
Traveling with a large dog
Large dogs will have a harder time traveling with you overseas as a general rule. For one, most airlines will require that the dog travel in cargo or be shipped through a licensed commercial shipper. This can be costly for you and downright dangerous for your pet, and you should seriously think and do your research before you ever let a dog (or any other living, breathing animal) travel in cargo.
What's more, large breeds are disproportionately affected by banned or restricted breed laws, which some countries have in place to stop the entry of "aggressive" breeds. If you're traveling with any dog — but especially if you are traveling with a commonly restricted breed, like a pit bull or Doberman — it's essential that you research breed restrictions in every country you plan to visit or in which you have a scheduled layover to ensure your dog will be allowed entry. While some countries will simply deny entry and force you to immediately send your pup home at your own expense, some may have policies in place to euthanize the dog.
Traveling with a service dog
Traveling internationally with a service dog is a tricky task. It's not as simple as it is in the United States, where the Americans with Disabilities Act protections for working dogs are clear. Not all countries have laws protecting or recognizing service animals, and having a service dog in the U.S. doesn't guarantee your right to travel or go out in public with your dog in foreign countries. Your dog might not be legally allowed to stay with you in hotels that have no-pet policies, so it's important to do your research and know your rights when you travel abroad with a service animal.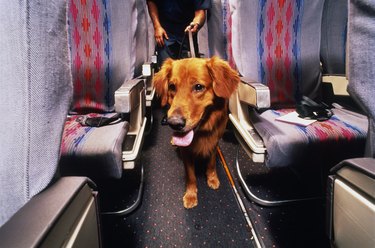 This is especially true for an emotional support animal. You'll need to check with your airline to see if that piece of paper covers your dog and allows him to fly in the cabin with you during international travel and if your dog will face any issues de-boarding at your destination if she travels as an emotional support dog, and support animals aren't recognized in the place you're visiting.
Even if the country you're visiting does recognize service animals, your dog will still be subject to any quarantine or vaccination requirements in the country. You'll need to check with your airline about its rules regarding service animals on international flights. Even though your dog's right to accompany you in the cabin is protected on domestic flights in the U.S., this may not be the case on international flights, and the rules vary from airline to airline.