Whether you have a frequent flyer pooch or you're apprehensively flying with your pup for the first time, taking a dog on an airplane doesn't have to be a hair-raising experience for canine or pet parent. First decide if your dog is traveling cargo or cabin, and don't hesitate to pepper an airline's customer service agent with questions about their policies. Keep creature comforts on hand to soothe an anxious pet through the experience.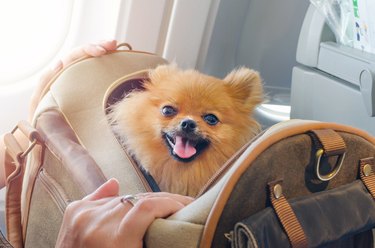 Cargo or Cabin?
Check airlines' pet policies to see if they allow dogs in the cabin or cargo, comparing fees and weight limitations as well as vaccination or health certification requirements. As airlines may put limits on the number of pets per flight, call to book a reservation and guarantee a space for your dog. An in-cabin pet will have to comfortably fit in a carrier that stows under the seat, limiting this option to small breeds unless traveling with a service dog.
If your dog is flying in cargo, take as direct a route as you can during a time of day when the temperature in the cargo hold will be least extreme. Keep water available, don't feed your pup for four to six hours before takeoff and add something cozy and familiar to the kennel such as a blanket or kennel pad. Line the bottom with a puppy pad for absorbency in case of an accident. Make sure there's enough room for your pup to stand up and turn around in its crate. The Humane Society of the United States recommends letting a member of the flight crew know that your dog is in cargo, and never flying brachycephalic snub-nosed dogs such as pugs and bulldogs because of the respiratory risks.
Tip
If flying is a nerve-wracking experience for your dog, talk to your vet beforehand about pharmaceutical or herbal calming agents to relax your pup for the flight.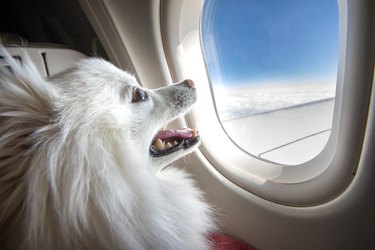 Prep for the Flight
If your dog is able to fly in the cabin, adhere to the dimension limits for under-the-seat carriers. Line with a pee pad and little blanket such as a baby throw. If possible, book through airports that have doggie restroom areas inside the security checkpoints, such as Dulles International Airport outside Washington, D.C.
You'll have to check in at the counter instead of online check-in, so allow extra time at the airport. Staff at the ticket counter will ensure that your pet is properly contained for the trip, review any needed certification and put a tag on the carrier.
Tip
Selecting an upgrade to a seat with extra leg room makes the trip just a bit more comfortable with no accidental kicking of your precious cargo, especially on packed flights. Picking a window seat means your dog doesn't have to be rattled by feet constantly walking past.
At the Security Checkpoint
Make sure your dog's water bottle is empty as you'll have to discard liquids that don't fit TSA guidelines before being screened by security personnel. You can fill it after the checkpoint. You can tuck snacks into the carrier for your pup if she isn't prone to upset stomach under stress; ask your veterinarian for guidance.
Make sure your dog is leashed within the carrier because you'll need to take her out and carry her through the metal detector. Leave the carrier on the conveyor belt as you would a purse or briefcase. If you know your dog won't react well to being removed from her carrier here, request a secondary screening and schedule the extra time for the security check.
Unless there's an area in the airport for dogs to socialize and go potty, you'll need to keep your canine inside the carrier while waiting for your flight.
Warning
Carrying a pet doesn't disqualify you from potentially being pulled aside for additional screening, so make sure that your dog is comfortable in a busy setting with lots of people and easy to control.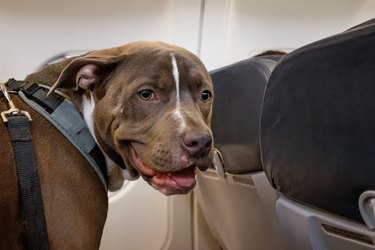 In-Flight Rules
Airlines will require that you put your pup's carrier under the seat in front of you for takeoff and landing. Whether you can put the carrier on your lap or in the empty seat next to you during the flight depends on the airline's rules, the flight attendants and the reaction of other passengers.
You can expect airlines to mandate that a pet stay inside its carrier the entire time it's on the plane. Sometimes the scent of your hand through a carrier's mesh side coupled with your soothing voice, may be all that's needed to calm your pup.
Tip
An allergic passenger in the next seat can mean a miserable flight for all involved. Before leaving for the airport, do one last check of the airline seating chart to see if you still have an empty seat next to you or if you can switch to a more solitary location.