Take a good look around you: Colorful is in.
From vibrant fashion trends to hairstyles in all shades of the rainbow, there are infinite ways to show off the unicorn that you are on the inside to the entire world. And chances are, if you are a unicorn, so is your dog! Choosing dog names inspired by color is a fun way to give your dog a playful name while honoring your favorite color, and elements of your canine companion's unique personality. Whether you're going with a literal name that matches the color of your dog's coat, or getting a bit creative by looking at animals, gems, or other elements in nature for color inspiration, a colorful dog name is filled with possibilities.
Embrace the magic with these 200 dog names inspired by color and based on all the hues of the rainbow.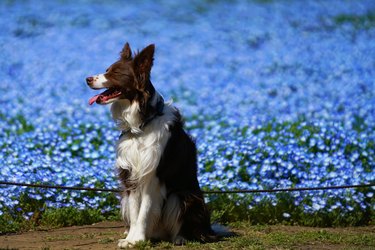 Colorful dog names for good girls and the best boys
Who doesn't have a favorite color? Or at least a color they're partial to? Using colors as a starting point for naming your pet is a fun and potentially creative way to showcase your likes, along with your dog's personality or other personal traits. The ROYGBIV color spectrum is a good place to start, but don't let yourself be limited by literal colors! Colors can be associated with times of the day, places in the world, and even state of mind, so take a look at this list of dog names by color and see if something stands out to you.
Alabaster
Amaranth
Amber
Amethyst
Aqua
Aquamarine
Ashe
Baby
Beige
Blanche — Blanche means "pale," and could be the perfect name for a light-haired dog, or an ironic name for a dog with a dark coat.
Blush
Brick
Bruno
Burgundy
Carmine
Carnation
Carolina
Cedar
Cerise
Cerulean
Chartreuse
Clay
Coral
Cornflower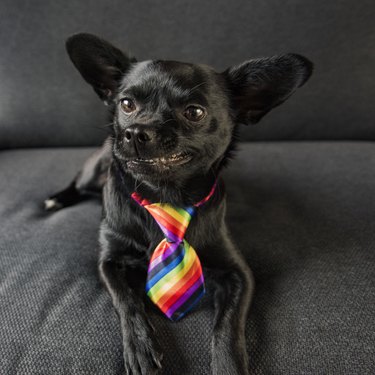 Cotton
Chiffon
Cobalt
Crystal
Currant
Cyan
Cyber
Daffodil
Daisy — Not exactly its own color, but we bet everyone who read this had some imagery or feeling come to mind when they thought of a daisy flower, like spring freshness, or sunshine.
Denim
Dusty
Ecru
Emerald
Electric
Fern
Ferrari
Fire
Flax
Flint
Fog
Forest
Fuscia
Garnet — Garnet is the birthstone for the month of January, and could make a creative color-inspired name for a winter pup, or any pup who embodies the color red.
Glow
Harbor
Hazel
Hue
Hunter
Indigo
Ink
Iris
Jade
Jasper
Jewel
Juniper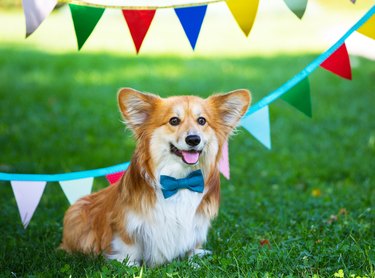 Lapis — The name lapis is from the Latin word for "stone." We are most familiar with its usage in the stone called lapis lazuli, which is a stone with a deep blue color.
Magenta — Unfortunately, magenta dogs don't exist (yet!) but either way, this color would make such a fun name for any dog whose known for making a statement.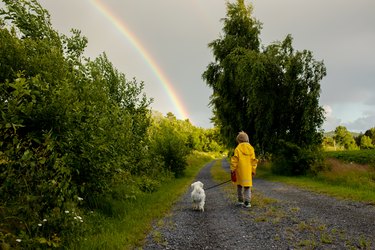 Mahogany
Marigold
Mauve
Maya
Mellow
Mink
Moss
Neon
Ocean
Orchid
Pastel
Pebble
Periwinkle
Pewter—Pewter is a metal alloy that's mostly silver in color due to the tin found in it, and could be a creative name for a grey dog, like a great Dane or an Australian cattle dog.
Pine
Pink
Pinkie
Rainbow
Rose
Royal
Ruby
Russet
Sapphire
Scarlet
Seaweed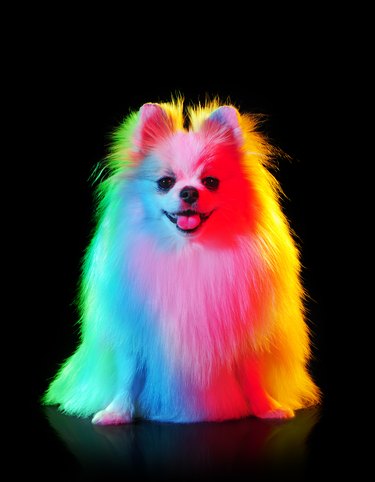 Sepia
Shamrock
Sienna
Silver
Space
Sparkle
Sterling
Tanner
Tawny: Tawny describes a light-brown or slightly reddish color, and could make a great name for a light-brown or dark-blonde girl.
Teal
Thistle
Thunder
Turquoise
Tuscany
Ultra
Umber
Violet
Yale
Colorful dog names inspired by food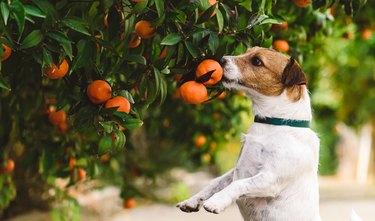 Aside from our dogs, is there anything better than food? Food-inspired names are super common in the canine and feline world, and you can use your sweet or savory tooth to come up with a colorful dog name with a little bit of creative thinking. Food colors, like Apricot or Chocolate, can be obvious nods to your dog's physical appearance, or the food's sensation, like Bubblegum or Mint, could say a lot about your pup's personality!
Aubergine: Aubergine is another name for "eggplant," which is deep purple in color.
Basil
Berry
Brownie
Bubblegum
Candy
Caramel
Cherry
Chocolate
Clementine
Cocoa
Coffee
Chili
Cider
Cinnamon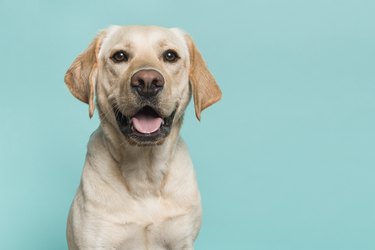 Crepe
Dijon
Eggnog
Eggplant
Espresso
Hazelnut
Hibiscus
Hickory
Honey
Lavender
Lemon
Lemonade
Lime: Limes are bright green, which isn't a natural color on dogs, but it could represent a pooch's small stature or big bite of a personality!
Marmalade
Merlot
Mint
Mocha
Mulberry
Mustard
Peach
Peanut
Pear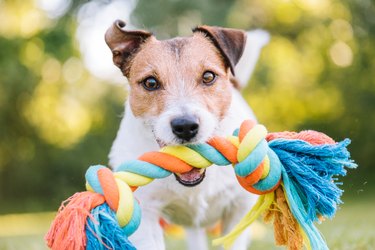 Pecan
Pickle
Pineapple
Pistachio
Plum
Pumpkin
Raspberry
Saffron: Saffron is an expensive spice that's red in color, perfect for red-haired canines of either gender.
Sage
Sangria
Spice
Strawberry
Syrup
Taffy
Tangerine
Walnut
Yam
Color names for dogs inspired by animals
Full disclosure — we were about to label this header "dog names by color inspired by nature," but after looking, we realized there's not a single color that isn't inspired by the natural world! So we took a page out of the nature book and just rounded up a list of names inspired by animals. These names are such good fits for pets because what they symbolize can say so much about a dog's personality. Take a look at these color names for dogs inspired by animals and see if the right fit for your pooch is in here.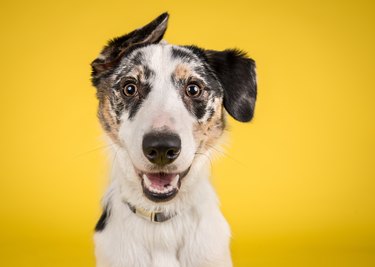 Bumblebee

Canary
Dove
Fawn
Flamingo
Raven
Robin
Tiger
Many people like to choose a name that represents their dog's coloration. For example, light-coated dogs are sometimes called Honey or Blondie, while darker-haired pups are made for names like Shadow or Raven. This list contains names of colors you might call your dog's coat, along with a few others that simply resemble common coat colors and patterns. Even looking at other aspects of your dog's physical traits, like their eye color, can help you find a great name.
Bronze: A great option for a light-brown or gold-ish-haired dog, or a pup with some reddish flecks to their coat.
Charcoal

Crimson

Ebony

Ginger

Gold

Goldie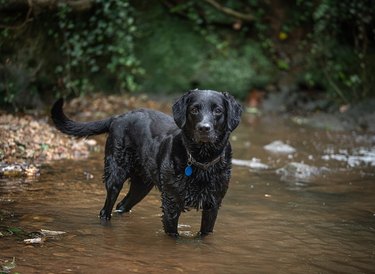 Gray
Ivory
Jet

Midnight

Onyx
Pearl

Penny

Red

Rusty

Sable

Shadow

Sky: We've yet to see a sky-blue dog, but Sky is a name often given to dogs with bright blue eyes, like a husky.
Looking for more inspiration for your new pet's name?
Pets are like our children, so it's extra important that we take time to find the perfect pet name that reflects their personality and potential. Because settling on a name for your new pet is a big decision, we've gathered nine pet-naming techniques to find the perfect fit, as well as assembled a handful of our most beloved lists of pet names below!