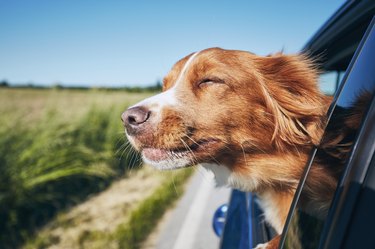 As soon as you got your dog, you imagined her right alongside you in everything you did. Whether it's a quick walk around the neighborhood or an honest-to-goodness hike up a mountainside, she's right there as your guide, your protector, and your companion.
She gets as much pleasure as you do from being in nature, crunching through leaves, sniffing trees, digging in soft dirt, splashing through clear water. Give her a name that reflects how much joy she gets from being outdoors by choosing from this list of 114 perfect nature-inspired dog names.
Nature-inspired dog names
River
Creek

Boulder

Rocky

Summit
Glacier
Clover
Sage
Meadow
North
Fern
Forest
Terra
Midnight
West
Shadow
Misty
Echo
Dusk
Ember
Cinder
Moss
Blizzard
Cliff
Flint
Reed
Dandelion
Daisy
Gaia
Ocean
Raven
Briar
Bolt (as in lightning)
Blaze
Ranger
Scout
Autumn
Cascade
Tempest
Windy
Dusty
Coral
Ivy
Aerie (an eagle's nest)
Canyon
Dale
Delta
Mesa
Tor (a rocky outcrop)
Bayou
Oasis
Caldera
Bluff
Ravine
Geo
Diamond
Surf
Plum
Rosebud
Dune
Pearl
Agate
Granite
Montane (related to mountains)
Copper
Dog names inspired by animals
Leopard
Oso
Panther
Cricket
Bengal
Boa
Foxy / Fox
Lupa / Lupo (Wolf in Italian)
Tiger
Eagle
Perro / Perra (Dog in Spanish)
Buck
Lynx
Badger
Bison
Cheetah
Shark
Jackal
Lion
Otter
Quetzal
Phoenix
Sable
Ursula (little female bear)
Angora
Grizzly
Dog names inspired by trees
Cypress
Elm
Willow
Cedar
Aspen
Chestnut
Maple
Oak
Ash
Thorn
Holly
Acacia
Juniper
Birch
Sequoia
Alder
Linden
Butternut
Spruce
Hawthorn
Redwood
Hazel
Need more inspiration for your new pet's name?
Pets are like our children. We love them, care for them, and we get to dress them up in adorable outfits so it's extra important that we take time to find the perfect pet name that reflects their personality and potential. Because settling on a name for your new pet can be hard and emotionally wrenching (oh the indecision!), we've gathered nine pet-naming techniques to find the perfect fit, as well as assembled a handful of our most beloved lists of pet names below!