Cuteness may earn compensation through affiliate links in this article.
Dogs are unique, perfect little snowflakes. Each one is special and different in their own way, and they require unique kinds of care. Like humans, dogs can be a little picky about their sleeping situation. Some of them want to sleep in little makeshift caves that they make out of blankets and pillows. Some would rather die than miss a night in bed with their humans. Some want to get cozy and warm under blankets, others look for the coolest bit of floor in the house to sprawl out on. Here's the good news: No matter how picky your pup is, there is a dog bed on the market for them. Here are some of the very beds out there for picky dogs.
For the fickle on firmness pup: The Layla Bed
Can your dog not seem to make up his mind about the kind of surface he wants to sleep on? Do you sometimes find yourself contemplating the cost of a Sleep Number bed just for your pet, just so you can set one side to super firm and one side to soft to meet their changing needs?
In addition to offering flippable firmness, the Layla Bed is copper-infused, and "made from super durable washable fabric so your furry friend can scratch, drool, and play till their heart's content." Yes. To. That. The beds start at $150 for a small and go up to $259 for a large.
For the dog who loves to lean: The Jaxon Dog Bed from Sleepenvie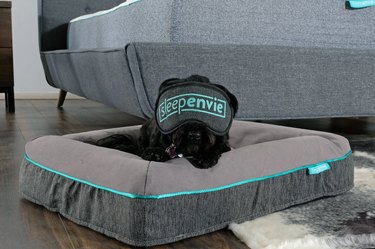 If your dog loves nothing more in life than to lean against something while he sleeps—whether that something is your body, a wall or something much, much weirder—then the Jaxon Bed from Sleepenvie might just be the solution to getting your pup to nap on a proper dog bed. The bed, which comes in sizes small, medium, and large, has raised, cushioned sides that are perfect to flop into. The Jaxon starts at $120 and runs up to $189 for the large bed.
For the dog who runs hot: The FurHaven Quilted Cooling Gel Bolster Dog Bed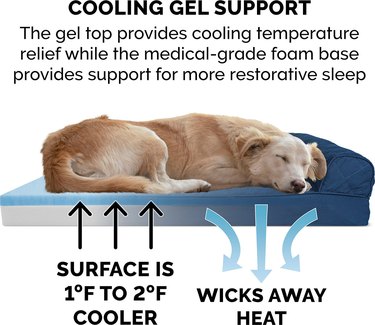 Does your dog hide away on the coldest bit of tile or hardwood he can find? Does he cover your AC vents with his giant furry body in his constant quest to cool off? Then you should seriously consider the FurHaven Quilted Cooling Gel Bolster Dog Bed. The bed features a quilted, cozy top, microgel beads and gel foam to keep the bed cooler, and a removable cover for each washing. It comes in four sizes—small, medium, large, and jumbo—and ranges from $24 to $61 on Chewy.com.
For the dog who runs cold: The Luxury Cozy Cave Dog Bed With Microsuede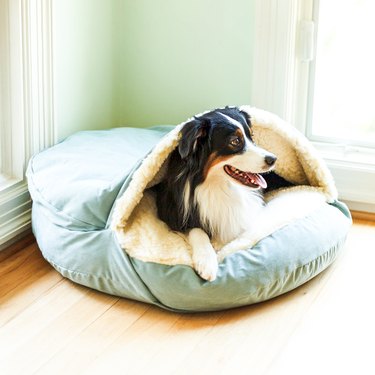 Does your dog love nothing more in life than cozying up under a pile of blankets? Then you need to consider the Luxury Cozy Cave Dog Bed With Microsuede, which is basically like a giant dog-sized sock. The cozy beds are durable, made-to-order, and come in a variety of colors to match your dog's personal style. The bed comes in three sizes—small, large, and extra-large—and ranges in price from $80-$110.
For the anxious dog: The Enrych Separation Anxiety Relief Dog Bed
If your dog struggles with separation anxiety and struggles to sleep through the night—particularly if you can't or don't want your pup to share your bed—you should seriously consider investing in the Enrych Separation Anxiety Relief Dog Bed. The bed has an extra, fillable pocket for you to put your own pillow in. This gives the bed your scent and helps calm your anxious pup. It's available on Amazon for the uber-affordable price of $14.99, too.
For the dog who loves soft surfaces: The Calming Bed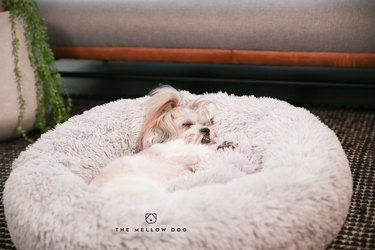 If your dog is obsessed with all things fluffy, it doesn't get much more cloud-like than the Calming Bed (which, as a bonus, is also recommended for anxious dogs, too). The round, fluffy poof of a bed is luxuriously soft and cozy and great for dogs who love to curl up into a little ball for nap time. The Calming Bed is sized in centimeters and comes in 50cm, 60cm, 70cm, 80cm, 100cm, and 120cm, with prices ranging from $133 ($45 on sale) to $316 ($126 on sale).
No matter what your dog's personal sleepy time quirks might be, there's a perfect bed for them out there on the great wide internet.